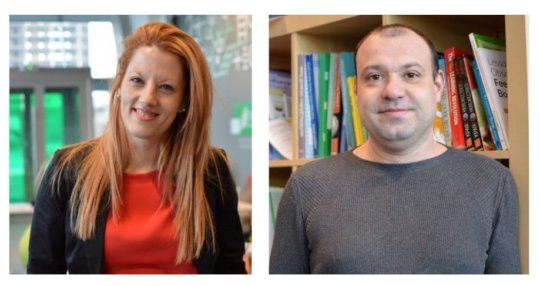 Dear supporters,
Thank you for your continuous support and engagement. This year, TFB's Summer Academy will once again provide access to quality education and free summer classes for nearly 900 students coming from low-income communities in Sofia and the region. The Academy is part of the practical training experience for all incoming participants in the Teach For Bulgaria program and I want to share with you a short story of two of our new participants, part of Teach For Bulgaria class 2019-2021 - Antonia and Nikolay.
Antonia has degrees in journalism and economics and business management as well as six years of experience in the media. She has supported children's access to quality education as a leader mentoring young students on their way to receiving the Duke of Edinburgh's International Award. She is ready to give her contribution to education and do whatever it takes to help change people's limiting mindsets. Here is what she shares about her motivation to join Teach for Bulgaria:
I attended a Teach For Bulgaria event as a journalist and was fascinated by the mission to provide equal access to quality education for every child. I believe that every child has the potential to grow and be successful. Hundreds of young ambitious teachers all over the country are committed to this cause; they all have different professional backgrounds but have chosen to dedicate at least two years of their lives in an effort to bring about positive change in education. This event made me realize that everyone keeps pointing out all sorts of problems – low academic performance, lack of motivation, bullying, and aggression – but how many people have actually done something about it. I decided to become part of the system because change takes decades and I want to contribute.
The problem is that various socioeconomic factors lead to segregation in education and children from rural areas lag behind their peers in the city. These children grow up in social isolation and often lack a reliable and caring family environment because their parents are migrant workers and they are raised by their grandparents. Children from poor regions lead lives full of misery and hardship; they are forced to grow up prematurely and take on responsibilities which are not meant for children like raising and caring for their younger siblings or figuring out ways to provide for the family, for example.
Nikolay has a degree in economics from Dimitar A. Tsenov Academy of Economics in Svishtov. He has worked as a manager for many years, but after getting selected to participate in Teach For Bulgaria's program and visiting one of our partner schools in the village of Disevitsa, Pleven, he realized he couldn't wait to start his teaching career. What is his motivation to take part in this incredible journey called being a teacher?
I decided to apply for Teach For Bulgaria's program because I believe that we need to change the quality of education we provide to our children. The organizational goals are completely aligned with my own ideas of how education should evolve. The shortage of motivated and ambitious teachers leads to ill-equipped graduates. This is where TFB intervenes by training the teachers our system needs. The energy of the entire team of the organization gave me the motivation to leave my profession and start teaching even before the beginning of the program. People who share the same ideas, mission, and work ethic could be successful in anything they put their minds to.
Thank you again for believing that people are the key to long-term changes in the educational system in Bulgaria. Your support makes our work possible!
Links: