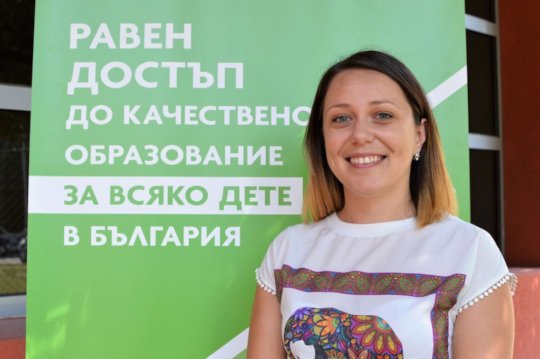 "Children can't choose where they are born, they can't choose their family, and how they are raised, so they shouldn't be labelled because of choices that they didn't really make," Evelina
Dear supporters,
Thank you so much for believeing in the cause for equal access to quality education for every child! For us, people are the key for sustainable change in the society.
Today, we are going to present to you one of the TFB teachers who has completely changed her life.
Less than two years ago Evelina's daily routine reflected her lifestyle of an average corporate employee. She got up, went to the office, came back home after a typical uneventful 8-hour work day, and went to bed only to do it all over again the following morning. After years of school and university education, multiple additional qualifications and certificates, Evelina thought she was expected to find a "prestigious job", work at a "fancy office", and make lots of money. So she met these expectations, but then found herself emotionally drained and daydreaming of a career U-turn.
The Tipping Point
"I gathered my thoughts and decided that life was too short to live according to someone else's expectations," Evelina shared while she talked about her career U-turn.
"I decided it was time for me to finally do something which would bring joy and satisfaction to my life, especially when I see the results of my hard work. I was looking for something more than just a job; a source of inspiration which could motivate me to do my best – with pleasure, not because I had to," Evelina added.
Applying for Teach For Bulgaria's program was an impulsive decision back then, but Evelina was certain that it pointed her in the right direction. Once she was accepted, Evelina started her journey with Teach For Bulgaria and is more than happy she found her true passion.
Links: