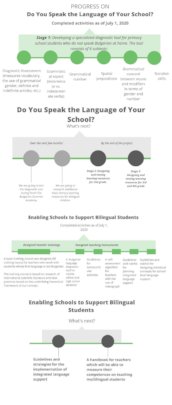 Dear Teach For Bulgaria supporters,
The past few months have been very challenging for the education community across the world. Schools in Bulgaria had to transition to remote learning in just two days, regardless of how prepared or ready they were for it. This allowed for many of the inequalities and social injustices to surface.
Students whose first language is not Bulgarian are among the most affected ones. First of all, because in most cases they come from poor communities and do not have the resources (internet access or smart devices) to participate in the process of remote learning. Second of all, because even in a traditional classroom setting students who do not speak Bulgarian at home need additional academic support.
This is why we are pleased to share the progress we have made on our project for the development of a methodology and teaching resources for additional language support for bilingual primary school students. We have partnered with the NGO EducArt for this project. This partnership and the challenges presented by COVID-19 can only motivate us to work even harder towards our mission to help bilingual students and their teachers.
The infographics attached to this report as links can give you more information about the progress we have made over the past few months and what lies ahead of us.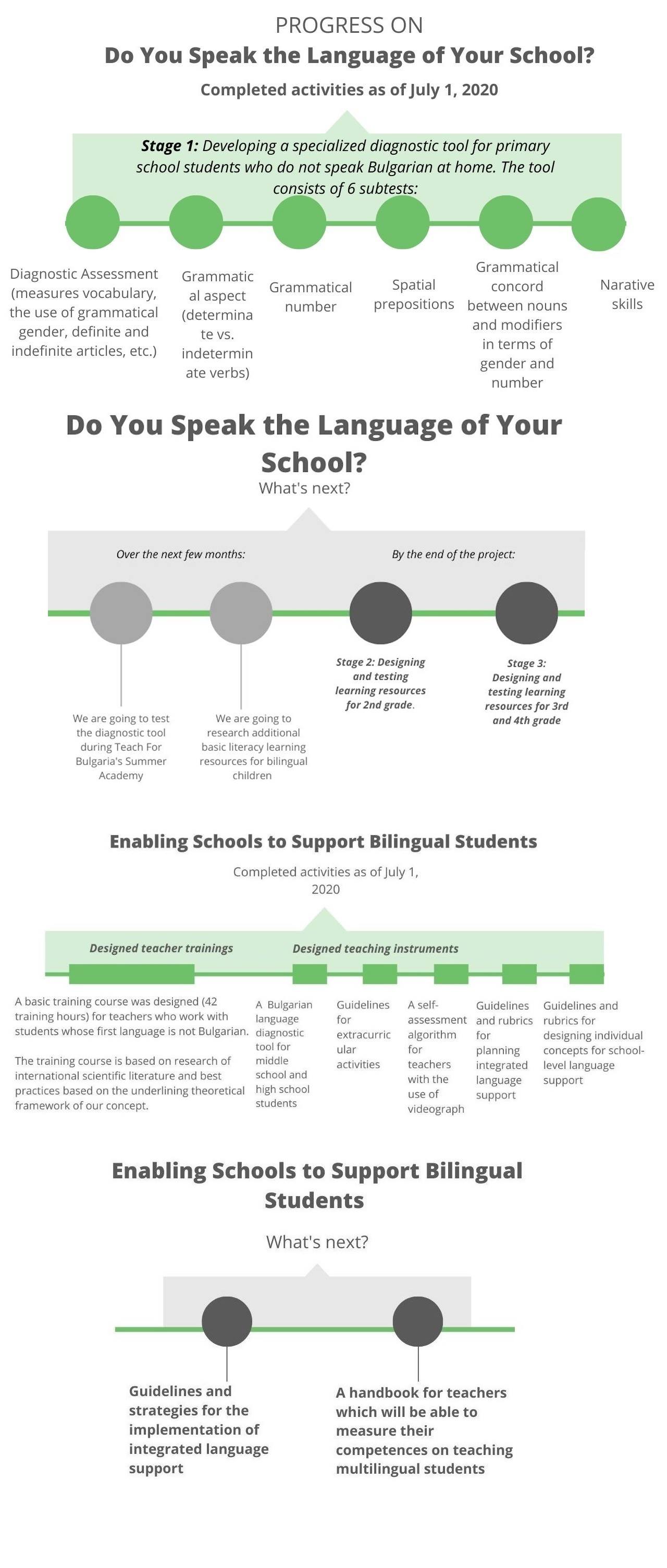 This coming autumn we will resume our fundraising efforts to promote this campaign with the aim of ensuring the successful completion of this project. With the gained knowledge, expertise and experience on the topic of language support for bilingual primary students we are also aiming to disseminate best practices and useful resources among all teachers and students in the education system in Bulgaria!
To illustrate the importance of this project, we wanted to inspire you by sharing the story of Velichka Ivanova, a teacher in the Razgrad region of Bulgaria.Through open communication and teacher-parent collaboration Velichka found a way to encourage her student Nuri to improve his Bulgarian language skills and to practice at home. Nuri loves cooking, so Velichka thought it would be a good idea for him to try to follow tasty recipes with his sister at home. The recipes were in Bulgarian, so to complete them properly Nuri had to learn new words and phrases and feel more confident to communicate in Bulgarian which ultimately also led to better cooking skills. Learning by doing something he really enjoyed helped Nuri so much that he became one of the most active students during the remote learning period. Find out more about Nuri and Velichka here.
We sincerely thank you for your continuous support for this project which goes a long way towards ensuring equal access to quality education for every child in Bulgaria! We hope you will continue to support this project and help us reach as many teachers and students as possible.
Wishing you good health and high spirits!
Teach For Bulgaria Team
Links: