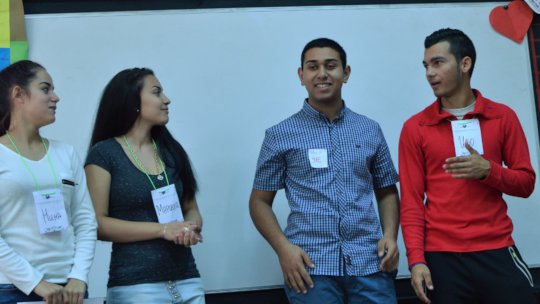 Dear supporters,
Since of the beginning of this school year, students from 11th grade at the 90 secondary school "Gen. Jose de San Martin", Sofia have their own library - in their own classroom with their own books. The idea for this library was born last year when the teacher in Bulgarian Language and Literature and teacher in Teach for Bulgaria's leadership program Vanya discussed with her students how to make their classroom even more attractive.
The transformation of the place begun quickly. With the support of students, parents, friends, volunteers, teachers, and the director, the classroom was painted with beautiful graffiti - entirely with ideas coming from the students. In order to make the place even more convenient for them and to stimulate the reading process, all the students collect and share with each other new books from a variety of genres.
"I wanted to provide my students with access to different opportunities that are close to them", shared Vanya. It is important for her to help her students feel good, to develop their reading literacy and to learn new things and expand their worldview.
The library is filled with novels, different encyclopedias, foreign language books, dictionaries ... The students recognize the library as their own, and some of their favorite activities are to compare stories from the books with their film screen adaptations. In this format, for example, they discuss "Iliad" and "Don Quixote".
Since the beginning of the school year, there has been a growing number of literature discussions between the students. Vanya encourages them to share their opinions, learn them that everyone can have different preferences (and there is nothing wrong with that), and also that everyone has something to learn from others, as Vanya has learned from her students to read ... anime.
Thank you for your engagement!
Links: