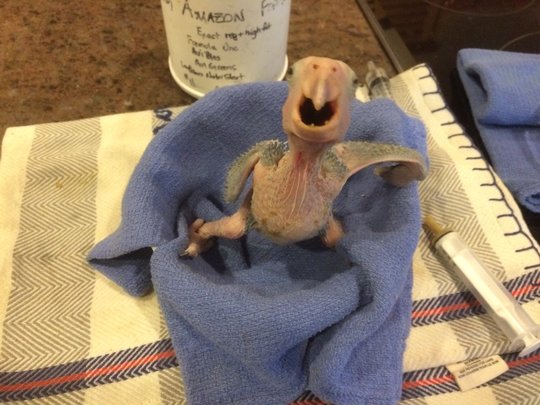 First of all, I'd like to thank all of the donors who have continued to supprot our organization (you know who you are) and all of our volunteers that give their time and energy to our organization. It is awesome to see people who care about the lives of little green birds that are just trying to live their lives in an environment where they are not native, but they find themselves here just the same.
2015 has brought us more babies and unfortunately more birds with BB's and pellets in them that have taken their ability to fly. In 2014, we received our first parrots that had suffered injuries from being shot. Amazingly, all 5 birds that we took in during 2014 with BB wounds survived. Two nanday conures from Los Angeles came in with severly shattered wings. Both were able to save their wings but will never be releasable and will live out their lives at our sanctuary. Our one and only wild double yellow amazon had been shot twice. Once with a BB and once with a pellet. Both were lodged in her chest. She underwent surgery to have them removed but the BB had to be left due to its location. She is in our main flight and is able to fly, but not well enough to the point where she could be released. We are giving her time to heal, we still hold out hope that she will fully regain her full ability to fly and keep up with her flock. Her story is especially sad since we know her flock of double yellow amazons only includes 4 other double yellows. This means she is most likely a mother, daughter or sister within the flock. This flock is in Imperial Beach and is observed closely. The last two parrots that came in with wounds were both red-crowned amazons. If you can imagine the size of a parrot, when a BB hits them, it is usually lodged in an area that is close to vital organs or delicate wing structures. This was the case with these last two amazons and it was decided that surgery would do more damage than good in trying to remove the BB's. They will also live out their lives at our sanctuary since they cannot fly.
So far in 2015, we have recieved two red-crowned amazons with BB wounds. They both came in the same day from Los Angeles. This is the second time we have received wounded parrots on the same day form the same location. I guess the shooter wasn't content with only taking down one bird that day. After their medical examination, we were able to have one parrot have a pin placed in its' wing so hopefully the bone will completely heal and it will be able to fly again. We are still waiting to see how well the wing heals. The other parrot was not so lucky. His carpals were shattered in one wing and he will live at our sanctuary, helping us teach our baby parrots how to be wild parrots.
For every story we have of parrots that have suffered from unfortunate injuries, we have success stories of babies and fledglings that come to us who will be returned to their flock. As of June 22, 2015, we are on pace to take in more parrots than ever before. Last July had been our busiest year ever, we took in 8 amazons and 3 conures. June of 2015 isn't over yet and we have already received 14 amazons and 1 conure this month alone. In 2014, we had received a total of 11 parrots through June. In 2015, we have received a total of 24 parrots. You can see how many more parrots are coming in and we aren't even to our busiest month yet. We can only assume that our outreach to the public and our relationships with other resuces, veteranarians and humane societies is getting the word out that these parrots do have a place to go.
By the time our next Global Giving report comes out, we will have made it through the 2015 baby season and I'll have plenty to share about all of these little lives. We are getting a majority of amazons in right now but starting in July, the conures will start showing up. I don't know why but the amazons always start breeding before the conures. I have included pictures our youngest baby this year. We are still trying to get weight on him so he can join the rest of the flock. He does have signs of malnutrition before he arrived but we are hopeful he will grow up completly healthy. All of the other amazons that we have recieved have already moved on to our transition flight. It is situated next to our main flock that has unreleasable wild parrots as well as parrots that will be released this year. The transition flight has fruits, vegetables, pellets and soft parrot hand feeding pellets to satisfy the hunger of a parrot and any age. This allows our new parrts to get used to the sights and sounds of our existing flock and learn how to fly short distances. Our work is just beginning for 2015!