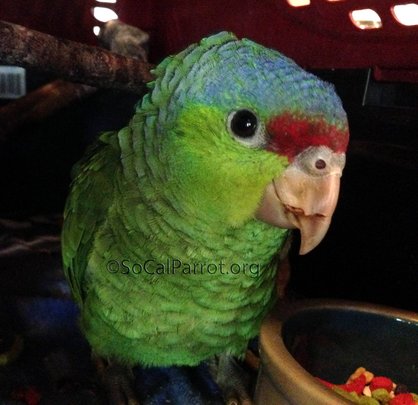 Everyone at SoCal Parrot would like to thank you for supporting us with our first fundraising effort with GlobalGiving. 100% of donations go directly to the care of our wild parrots. 2014 has been a busy year for SCP. So far we have taken in 31 parrots this year. Breeding season for our parrots begins in March. We start seeing babies come in from May to August as well as fledglings that have gotten themselves into trouble while learning to fly. Please read below about what had been going on at SCP.
Our first two babies of the year came in 3 days apart in the second week of May. They both came in naked, without feathers. Both of these babies were found on the ground so they somehow fell out of their nests but survived the fall. Since parrots are usually raised with their brothers or sisters, we have found that baby parrots thrive much more when they are raised with at least one other parrot of a similar age. Once we receive the first baby of the season, we are always waiting for the second to arrive so they can be raised together. Both of these babies survived and are thriving. They both put on weight and muscle as their feathers developed. Within two months they had moved on to our "bird room" where they learn to fly and socialize with the other parrots we have taken in this year and members of our permanent flock. They are both in our flight with our other parrots that will be returned to the wild this year. They were both accepted into the flock as if they had always been there. It's always amazing to see how accepting parrots are when new and unknown parrots are introduced to the flock. Humans could learn a lot from our parrots.
A fledgling Lilac-Crowned Amazon, a parrot that is still learning to fly, came to us from Irvine (2 hour away) with a broken beak. There was a visible crack half way up its beak on its' right side. The parrots beak was bruised and was still bleeding. He obviously flew into something while still learning how to use his wings. When parrots have injuries like this, all they need is time and a steady supply of soft food. It is injuries like these that parrots at our sanctuary will survive every time but is life threatening in the wild. This parrot is doing great and is flying with much more control. The only indication of his past is a slightly bent but fully healed beak.
Every year we get at least one parrot in that the public tries to take care of. People find parrots on the ground and think they are doing what is best for the bird by trying to feed it. The problem is that most people don't know how to hand raise a parrot and they don't know the symptoms of a sick or injured parrot. A member of the public turned in an Amazon to us that they had found three days earlier. They were told by their friend who was a "parrot expert" to feed the parrot peanut butter and Pedialite. Once in our care, it became apparent that this bird was having trouble maintaining its' weight. After a visit to our veterinarian, this parrot has been under intensive care and is being watched very closely. This parrot is still not healthy enough to join our flock but is doing much better and is adding weight while it builds strength.
Our last story is about a Red-Crowned Amazon that came to us from Ocean Beach. It was found in the bushes along a busy street and was unable to fly. This bird was very dirty and emaciated, meaning it has been on the ground for some time. This parrot was taken directly to our veterinarian where we learned what was wrong. The x-rays showed that a BB was buried in its' shoulder which caused the loss of flight. The injury was not new since it had already started to heal but it was determined that an surgery to remove the BB would only cause more damage. Unless we have a miracle recovery, it appears that this parrot will join our permanent flock to live out its' life and help train future babies that come in how to be wild.
As you know, the Red-Crowned Amazons that we rescue are an endangered species. The Lilac-Crowned Amazon, which has a smaller population in California in comparison to the Red-Crowns, was just listed as an endangered species as well in July of this year. Both of these species' native range are in Mexico where continued habitat loss and abductions for the pet trade are taking its' toll on both of their populations. There is no indication that either of these causes will be reduced any time soon.
Thanks again for all of your support! If you happen to live in Southern California, please join us at our sanctuary for our annual fundraiser, Picnic with the Parrots. We are celebrating eco-diversity this year so you will be able to see our parrots as well as many other animals and other animal organizations. This event will be on Sunday, October 26th.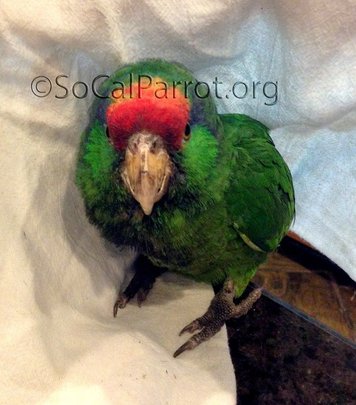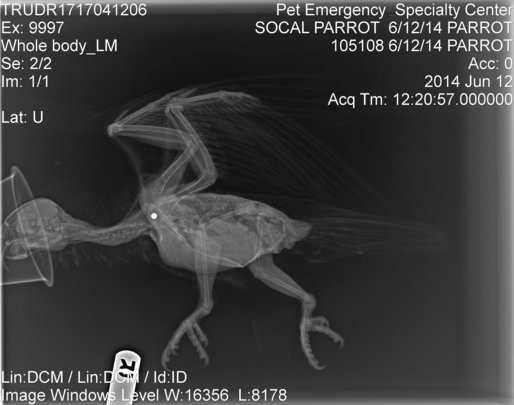 Links: