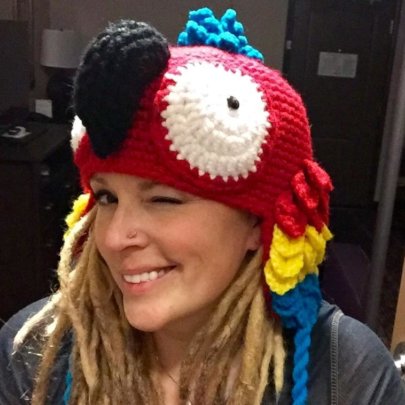 This is the slowest time of year for us here at SoCal Parrot. The parrots are busy pairing up and finding nests right now so lucky for us, we don't see many injured parrots coming in. I figured I'd fill everyone in on some of the obstacles Brooke Durham, the founder of SoCal Parrot, has had to endure.
Brooke started out as a volunteer at Project Wildlife, a San Diego based wildlife rehabilitation organization. She spent years caring for and rehabilitating all types of wild mammals and birds. She eventually achieved her goal of specializing in rehabilitating raptors. Red tailed, red shouldered and Cooper's hawks as well as great horned and barn owls were soon in our flight gaining strength so they can be released back to the wild. During one windy night, a wild baby parrot was brought into Project Wildlife after the palm frond his nest was in was blown down. We took this broken parrot home because he would never be able to fly after his injuries. Once parrot after parrot kept coming in and were never released back to where they came from, Brooke new she had to do something.
What are we doing? When Brooke started spreading the word about what she was doing, people felt free to criticize. How dare she help a non-native species. She was supposed to let them die or be taken as pets. That was the safe thing to do. As a wildlife rehabilitator, she knew she had to save wild parrots. As a conservationist she knew this was the right thing to do. Ten years later and things are starting to change. I'll get to what Brooke has planned this year but first I need to fill you in on some of our struggles.
If you didn't know, people who work with animals tend to be a little different. I mean we tend to prefer to be around animals more than other people. So I guess it should come as no surprise that these same people are running organizations that are supposed to put the welfare of animals first. Supposed to.
Our first story goes back many years, before we had our first wild parrot release. We had been taking in wild parrots for years but were unable to release them. As wildlife rehabilitators, we knew we had to do a release of non-native parrots with the approval of California Department of Fish & Wildlife (CDFW). We had requested several times that CDFW give us a decision on a release but they wouldn't take a stand and we were handed off to one person after another. Around this time a local parrot organization that specializes in re-homing pet parrots approached us. They had two parrots that were wild that they wanted us to release. One was a blue fronted Amazon and the other a red-crowned. It was obvious the red-crowned came from the local wild flock but we did not know where the blue fronted came from but it was definitely not domesticated. We told them we would not release any parrot until we had approval from CDFW. They then asked us to help them "take down" a parrot organization that took parrots to Balboa Park and charged people money to take pictures with them. We let them know we were here to take care of parrots, not to take down other organizations. So instead, they decided to "help" us by sending over one of their board members to volunteer for us. Long story short, this volunteer wound up quitting without notice and convinced our volunteer coordinator to leave us and join their organization. They threatened to sue us if we did not return the blue fronted Amazon because we had not released it. They didn't even know that this parrot had clipped wings and we had to wait for the next molt for it to even be able to fly. We were also turned in to the County Department of Animal Services for inadequate care of our parrots and to CDFW because we were going to attempt to release non-native parrots. Nice huh? Well, we had been rescue partners with the Department of Animal Services for years so they came out to do their mandatory investigation and apologized for the visit. The blessing in disguise was the complaint to CDFW. This complaint forced CDFW to investigate and rule on us releasing wild parrots. They determined we were the experts as far as naturalized parrots go and as long as we don't release any monk parrots (illegal in California), we were allowed to release. Soon after this we had our first release and we were able to release the red-crowned Amazon this organization gave us. We never understood why we weren't going to be sued for the red-crowned and only the blue fronted Amazon. The blue fronted was given back and never released, we are assuming it will be kept in a cage the rest of its life. So much for putting the welfare of animals first. By the way, the organization at Balboa Park disappeared and we never learned what happened to all of their parrots. Also, the director who was apparently pushing to take down all other parrot organizations was kicked out and is no longer associated with that parrot rescue. Our previous volunteer coordinator also left that organization once she saw what the director was up to.
Here's another story about people forgetting to put animals first. A permit from CDFW is required to legally rehabilitate wild animals. For some perspective, there are four wildlife care centers in San Diego County compared to 86 throughout the rest of the state. Unfortunately, there hasn't been a permit issued in San Diego for over 25 years. Why so long? Well, there is a regulation for wildlife permits that you must gain permission from the two closest wildlife centers to your facility. SoCal Parrot is an organization under R.E.P. For Wildlife (Rehabilitate, Educate, Protect For Wildlife). Brooke was looking to expand our reach by including native wildlife into our rehabilitation efforts. So Brooke applied for a wildlife permit. She was over qualified and met every requirement. The only hurdle was approval from the two closest care centers. This approval is based solely on if the other care centers believe there is a need for another care center. Are there enough care centers to handle all of the wildlife that needs help? Project Wildlife seemed to think so. They are one of the largest wildlife care centers in the U.S. They gladly recommended us for a wildlife permit. However, the other closest organization didn't believe another organization was needed and would not respond to any requests for their reasoning so we were turned down, end of story. Was it personal, fear of taking "their" rescues away or fear of losing donation dollars? We'll never know. Lucky for us we were able to get recommendations from the Fund For Animals, the second largest care center in San Diego as well as Sea World, who rehabilitates all water based mammals in San Diego. This was enough for CDFW to issue us a wildlife rehabilitation permit. This was a very quick re-telling of this story, this took as years to get done.
After all that Brooke has gone through so far, 2018 is shaping up to be an exciting year. She just joined the board of directors of the International Wildlife Rehabilitation Council (IWRC). She bypassed the California and U.S. wildlife organizations and went straight to THE international organization. Very impressive and unheard of for someone who rehabilitates non-native naturalized parrots and dares to release them. She was given this opportunity after helping the IWRC to raise funds for other wildlife care centers that were impacted by hurricanes Harvey, Irma and Maria of 2017. She will be the keynote speaker for The Oasis Sanctuary's Discover The Oasis 2018, their annual fundraiser. They are an excellent organization that gives parrots that have such long lifespans a home to live out their lives. They take in all kinds of pet parrots that lost their homes, check out their website to see their stories, www.the-oasis.org. She will also be speaking about parrot conservation at the 2018 American Ornithological Society in Tucson this April. The idea of parrot conservation in urban settings has come a long way, she wouldn't have been giving this talk 10 years ago. She also has plans to speak at the International Ornithological Congress in Vancouver as well as the Western Field Ornithologists Annual Conference in Ventura. She's doing all of this on top of keeping SoCal Parrot moving forward and working on more plans for speaking engagements and working with other conservation groups.