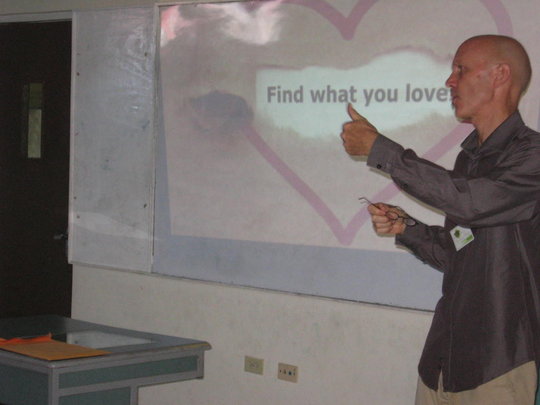 Given the overwhelmingly passionate response from the students we visited on their schools' Career Days last time and our own excitement, it's no surprise that we continued to connect Jamaican youth with established scientists. Our road trips this time took us to St. Andrew's High School for Girls and Oberlin High School.
At Andrew's (as it's affectionately called) we were given the opportunity to address two different grade nine groups. Dr. David Picking was up first, with a group of 20 young ladies. Based on the questionnaires they filled out, Dr. Picking was able to make 80% of them more excited about science and all of them confessed to learning from their interaction with him. Dr. Benkebler spoke with 40 young ladies. Many of them were more excited about science and 80% told us they learned from his talk.
We then headed into rural St. Andrew to spend some time with 70 grade nine students from Oberlin High. Prof. Paul Reese led the discussion and the students loved spending time with him. In fact, 100% of them reported being more excited about science and 100% said they learned from his talk.
Our foray into Jamaica's high schools is SoSA's newest activity. Why did we do it? Based on our own experiences, we realised our younger selves would have really appreciated having local scientists help us answer questions about our potential future path. It's a tense period – everyone is expecting you to make choices about what subjects to study. What if you pick the wrong ones? What if you want to change your mind? What does it mean to be a scientist anyway? And who better to answer those questions than people who had also had them before – us? We are excited to help youth answer these questions. We are grateful to be given the opportunity to volunteer by these high schools. We are thankful for our volunteer speakers. And we are beyond thankful that you choose to invest in us so we can invest in them. Stay tuned for more S.T.E.P.S. and look out for our Each One Reach One Campaign!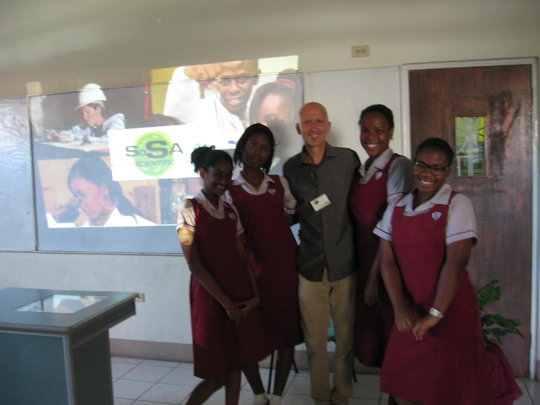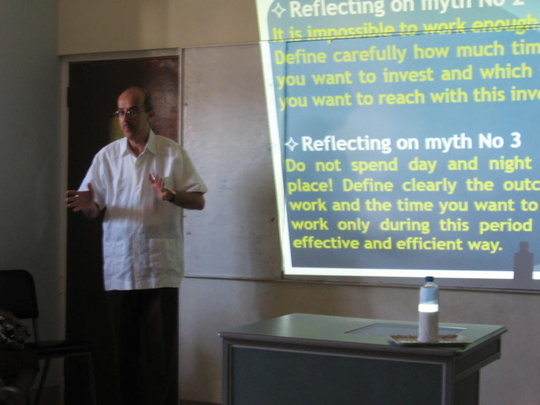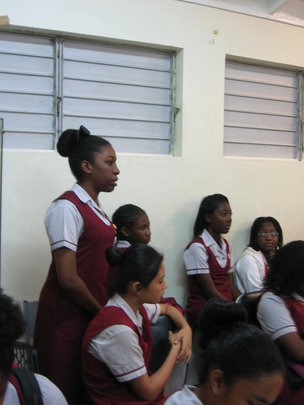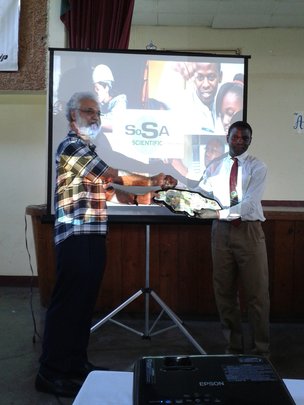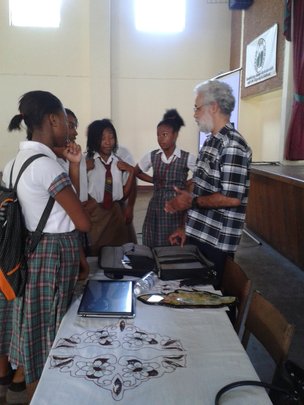 Links: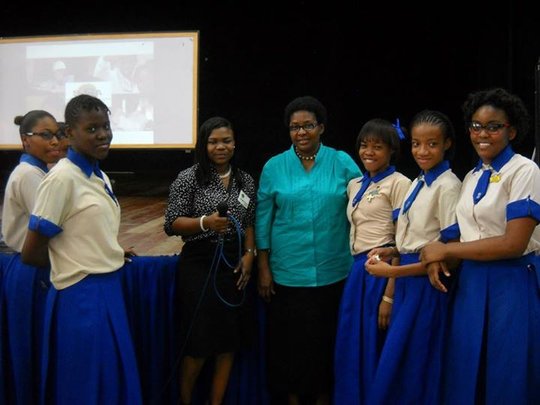 We admit it: spending time with young people in the lab & watching the joy of discovery on their faces is addictive. As we thought about how to encourage more youth to consider investing in science, it hit us – we should, as scientists ourselves, request permission to address students during their Career Days. Our Science Policy committee got to work driving this initiative and we are happy to say the data is back from the first two schools (Holy Childhood High & Merl Grove High, Kingston, Jamaica).
We were privileged to be able to spend two days with the ladies of Holy Childhood. More than 200 grade 9 students attended, 80% of whom told us they were more excited about science as a result of our talk and 90% said they learned from the talk. On day two, 70 grade 10 students attended the career talk, 90% of whom reported being more excited about science and 94% said they learned something from the career talk.
It was then time to move on to Merl Grove High. Again, 90% of the students were more excited about science after the career talk & 100% reported learning something. Not bad for our first time out.
We are grateful that the principals of these schools allowed us to interact with their students during a period of their lives when they're making choices that will impact the career path they take. We are blown away to be so well received. We are planning to address more high school students & are committed to finding more ways to inspire & empower them through science. None of this would be possible without our volunteers & your support. Thank you!!! Who knows what else we can accomplish together?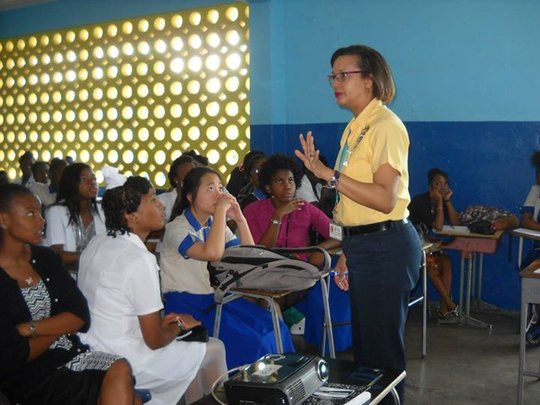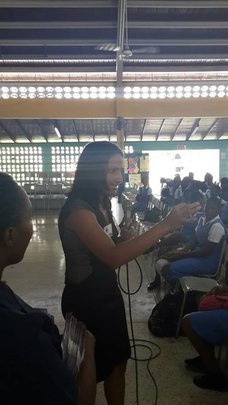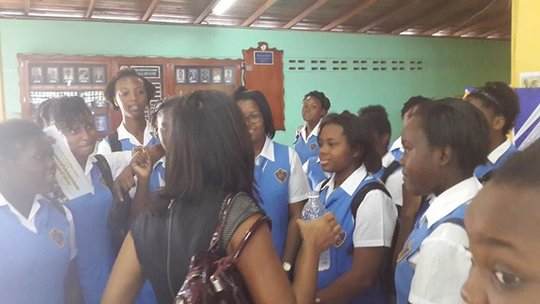 Links: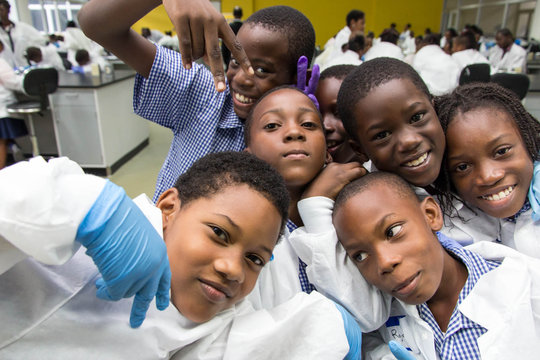 Now that the adrenaline has worn off & we've had some time to recover from hosting almost 200 students at our S.T.E.P.S. workshop last November, we've been going through our feedback forms. Every S.T.E.P.S. participant was asked to complete a short questionnaire. Sure, they look happy to be in the lab, but are we making any kind of difference?
We are happy to report that almost all our primary students (92%) have been thinking about attending university when they grow up and 73% had been thinking about maybe becoming a scientist. After seeing first-hand the microscopic critters wiggling in pond water, doing some chemistry with household items & using physics to separate salt from pepper, 98% of the students wanted to go to college and 90% wanted to do science. Wow!
Our high school students had similarly been thinking about going to university (94%) which we all agree is a good thing. We spent several hours with them extracting DNA from bananas, looking at DNA under microscopes and using forensics to solve a crime. After all of that, 97% of the students told us they now wanted to attend college and the percentage of high schoolers who wanted to pursue science climbed from 44% all the way to 64%.
We are excited to be able to inspire #GenerationNext & full of hope for where their future discoveries will take us. This is a journey we take together, with the donations you give us & the labour of our volunteers. We are very grateful to be able to partner with you to effect change in the youth of Jamaica. Thank you so much!
Today, DNA extraction; tomorrow an innovative cure?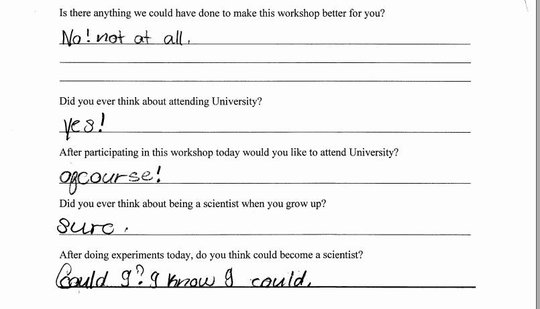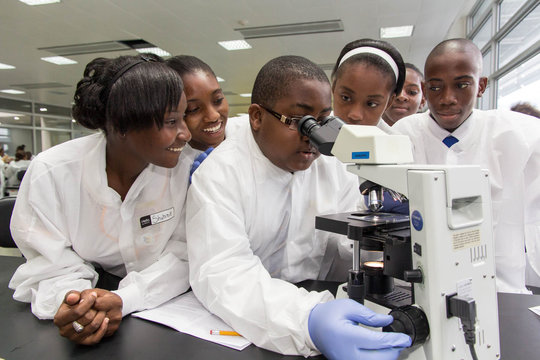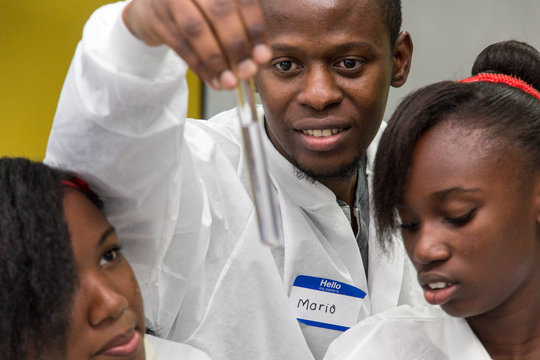 Links:
WARNING: Javascript is currently disabled or is not available in your browser. GlobalGiving makes extensive use of Javascript and will not function properly with Javascript disabled.
Please enable Javascript
and refresh this page.