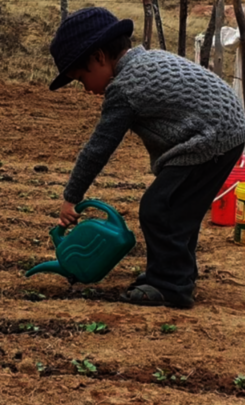 In Piura, Peru, villagers in remote communities often suffer from high rates of anemia and chronic malnutrition. These two issues are closely tied to diet and lack of proper nutrients, including iron, vitamin B12, and folate, and are prominent amongst young children and those living in extreme poverty.
Responding to community needs to improve these dietary issues, CHOICE Humanitarian developed the Community Garden Program. Launched in 2018, this program aimed to benefit 1,500 individuals (400 families) by teaching them how to plant, grow, and nurture their own gardens and harvest nutritious produce for their own personal consumption. Each participant was provided a kit of starter seeds and supplies, agronomy training, health and nutrition education, and support from an agronomist from the CHOICE Humanitarian Peru team. CHOICE Humanitarian began the program in the community of La Arena-Piura.
Sara Hyde, a valued CHOICE Humanitarian donor, understood these issues that remote communities in Peru were facing. She had seen firsthand that these rural populations didn't have a sufficient amount of food, and that the food they did have lacked proper nutrients. After seeing the impact that the community garden program has made since it began in 2018, Sara took action to solve the malnutrition problems she observed by supporting the Community Garden Program.
Prior to CHOICE Humanitarian's involvement, most of the community engaged in rice production; however, community leaders believed the villagers needed to cultivate a more nutritious and diverse crop. Villagers, assisted by CHOICE, planted vegetables for 400 families in gardens located behind their homes. These organic gardens provide food for 9 months and are re-planted at various times to make the harvest consistent.
Here are the project results from 2020:
2,000 bio-gardens
17 communities intervened
2,000 children benefited
10,000 people benefited
8 schools with bio-gardens
We proudly reported back to Sara and other selfless donors like her about the impact the Community Garden program made in 2020. Sara's support in this project made it possible to empower families to grow their own food and improve their economic and nutritional situation. With the changes and challenges that the Covid 19 pandemic brought in 2020, it was especially imperative that these rural families had a sustainable food source, and the gardens our donors funded helped these families sustain themselves. Sara's investment in the gardens paid off in full because these people had enough food for their families, schools and communities.