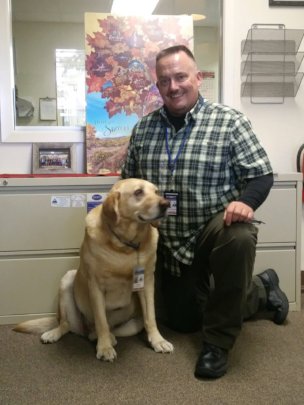 Selecting reports to feature for this project can be difficult, they all are depressing due to the circumstances of the owner of the pet. However, at the same time some have a happing ending. It is comforting knowing that we have eased the suffering of pets that belong to the homeless because of your support.
To the team at Pets of the Homeless,
You saved him, he saved me, now we save others.
Thank you for your service!!
Back in July of 2013 I was down on my luck, homeless and in fear of losing my best friend, my Dog Buddybear. Your team set in motion the series of events that led to Buddybear receiving an emergency surgery that saved his life. This selfless act filled my heart with much needed love and hope. The reason I am writing this, is to let you know how important that act of kindness was to me. It gave me the strength to keep going and taught me the importance of giving back to the community. Buddybear and I were able to get back up our feet and (Paws). Now, we are in a position to give back to others that are in need of a helping hand up.
Thank you for all that you do.
With much love and respect,
Erik Aalgaard
Case Manager, Workforce Coordinator, and MOST Team Member
Douglas County Social Services
++++++++
Pets of the Homeless received a call from a homeless woman named Nancy. She is disabled, and living in her car. She has been homeless for about 2 years, and learned about us on Facebook. She sent us a message on Facebook and we told her to call us directly to apply for assistance.
Nancy was concerned about her two dogs. Durranis, a 9-year-old male Queensland Chihuahua mix had something in his ear and some growths on the back of his neck and one on his belly. Minishe, a 6-year-old female Shihtzu had something, maybe a tic on her head. We approved examinations at a local for both dogs.
After the exams, the doctor called our Case Manager. Durranis has skin nodules that should be removed. We approved mass removal which is scheduled for November 7, 2018.
Minishe was diagnosed with a growth on her head. The doctor told Nancy to keep an eye on it and to come back if it changes.
Nancy's boyfriend, Larry also had a concern about his dog, Lala, a 16-year-old Chihuahua. Lala seemed to possibly have cataracts in her eyes and was not using her back legs.
The vet recommended and we approved eye drops and pain medications.
Message from Nancy via Facebook:
I want to thank you so much for helping our dogs with the vet visit. The oldest one 16 got her eye drops and pain med and her eyes are clearing up and I think she can see a little bit anyway. The meds calm her down so her quality of life has improved. My dog Durranis is scheduled for surgery to remove the growth on his neck. I'm nervous about it but thankful it can be done. Vet said he's in good shape for 9 years old! And Minishe's growth he said to keep an eye on it. Everyone was really nice there and didn't treat us different for being homeless! We are so thankful to you for this help. God Bless you all!
Your donations made it possible for us to help dogs like Minishe, Durranis, Lala and Buddybear. These and all cases are paid directly to the hospitals at time of service.
Thank you once again!
Links: