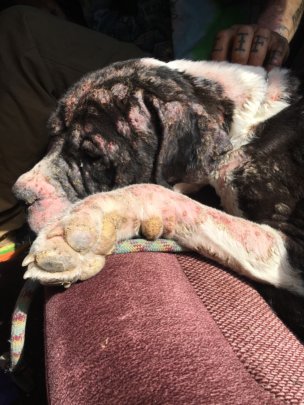 Thank you for your support of Pets of the Homeless' mission. We are grateful to have earned your trust. Your past donation tells us you care about pets and the homeless. We ask that you please continue to invest in our Annual Campaign to support our programs which are free for pets whose guardian is homeless.
Because of your support and generosity, Pets of the Homeless can continue to help pets like Nibbler and Shellynn.
Pets of the Homeless received a call from a veterinary office in Citrus Heights CA regarding Nibbler, a 10 month old Pit Bull Boxer mix. Nibbler had puppy mange and was very skinny. The veterinary technician gave Nibbler a free examination and said that Nibbler had very bad puppy mange, so bad that the tech cried. Nibbler's homeless guardian lives in a garage without running water. We approved medications and special medicated shampoo to treat the mange.
Shellynn is a 12 year old female albino Swedish Mountain cat and stays with her homeless guardian who is a Veteran in his van in Rancho Cucamonga, CA. Shellyn was dragging her back legs and she was urinating uncontrollably. Pets of the Homeless approved an examination, IV fluids, bloodwork, urinalysis, and an x-ray. She was treated for a urinary tract infection with antibiotics. Shellyn's homeless guardian was so very thankful for Pets of the Homeless' help and compassion.
87 percent of every $1 you donate goes directly to Pets of the Homeless' free programs.
In order to meet our mission and provide services in your community, we rely on the generosity of individuals and businesses for support. Your donation makes the lives of these pets a little easier and healthier.
Please donate on our website at www.petsofthehomeless.org. Remember that every donation makes a difference, regardless of size. A $225 gift will pay the average cost of one emergency veterinary visit.
Won't you help again?
Your support helps us accomplish our mission:
Pets of the Homeless believes in the healing power of companion pets and of the human/animal bond which is very important in the lives of many homeless. They find solace, protection and companionship through their pets. They care for their pets on limited resources so they themselves have less. Our task, nationwide, is to feed and provide basic emergency veterinary care to their pets and thus relieve the anguish and anxiety of the homeless who cannot provide for their pets.
Pets of the Homeless is unique in that it is the only national nonprofit that offers free pet food, sponsors wellness clinics for low income and homeless, and gives free emergency veterinary care to pets whose guardians are homeless.
Donation Sites - 430 + businesses that promote to the public that they will accept donations of pet food and supplies for pets of the homeless and low-income families. Donation Sites have collected and distributed over 439 tons of pet food with an estimated fair market value of over $1.77 million. The donations are delivered to Pet Food Providers.
Pet Food Providers - 430 + existing food banks, soup kitchens and homeless shelters that currently provide free food including pet food to the homeless and low income families.
Pets of the Homeless has provided veterinary treatment (emergency care and wellness clinics) to over 14,100 pets across the U.S. and Canada at a cost of over $417,000, since 2008.
Pets of the Homeless has created a wide network that has garnered media attention locally, regionally, nationally and internationally for its good work. A few high points this year:
A documentary featuring Pets of the Homeless produced by EliteDaily.com in 2016 has attracted new donors and volunteers – if you missed it, please view it on our website under "About Us"/"What We Do".
Pets of the Homeless was awarded the "Ordinary People, Extraordinary Measures by the Community Associations Institute as well as top honor in the Nevada Business Magazine's Family Owned Business Awards, "Don't Forget to Share".
111,000 + Likes on Facebook
Your gift is appreciated by so many this Holiday Season!
Sincerely yours,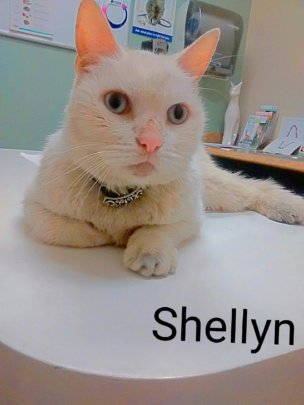 Links: