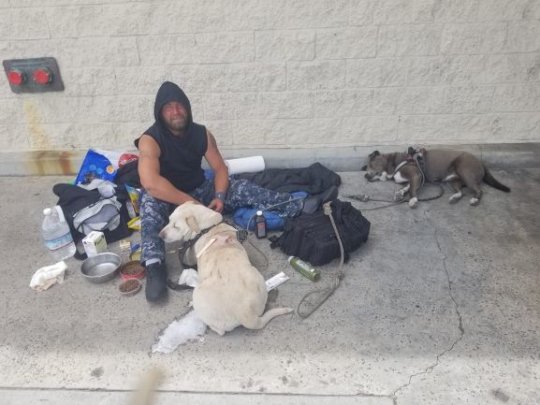 Feeding Pets of the Homeless believes in the healing power of companion pets and of the human/animal bond, which is very important in the lives of many homeless. They find solace, protection and companionship through their pets. They care for their pets on limited resources so they themselves have less. Our task, nationwide, is to feed and provide basic emergency veterinary care to their pets and thus relieve the anguish and anxiety of the homeless who cannot provide for their pets.
Emergency Veterinary Care is our most expensive budget item. Budgeted for this year, $300,000, we have to limit treatments to $25,000 a month. Once reached, we have to put clients on a waiting list, unless it is a true emergency like the two cases in this article. As of today, we have already spent over $129,000 on emergencies. It is supporters like yourself that have made it possible to help pets of homeless people across the country.
Thor & Chris
Chris and Thor have been in Carlsbad for a month. His wife is currently in the hospital. They were living in his car before it broke down, but now he lives on the street with Thor near the hospital.
Chris arrived at the Carlsbad Animal Hospital with his sleeping bag and everything he owned in a backpack. A dog who jumped out of a car outside of Catholic Charities where he was getting a daypack of food and attacked his 8-year-old Shepherd mix, Thor. Thor's back right leg had puncture wounds and a gash that required surgical repair.
Pets of the Homeless provided $771.89 in funding for the laceration repair and we were able to neuter Thor. Our Veterinary Partner donated $385.00 in services to assist Chris and Thor.
Whitey & John
On May 1st, 2019, John called Pets of the Homeless because his dog Whitey had a deep gash on his back. Whitey is a two year old neutered Labrador mix. John does everything he can for his pets and he makes sure their needs are met before his own. John and his dogs sleep on the streets in San Diego. He learned about Pets of the Homeless through an Animal Control Officer who took John and Whitey directly to our veterinary hospital partner in El Cajon. John states Whitey sustained the injury when another dog attacked him. Although John always keeps his pets on a leash, not all pet owners do the same.
Our veterinary partner provided Pets of the Homeless with a discount and we authorized a surgical repair of the laceration with sedation, a drain, and medication. We funded $482.32 in treatment and our veterinary partner provided $120.58 in discounted services. Whitey is healing fabulously and John couldn't be happier.
The truth is these innocent pets have no home and all they have is their best friend, their owner who is also homeless. And there aren't many places where the pets can get help. Most homeless shelters do not allow pets.
Will you help us save the life of pets like Whitney and Thor? You won't just save one life. You might save two.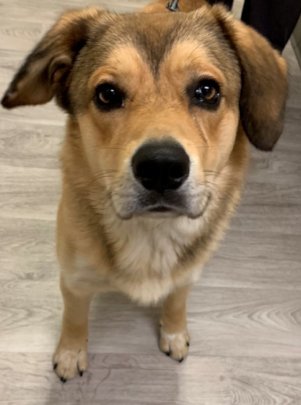 Links: