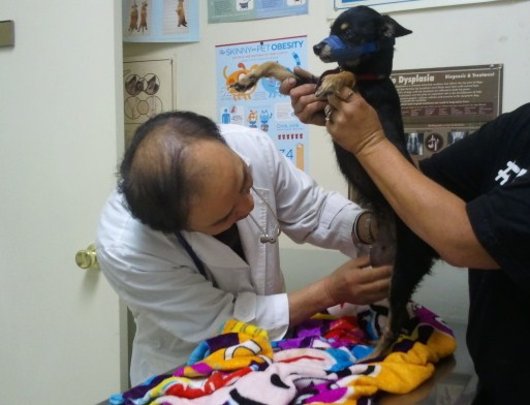 A huge "Thank you" to everyone that has donated to this program!
Tracy and Sunshine, a one year old Terrier live in a van in Hayward, California. Sunshine had a bad case of worms, causing blood in her stool. After she recovered we approved for her to get spay along with needed vaccinations. The spay and vaccinations totaled $150.
Michelle and her miniature poodle, Hattie have been homeless for almost two years. They live and sleep in a car near Oceanside, California. Hattie is eleven and had a tumor on her eye lid. While she was under sedation she was spayed. The spay portion of the surgery, with a discount, was $54. The total bill was $1,215.50 the hospital discounted over $700 and we paid over $450.
Nancy and Ladybug were referred to Pets of the Homeless by another nonprofit in Riverside, California. Dr. Oh removed an abdominal hernia that was contained in her intestine and uterus. The uterus was also infected. The other nonprofit paid $200 towards the bill, the hospital discounted over $130 and Pets of the Homeless paid $500.
Jennifer and Blacky, a puppy Chihuahua mix have been living in a car in Oakland, California. After x-rays it was determined that Blacky's foot was separated at the growth plate. To do a complete x-ray Blacky was given anesthesia and while under a castration. The exam was free and the neuter was $50, the remainder of the bill came to $150. They bandaged the foot and we believe the foot healed on its own. 95% of the time we do not hear back from the homeless owners unless the pet becomes ill or injured again.
It is because of the compassion and discounts of so many veterinarians that we can help many more pets get altered. Did you know that many homeless get their pets from other homeless owners due to unaltered pets?
As an example: Assume a female dog has her first heat at a year old, one heat every year, has 6 pups each litter to age 12. That's 12 x 6 pups = 72 pups as a guesstimate.
The average number of litters a fertile cat can produce in one year is 3. The average number of kittens in a feline litter is 4–6. That's 3 x 5= 15 kittens a year to age 7 = 105. In seven years, one female cat and her offspring can theoretically produce 420,000 cats.
Your donations go a long way to help those pets that need altering. Help us today meet our goal.
How can you help us attract wider support for spay and neuter of pets that belong to the homeless?
Links: