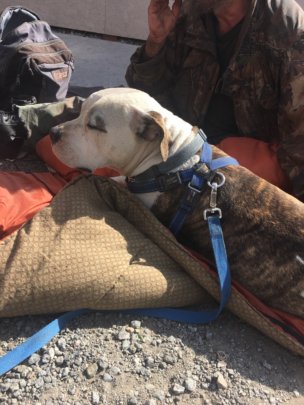 As I write this report for you I am reminded of the good work that we do with your donations. It is amazing that during the second quarter of 2016 we treated more than 80 pets (75+dogs and 5+ cats). That means that over 80 homeless called our case managers for help because they didn't have the resources to take their beloved pet to a hospital. Hearing the voices of the homeless who are frantic to get help for their beloved companion who is in pain and the tears that we hear in their voices as they describe the injury or the illness and then the gratefulness that someone is listening and will help.
The illnesses and injuries included: ear infections, hernias, vomiting, an esophagostomy, eye and ear infections, anal glands, fatty lumps, teeth extractions, euthanasia, broken logs, seizures, cysts, bee stings, bladder stones, hit by car (lacerations and gash), foxtail removal from noses and ears, parvo treatment and mange. With donations during the 2nd quarter we paid over $16,000 to hospitals (they discounted over $4,400!) with your donations. Words cannot express our appreciation for your help.
Here are some stories of those cases:
Pets of the Homeless received a call from an advocate at the Volunteers of America in Reno about a dog, Hurley Mudd, a 3 year old female pit bull who had been stabbed three times in the hind leg by another homeless person. One was very deep. We aren't sure what caused the altercation, but Hurley needed to be seen by a veterinarian right away. Hurley's guardian stays on the river in downtown Reno, NV. We approved an examination.
The veterinarian needed to sedate Hurley and clean up the wounds. We approved this along with a pain injection, blood panel, and antibiotics. While Hurley was sedated, the veterinarian called Pets of the Homeless that while cleaning the wounds she found that one had caused a tear in the abdominal cavity. She needed to put Hurley under anesthesia and sew up the tear.
The surgery went well and Hurley Mudd stayed at the vet over the weekend. When her guardian came to pick her up she was wagging her tail and was very happy to see her daddy!
~~~~
A homeless man who stays in his RV on the streets in Victorville California called Pets of the Homeless. His dog, Sarge, a 17 week old Pit Bull Terrier Shepherd mix may have swallowed something. He was very ill, vomitting and had not eaten in several days.
Pets of the Homeless approved an exam and parvo test. His parvo test was negative, so we approved to have the doctors begin treating his deyhdration with IV fluids and anti-nausea medications. Bloodwork and x-rays were done. The x-rays showed a slight abnormality in the lower GI tract so a barium study was performed, which showed a possible obstruction or collection of barium fluid at the ileocecal junction of the GI tract.
We assisted with the maximum benefit allowable to go forward with an exploratory surgery. The doctor found that Sarge's cecum was very dilated and filled with fluid and gas, making it difficult for food to pass through. This may have been caused by something he ate days ago, causing GI inflammation and infection. The doctor was able to massage the area until a plug was pushed through and the GI tract started better peristalsis (movement). Sarge stayed one more night on IV fluids and went back to his owners the next day.
The hospital manager wrote, "Thank you so much for all you do and for helping this little guy out! The staff and his owners are so appreciative!"
~~~~~
A homeless woman who stays on the streets in Stockton CA called about her dog, Pepper, a 4 year old female Pit Bull Terrier Labrador mix who had been hit by a car. Pepper also has an abcess on her anal gland area. Pets of the Homeless approved an examination at a new veterinarian in the area.
Pets of the Homeless provided assistance to have surgery to repair Pepper's anal gland, as it had ruptured. This included anesthesia, anti-inflammatory and pain management injections, and surgical repair of the gland. We also assisted with an e-collar so that Pepper will stay away from the area while it heals.
~~~~~
A homeless man who lives in a tent in an alley way in Colorado Springs, Colorado called Pets of the Homeless about his dog, Bones. Bones is a 5 year old neutered male Rhodesian Ridgeback Box mix who had diarrhea and was vomitting and coughing. We approved assistance for an examination.
The veterinarian performed a fecal test at no charge. He was given a Cerenia injection and special bland diet.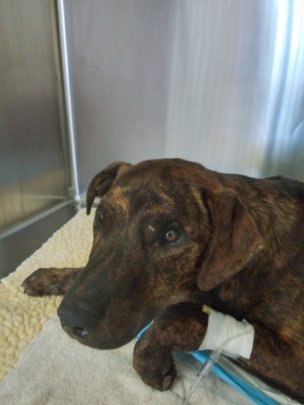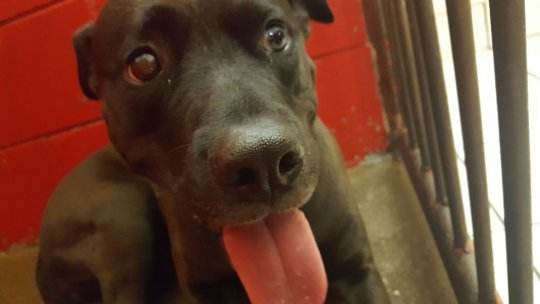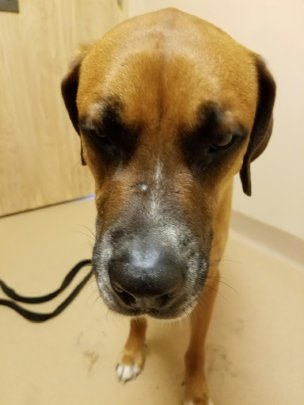 Links: