Home is not a place. It's being with someone who cares and loves you.
Your support is so very appreciated, more than words can express.
During the second quarter (April - June), Pets of the Homeless paid for 501 emergency cases, a 45% increase over the first quarter. Our cost $89,049, a 63% increase. Hospitals discounted $21,006, a 66% increase, a testament of their compassion to help pets of the homeless.
As word spreads, more and more homeless are calling for our help to stop the pain of their beloved companions and we need your help.
Selecting stories to feature for this report is very difficult, all are sad. At the same time, it is comforting knowing that we have eased the suffering of pets that belong to the homeless.
June 14 - Eve called Pets of the Homeless and asked for assistance with her 170-pound Bull Mastiff, Kato. Eve is a homeless woman in the San Diego, California area. She is living in her car with Kato and told Pets of the Homeless that she is finally getting into a pet friendly shelter. She asked for assistance with getting a big enough crate sent to the shelter that Kato could sleep in because there wasn't enough room in her car for the both of them anymore. Pets of the Homeless helped Eve get a crate drop shipped to the shelter. Eve also informed us that Kato had an eye infection. She said one of his eyelashes grew inward and is now rubbing his cornea and his eyes were really dry. She also said Kato had some open sores on his front legs. We approved an exam at B Street Veterinary Hospital. (57% of calls that turn into cases are from homeless women.)
After the examination, a doctor at B Street contacted us and informed us Kato had an eye infection and needed an eye gland cyst removal. They recommended and we approved: cytology, injections, eye stain, cryotherapy, and medications. We approved all treatment along with a recheck. The doctor also informed us that they found a little bubble between Kato's toes and they might need to do exploratory surgery on his foot. Eve called back the day after her appointment and told Pets of the Homeless that she was very thankful for our help. Pets of the Homeless spent a total of $319.68 at B Street Veterinary clinic.
June 4 - Mr. Wheeler called Pets of the Homeless regarding his dog, Matty, a 6 year old in-tact male Chihuahua who had been in a fight with another dog. Mr. Wheeler is a homeless man who lives in a tent on property in Santa Rosa, CA. Someone came to the gate and his dog got in a fight. He has been homeless for 23 years and he heard about us through Dr. Henriksen at ACME Pet Repair in Occidental, CA. Matty's eye had been injured badly in the dog fight and it had happened over a week ago. We approved an examination with Dr. Henriksen.
After the exam, the doctor said that Matty's eye needed to be removed, the procedure is called an eye enucleation. We also asked the doctor to please neuter Matty, because his owner thought it would help out and hopefully no more dog fights would happen.
We approved the surgery, and Matty's eye was removed and he was neutered. We paid $508.00 to ACME Pet Repair. Of the total, $80 was for the neuter.
June 11 - Pets of the Homeless received a call from John, originally back in March of 2018. John was in San Diego, CA, originally from CO, living in his van seeking work. His 10-year-old neutered male Golden Retriever, Salty Dog, had a tumor on his back hip that burst open. The Humane Society helped and removed the tumor. He called us and said he was very grateful for our services even though he didn't use them.
He called us again in June. Salty Dog's tumor has grown back and opened up again. We approved an examination at B Street Veterinary Hospital. After a thorough exam, the veterinarian called our Case Manager and told her that it looks like cancer. The veterinarian said that Salty Dog doesn't look like a surgical candidate at this time, but recommended a fine needle aspiration, cytology, blood panel, and x-rays to find out what type of cancer it is. They wanted to check to be sure the cancer hasn't moved into Salty Dog's bones. We approved the diagnostics and assisted with $366.88.
The veterinary technician had troubles and needed to add sedation in order to get the procedures done. The vet also added antibiotics to the treatment plan. Salty Dog was diagnosed with cancer. The vet prescribed ongoing medications.
We received a call from John on June 15. He said he was "home" now, and by that he meant he was back in Colorado. He said it was impossible to get established in CA. He has an interview for a teaching position and it looks promising. He was still living in his van, and he was trying to keep it together with Salty Dog's diagnosis. He asked us if we knew of any resources for discounted prescription medications. We explained we have a discount card and put one in the mail to him at his mailing address. We also suggested he shop around for the best prices.
He asked if we could help with some additional medications for Salty Dog's last days to help him be out of pain. We assisted with $118.66 to Pet Aid of Colorado for senior profile lab work, gabapentin, prednisone, and tramadol medications. The bloodwork results showed Salty Dog had low albumen, which is a side-effect of cancer. The vet mentioned that Salty Dog had weeks to one month left.
We wished him the best in his future endeavors and to enjoy his time with his best buddy.
Should you like to read about more of our emergency veterinary care cases they are available on our website and in our monthly newsletter. (Sign up on line.)
Your donations made it possible for us to help dogs like Salty Dog, Matty and Kato. These and all veterinary cases are paid directly to the hospitals at time of service.
Thank you for your support and gifts that allow us to treat the hundreds of pets that need veterinary treatment.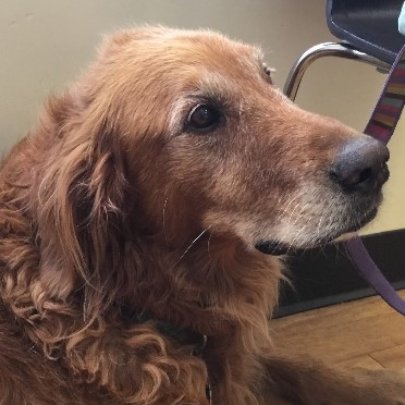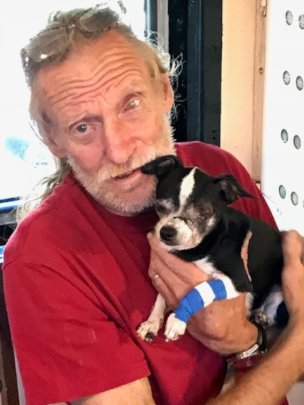 Links: