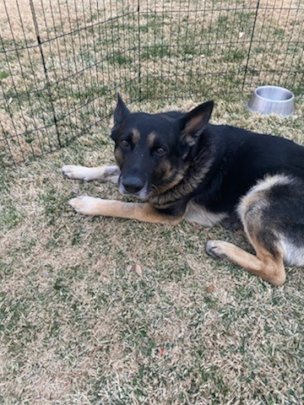 Illness and injury can strike any pet, but for those pets that live with a homeless person it can be devastating when there are no funds to treat the pet. Even providing pet food can be overwhelming and cost prohibitive.
Feeding Pets of the Homeless® believes in the healing power of companion pets and of the human/animal bond, which is very important in the lives of many homeless. They find solace, protection and companionship through their pets. They care for their pets on limited resources so they themselves have less. Our task, nationwide, is to feed and provide basic emergency veterinary care to their pets and thus relieve the anguish and anxiety of the homeless who cannot provide for their pets.
Mary has been homeless living in her RV in Las Vegas, NV for the past five months. Mary is disabled and receives SSI.
Mary's dog is a seven-year-old male German Shepard named Recon. Mary reached out to Feeding Pets of the Homeless because Recon had an infected testicle. An intake interview was completed as well as homeless verification.
Feeding Pets of the Homeless approved an exam at a local hospital. Following the exam, it was determined that Recon would require surgery to remove the infected testicle. Vaccinations were updated, surgery included: IV Fluids, hospital stay, pain meds, sutures and a biopsy. Feeding Pets of the Homeless contributed $1,300 towards surgery, which was over $2,500.
Our network of 1,060 hospitals, across the country, have discounted thousands of dollars. It illustrates their compassion for the less fortunate.
Mary contacted the case manager to let us know that Recon is recovering very well from his surgery.
Thanks to you, we are able to provide free veterinary care to dogs like Recon.
A special "Thank You" to recurring monthly donors, you have my sincere gratitude.
Want more stories about the pets that we service and our other programs? Sign up for our e-newsletter on the website.
Links: