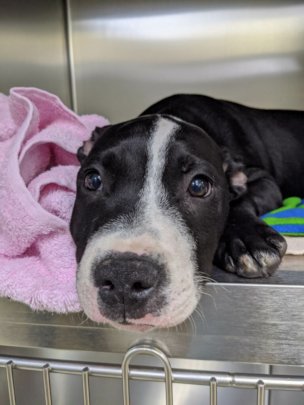 Your support will help dogs like King and his human Porseha.
Porseha has been living in her vehicle for the past three years in the Sacramento area. Porseha is unemployed and receives SNAP benefits (food stamps).
Another homeless person gave her a Pit Bull puppy, she named King. It is common among homeless to give puppies to others. Many of these puppies end up in animal shelters after animal control picks them up from camps or on the streets. It is unfortunate the owners of these pets do not have the resources for spay/neuters or vaccinations. It is our policy during a procedure, if anesthesia is required we ask the doctor if a "spay or neuter" would be appropriate. If the answer is "yes," they ask permission from the guardian and we pay for the extra procedure. We always have the doctor update any vaccinations that are needed
King was hit by a vehicle and was seriously injured. Porseha walked into VCA Sacramento Emergency Veterinary Hospital looking for assistance for the puppy. The VCA staff contacted Feeding Pets of the Homeless (they have worked with us on a past case) to ask if we could provide assistance. An intake interview was completed over the phone and homelessness verification was confirmed by a case manager.
Feeding Pets of the Homeless approved emergency care for King. The puppy was having difficulty breathing and was experiencing severe pain in the pelvis area.
Diagnosis was bruising on lungs and a pelvic fracture. King was provided pain management, oxygen therapy, ultrasound, x rays and vaccinations. Suggested to keep puppy in a small area for up to 6 weeks for it to heal without surgery. Feeding Pets of the Homeless contributed a total of $630 for treatment. The hospital discounted $70.
During the Holidays, many homeless will be spending it with the only companion they have. A pet can relieve the pain of loneliness, keep each other warm, protect and provide unconditional love. When that pet is injured or ill, the guilt of not being able to afford care is heartbreaking. Your support helps us to treat these loving pets.
Feeding Pets of the Homeless has been rated by Charity Navigator with a rating of 100 of 100.
Stay safe and stay hopeful,
Links: