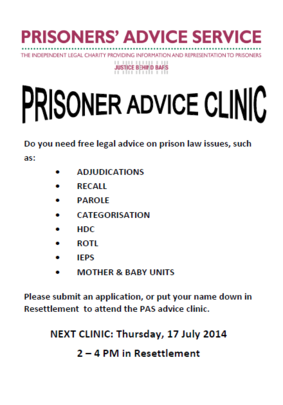 Campaign Results So Far
A massive Thank You from PAS! Through your generosity, we have raised £6,245 so far for our project giving free legal advice to women prisoners and disabled prisoners. We hope you enjoy reading this report on the first three months of the project.
Women Prisoners
With your support, our Women's Caseworker has dealt with many telephone and letter enquiries and delivered 9 legal advice clinics in women's prisons (at HMPs Holloway, East Sutton Park and Send). Overall we have helped 108 women prisoners through the clinics alone, and many more through the telephone calls, letters and casework. We are also in the early stages of discussions to open clinics in other women's prisons around the country.
A success story:
Prisoner A was at HMP East Sutton Park, where we met her at a recent outreach clinic. She was extremely distressed at the death of her younger sibling but had not received any support or assistance from the prison regarding her bereavement issues. We wrote to the prison to highlight her distress and the prison's failures to provide proper counselling, etc. As a result of our intervention, Prisoner A was transferred to HMP Send where her issues are now being better addressed through support from the prison Chaplaincy and some much needed bereavement counselling. She has recently written to thank us for our assistance and reported that it has really helped her in moving forward after this loss.
Disabled Prisoners
Since May, your donations have enabled our Community Care Caseworker to deliver 6 advice clinics within prisons (at HMPs Pentonville, Thameside and Wandsworth) and to provide legal advice and assistance to disabled or mentally ill prisoners. Your support has also enabled her to deal with many telephone and letter enquiries. She has also been working on a number of ongoing cases helping prisoners who have suffered disability discrimination.
A success story:
Prisoner B suffers from Myopia – a refractive condition in the eyes. Retinal detachment in 2012 led to permanent blindness in one eye. He now lives in fear of losing sight in his remaining eye. In prison, he suffered increased eye infections which led to black spots and flashing lights in his vision. Although he needed urgent treatment to remedy this, it took prison officials four days to get him to hospital and as a result he missed an appointment. The prison had also been cancelling his appointments due to "security reasons". Our Caseworker managed to ensure that Prisoner B received sight-saving treatment by writing letters pressing the prison to honour their legal duties.
Thank You
Thank you again for your important support which is making it possible for us to provide free legal advice for women prisoners and disabled prisoners. We will continue to inform you of our progress on this project in the months to come.
50% Matched Funding Offer!
We are delighted to announce that Global Giving will be running a 50% matched funding offer for this project in the first week of September. If you have been moved or inspired by what you have read in this report, and would like to make a further contribution to support our work, please donate on 1st September or ASAP after that, and your kind donation will be worth 50% more!
Many thanks for your help
PAS
Links: