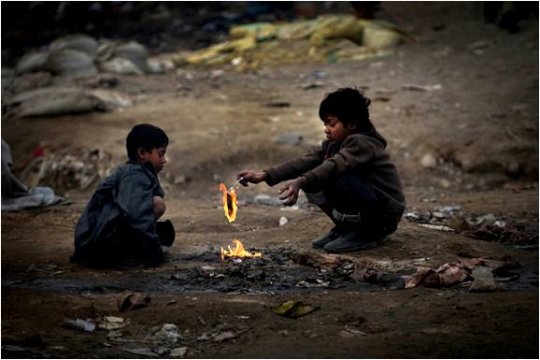 It's been an extraordinary year… our dreams of pushing education boundaries for our slum and street children through technology have come through.
Using Computer Aided Learning programs in all our centers, on our Mobile Education Buses and on our dedicated Mobile Computer Lab, we are able to bring modern exciting teaching techniques via an audio Visual and interactive medium. This has captured the imagination of our children and sent the quality of the education we offer through the roof.
Our USP at Aasraa has been that there is no unreachable or unteachable child…. This has never been more true! Our outreach teams work tirelessly at street level and with the community to build trust so that we can bring out of school children into our mainstreaming centers. We made ourselves a promise; we would not take on more children if it compromised the quality of what we do….. We are delighted to report that the quality of education has risen AND we have brought more children into the Aasraa fold.
We have undergone successful complicated surgeries, rescued abandoned children, nurtured and fed our flock; they are beaming, shiny and bright!
Our class 10 and 12 children surpassed themselves in the Board exams; all passed and we had 6 out of 7 first divisions in class 12! These are all children who would not have had the opportunity to study past class 8. We are indeed proud parents. Now we need to focus on the future of these children. Having received our NIOS (National Institute of Open Schooling) certification for Vocational Training we are pushing ahead with our plan to provide focused skills training for our children. 2017/18 will see the opening of our first dedicated Vocational Training Center.
As we look forward to 2017/18, it is clear that the stepping stones laid down this year gone past are part of the incredible journey our children are embarking on.
Thank you to all of our fabulous donors for making such a difference in our children's lives. A heartwarming and loving thank you to you all!
I would like to take this opportunity to make Aasraa's Christmas appeal for warm clothing.
Its winter again in the Himalaya. Temperatures have dropped. Children are shivering.
Winter time in the Himalaya is brutal. The cold is bad enough, but when the harsh wind blows off the mountain, it is bone chilling freezing.
Every year we respond to the cold because our slum and street children get sick without proper clothing for the winter. If they are sick, they cannot attend school.
It's a terrible cycle that further marginalizes our children…
Please help us to break this cycle!!!
As you wrap up, warm in front of your heaters and sheltered from the elements, please spare a thought for our children.
INR 1,000 / $ 15.5 provides a child a thermal lined undershirt, tracksuit and cap.
APPEAL * APPEAL * APPEAL * APPEAL