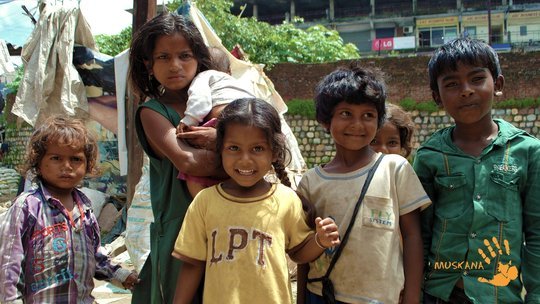 Hello Supporters!
First of all, we, at Aasraa Trust, would like to thank you all for your donations and continued support.
In Dehradun, there are approximately 3 – 4 thousand children, living in slums, who are registered in Government Schools, but do not attend school. Many of these children are found in slums, such as the Bindal Slum pictured below. These children are subjected to several types of abuse including, physical, sexual, emotional, and mental. Some even grow harmful addictions to tobacco and/or whitener when living on the streets.
Aasraa Trust's work focuses on reaching out to children in slums and on the streets, including beggars, rag pickers, and child labourers, through a variety of different programs which follow a progression to adequately support and prepare the child for school. Our several outreach programs prepare the children for our Street Smart Programs. The Street Smart program gives these children a basic elementary level education, focusing on basic math and literacy rates. After this program, we help children enroll and attend mainstream schools throughout the city. In addition, we also offer an afterschool program, Wings of Doon, which provides supplementary education and a support system for the children. Finally, each of our programs strives to give the children adequate access to nutrition, medicine, health care, and shelter to those who require it.
Right now, we have reached out to approximately 655 children through our various programs, taking the children from the streets into schools. 92 of those children have been mainstreamed into schools.
Since the Global Giving Challenge, a 163 more children have joined us. 18 children have been mainstreamed in just one month. 15 of these 18 children have been provided with residential facilities to ensure they stay in an area where schools exist. These children live in a governmental residential school called PurvaMadhyamikVidalaya until Class VIII. They are all attending St. Agnes, which is affiliated with the CBSE Board and will complete high school.
On July 3rd, 145 more children began to attend our supportive and supplementary afterschool program for mainstreamed children, Wings of Doon.
We are also excited to announce that we have been approved by the National Institute of Open Schooling (NIOS) to allow children to sit for an examination as a chance to enroll in an age appropriate level. Through this, we have 33 more children who have an opportunity to apply and go to a formal, mainstream school.
The Story of Kalawati & Shubham
Kalawati is ten years old and an orphan. We found Kalawati living on the street with an old woman who had looked after her since the demise of Kalawati's parents. Even with this old woman taking care of her, living on the streets as a young girl puts Kalawati at risk of abuse and harm. Supported by Aasraa Trust, Kalawati is now staying at Government Junior High School. Delighted to live there and receive a good education, she has shown a huge improvement. Right now, she is in Class II and is a bright, active young girl. Although she has a shifting behavioral problem, her dedicated teacher and hostel warden supervise her studies and her overall wellbeing.
Another resident at one of our hostel facilities is Shubham, a 13-year-old boy who lost his father at the age of three. After the death, his mother was denied all support from her mother-in-law. This forced her, along with her three daughters and two sons, to migrate from Jharkhand in search of a livelihood. Shubham's mother has worked to earn a daily wage at various construction sites. She is currently employed as a construction labourer in the Dehradun district. None of Shubham's four siblings have studied beyond Class V due to their family's financial constraints. Shubham is the only one who has continued with his studies, and is currently in Class VIII. He was admitted into the St. Agnes School. Shubham has proved to be prudent, responsible, and an earnest learner. One day, Shubham wants to become an entrepreneur and start his own business.
QUOTE FROM ONE OF OUR CHILDREN, Vikram: "I want to study and become a policeman, so that nobody can beat my mother. I also want to do something for my country."
Thank you again for all your support throughout the Global Giving Challenge! Without supporters like you, children like Kalawati and Shubham would not have had the same chance to attend a mainstream school.