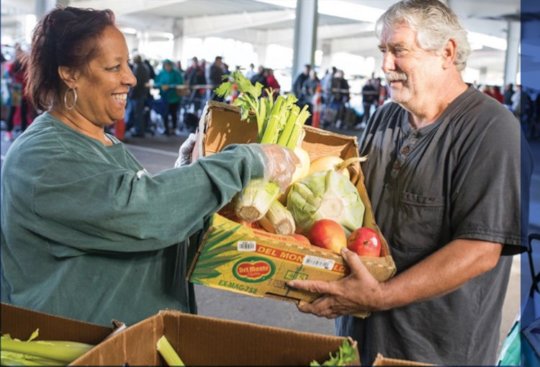 Marc worked in a textile mill in Fall River for 40 years, until it abruptly closed two years ago. He suddenly found himself out of a job and struggling to put food on the table for himself and his wife.
Marc began collecting unemployment benefits, through which he was able to attend classes at Bristol Community College to earn his high school equivalency diploma.
"I wasn't thinking about this a few years ago. I figured I was all set for the rest of my life," he said. "I didn't think I'd have to go back to school and do this again."
While attending classes at Bristol Community College, Marc heard about the Mobile Market run by the school in partnership with The Greater Boston Food Bank (GBFB). Every month, Marc and hundreds of other students attend a farmer's market-style distribution at the school where each participant can take home 30 to 35 pounds of nutritious food—including meat, dairy, fresh fruits and vegetables.
"It's a nice thing to come down here and get a few groceries if you're struggling," said Marc, who has been attending the market for about year.
"We cut back on a lot of stuff after I lost my job. This helps out now every month," he said. "It's a little less we have to buy when we can get vegetables like corn, potatoes, celery, it all adds up."
Now Marc takes classes at college while supplementing his food budget at home. According to him, the food he gets from the Mobile Market usually lasts him and his wife a week or two.
"I'm not the only one; there are other people in this boat," Marc said. "Things are tough today for some people. And it hurts, people are struggling."