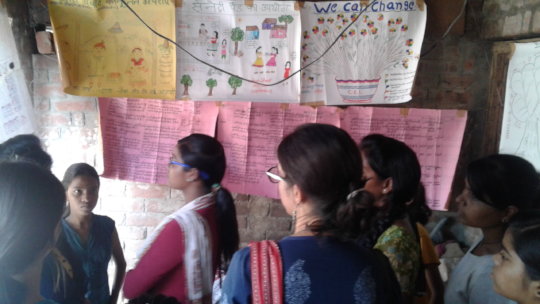 Menstrual hygiene management is very less talked topic among adolescent girls. Inadequate knowledge on menstrual hygiene, lack of puberty education, social norms restricting communication with in families, existing practices like use of used clothes & unsafe martials upset girls and women and them to experience menstruation as shameful and uncomfortable. Project addressed this issue in slums through life skill education classes for adolescent girls in age group of 10-19 years, participatory learning sessions with girls, women community volunteers and household level behaviour change communication through the volunteers. It has also been part of slum level action plan containing girls, women and community development issues. Social and behaviour change communication processes initiated under the project in 100 slums in Lucknow are contributing in enhancing space of adolescent girls in their families. Adolescent girls groups bringing 2000 girls together and 400 community volunteers developed under the project are actively engaged in behaviour change communication on sending girls to school, menstrual hygiene management, use of the toilets, prevention of child & early marriage through household visits and community meetings. It has started to demonstrate the impact on girls, women, their family and wider community members across the slums covered under the project.
Sapna who was 13 years old when she has menstrual cycle for first time, she didn't got upset or undulate and told about this to her mother, which insisted her to use cloth for this problem which she completely refused, as it was told to her during the Adolescent girls group meeting that use of cloth is unsafe and unhygienic thus she demanded for Sanitary Pads, her mother didn't had money at that time so she bought it by her own saving, she is now 16 years old and studying in class 10th, she also shared the importance of using sanitary napkins with all other adolescent girls of same age group in her school.
During the period from October 2017 to January 2018, we conducted participatory learning sessions focussed on menstrual hygiene, protection of girls form child & early marriage and encouraging girls education in 100 slums. It covered 1768 adolescent girls, 838 women, 220 slum community volunteers Slum action plans developed in 100 slums incorporating girls and community development issues like out of school girls, immunisation of children and girls, need of toilets, safe drinking water, use of sanitary pad for safe menstrual hygiene management were updated. Behaviour change maps showing household wise behavioural application status were updated. These tools facilitate the community volunteers and adolescent girls groups to assess the changes on indicators as mentioned above in their slums. Data emerged from the slums these tools indicate that 121 out of school girls started to go to schools, 863 girls using sanitary pads for safe menstrual hygiene management, 1867 and their families accessing and using toilets, 1006 families practicing hand wash with soap at critical timings like after using toilets, 505 girls immunised. These successes emerging from community are attributed to adolescent girl's groups and community volunteers developed in slums with project and your continued Global Giving.
Manisha, Community Volunteer lives in Makdum Nagar slum in project area. Under Saloni project she became a community volunteer and started participating actively in adolescent girls group meeting and other community level activities, with support of Saloni project she got vocational training on tailoring. It made her to start training centre for other girls from her community; she also approached a private school in her slum area and started working as a teacher, she is now self-dependent and supports financially to her family and also helping her younger sister in continuing her studies. She is very much thankful to Saloni project supporter sand Sarathi Development Foundation for this immense support and guidance and turning around her life to a new meaning.