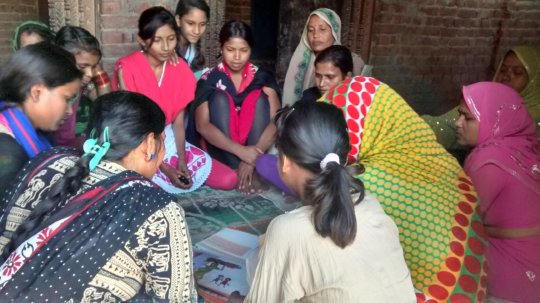 Women living in slums suffer in multiple ways:-discriminatory social behaviors, early marriages, domestic violence, poverty and lack of basic facilities like health, water, sanitation. Keeping their existing position and conditions in view, Sarathi is implementing Saloni model in 400 slums of Lucknow in Uttar Pradesh one of the gender critical states. Sarathi is positioning them through integrated slum planning based on their needs & issues, organizing them into groups for self advocacy and collective initiatives, building their capacities through basic life skill classes, developing them as community volunteers and building linkages with government service provisions and vocational training opportunities.
Global Giving partnership support helps us for capacity building and community level facilitation support to women groups, adolescent girls groups and community volunteers for behavior change communication, preventing early girls marriages, encouraging education among adolescent girls and linkages with government service provisions. Women groups and community volunteers are playing lead role in preventing early girls marriages before attaining legal age of 18 years, enrollment of continuing education of girls, influencing service deliveries of the government in their slums. Basic life skills on participation and communication tools, decision making, women rights, legal literacy, reproductive health, education, nutrition, early marriage risks and law, government service provisions hygienic behaviors like safe menstrual hygiene, hand wash at critical timings have built their confidence and abilities leading to change among them, their families and wider community. Women are also linked with vocational training institutes for learning livelihood skills. 150 women have received such vocation training.
Ms. Manju (42 years), a woman community volunteer residing in Choti Jugauli, cooks food in a girl's hostel for earning her livelihood. She did her schooling up to 8th standard and has interest in working for the community.She actively participates in any of the processes that can make the community aware of their rights and entitlements.The level of her efforts can be understood from the fact that she has provided space in her small house for the running of the community resource centre (CRC) for the drop out adolescent girls of the locality. Here, the girls are provided training on life skills, behavior change, mobility, health, rights, empowerment, etc.Her husband Ashok Baudh was impressed by the works done by her and starting supporting her efforts. The men around, also started taking interest and they learnt how to get their own work done. It all resulted into the resolution of the issues that are being faced by the community in Choti Jugauli since decades. For instance, the water tanks are installed at various places to ensure three time water supply. The community is motivated to get toilets constructed at their homes and shed open defecation. The adolescent girls with her support wrote a letter to the Municipal Corporation for garbage cleaning and discharge of drain water. The work is being done in this direction to the satisfaction of the community.
Ms. Shanno (48 years), a mother of two daughters and a son, is residing in Luvkush Nagar, a slum of Lucknow. Her socially conscious attitude got a platform when she was trained under the capacity development programme organized by the Sarathi for community volunteers. After the training she gained more confidence to work with larger community. Gradually she started holding regular meetings with the community and making them aware on various issues like girls education, early child marriage. This all raised the status of Shanno as community leader. The women and the adolescent girls around who were sitting idle got inspiration from her and have started supporting Shanno in her community work. Shanno's two daughters had dropped out of school after 8th standard and their marriage was being planned. They wanted to start going to schools again. Shanno discussed her husband and family members. She succeeded in convincing them to drop the marriage agenda.As a consequence of this, her both daughters are now going to schools. There is a visible change in other families also across the community. They are supporting their daughters for continuing education. The adolescent girls here are being trained on vocational skills also.