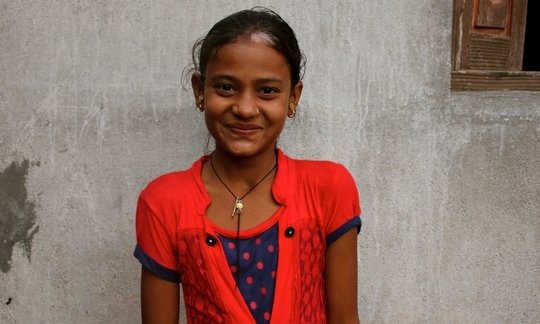 Empowerment of 6,000 girls in India: Preventing Child marriage and Early Conception
"Life skills education classes taught me that a girl should not get married before 18. I told my parents and stuck to it. I will only get married after I finish my higher education." Seema*, aged 16
Preventing child marriage
When an adolescent girl becomes a child bride she loses her chance to finish her education. Seema*, aged 16, lives in rural Maharashtra where her father earns a limited income from farming. Her father only wished to pay for her brother's schools fees and wanted to make Seema a bride at just 15 years of age. We selected Seema for life skills education as part of our program to "Empower 6,000 girls in India". As a result, she developed enough self-confidence and self-efficacy to challenge her father's plans: even managing to enlist the support of her uncle and aunt in her plight. All Semma desired was to finish her education. An entitlement so many take for granted. However, for girls at risk of becoming child brides finishing school is a right that is truly treasured.
Increasing confidence in vulnerable adolescent girls – as well as educating them about their rights – provides them with effective skills to maintain their status as single girls until they are old enough to marry. Since 2013 we have reached 32 villages and 1200 girls, reducing the number of vulnerable adolescent girls marrying before 18 by 15%. Your support has been integral in this reduction in the number of child brides in rural Maharashtra.
We are now extending these classes to include training on how to use tablets and the internet. These skills are not taught as part of the girl's formal education and will be of invaluable use to them in their studies and in their future lives.
Sexual and reproductive health education
Despite our many success stories the practice of child marriage is still common in the state of Maharashtra. The majority of girls are still getting married before the age of 18. These child brides are at risk of becoming pregnant when their bodies are not ready for the strain of pregnancy.
Pregnancy is risky for women at any age. However, young girls have an especially high risk of miscarriage, complications in pregnancy and have a 5 fold increase in maternal and neonatal mortality rates. To reduce the number of these risky pregnancies, comprehensively trained community health workers, employed by IHMP, offer free workshops on contraception and natural family planning methods. This knowledge will help to delay the age at which child brides have their first child and help them to control the size of their family in the future. If an adolescent girl does become pregnant, the community health workers will ensure that they attend monthly check-ups, eat a nutritionally balanced diet and seek appropriate treatment if complication do arise.
In addition to rural area programs, we are also in the initial stages of implementing a reproductive, sexual health and family planning project in 12 slums in the city of Pune. After the first month of implementation, the community health workers reached 755 married girls with their services and the number of pregnant adolescent girls receiving antenatal care increased by 81.8%. Furthermore, the percentage of the pregnant women that sort treatment for reproductive tract infections increased by 12.4%.
Tackling gender issues in society
Our projects are not only helping the girls who attend the courses but also aim to change deeply ingrained social attitudes that deny women the same opportunities as men. The next generation will continue to benefit from our work as these adolescent girls want to ensure that their own daughters complete their education.
"I will make sure my daughter studies well and gets a job for herself. I want her to be financial independent."
Sunita* aged 15
Additionally, our programme includes workshops to educate married and unmarried adolescent boys, which are run by male peer leaders. These workshops encourage discussion on gender discrimination, gender based violence and male dominance. We believe that open conversation and male-male discussions that challenge gender based discrimination is crucial in changing society's attitudes towards women - and in tackling the issue of child marriage for generations to come. Identification and acknowledgement of the problem is the first step in enacting change.
At the projects current scale, 240 youth have attended these workshops.
Reaching our goal of 6,000
With your continued support and generosity we hope to be able to expand the number of rural villages that we are able to run our programmes in. We are currently carrying out an extensive census to collect information on vulnerable adolescent girls in 2 further areas in rural Maharashtra : this would result in the programme being scaled up to another 51 villages. Alongside the census, IHMP staff members have conducted community meetings to introduce the programs to the community. The main objective of these meetings is to create a conducive environment for the projects to be run in the village, a technique which has proved to be very effective in the villages already involved in our programs.
Without support from you, our donors, our work would not be possible. The staff at IHMP and our beneficiaries are ever grateful for your generosity and continued interest in our work. Thank you.
For more information about our work please visit our Facebook page at: https://www.facebook.com/AdolescentGirlProject and our Twitter at: https://twitter.com/IHMP_Pune.
Our website in currently being redesigned and will be completed in September.
*all beneficiary names in this report have been changed