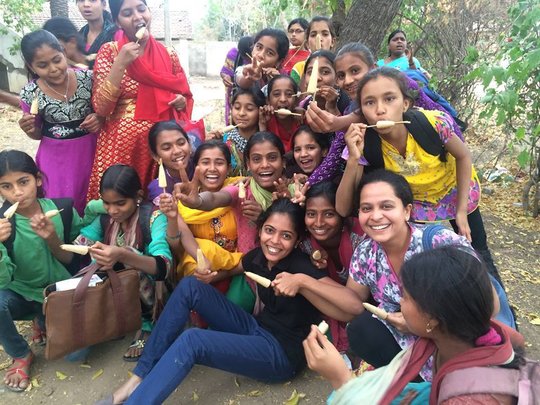 Empowerment of 6000 Girls in India – Quarterly Report – April 20, 2015
Dear Donors,
Our Heart Felt Gratitude for Your Continued Support
In our last quarterly report we had described the "Integratedproject for empowering adolescent girls and protecting young married women", which is being implemented in 32 villages of Aurangabad district since 2013. In the report we had shared details of Life Skills Education, which had resulted in improved self esteem and self efficacy of adolescent girls. Over 1200 girls have completed the Life Skills Education course.
The "Integratedproject for empowering adolescent girls and protecting young married women" is now being scaled up to another 53 villages having a population of 76,000 in Jalna district.
On 14th February 2015, 1200 girls that have completed the Life Skills Education course were given certificates and we launched the new programme that is being scaled up in the adjoining Jalna District. More than 1500 adolescent girls, their mothers, frontline workers and district officials attended the launch event. The Consul General, Consulate of Canada in Mumbai who was the Chief Guest for the launch event, gave away the certificates to the adolescent girls. The Consul General presented The Diefenbaker Defender of Human Rights award to the staff of Institute of Health Management, Pachod. Government officials from Jalna were presented the proposal for the project that is being scaled up in their district.
In the last quarter of 2014, Institute of Health Management, Pachod (IHMP) was invited to submit a proposal for funding under the Canada Fund for Local Initiatives (CFLI). IHMP decided to initiate a peer led programme for empowering adolescent girls. In order to implement this project, adolescent girls who were selected as peer educators underwent training to acquire leadership skills, skills for using computers and accessing the internet.
Computers and bicycles provided by the Canadian Government were distributed to the adolescent girls groups (Kishori Mandals), during the launch event organised on 14th February 2015. The event received wide scale coverage by the local media.
Training of Peer Educators
Training of peer educators was organized in January and February 2015. The objectives of the 4-day training were as follows:
Develop leadership and team building skills in adolescent girls.
Finalize roles and responsibilities of peer educators.
Develop skills among peer educators for conducting life skills education for adolescent girls.
Develop skills for planning a community project in their villages.
Soon after undergoing leadership training the peer educators were invited for skill development training in the use of computers and internet.
Training in Computer and Internet
Peer educators were provided basic skills in the use of computers. They were taught to create a new folder, add folders for contacts, connect to a Wi-Fi network, install applications, etc. They were taught to understand the use of a computer / tablet and its accessories for participatory computer education. A total of 182 girls and 18 community health workers from 16 villages completed the training and acquired the above mentioned skills.
After the completion of the training each peer educator will adopt five adolescent girls from her village. She will conduct life skills education for these girls and teach them skills required for the use of computers and accessing the internet. Each peer educator has identified 5 girls in her village, with a focus on girls with low self esteem and self efficacy.
Tablets have been distributed to the community health workers. They will make the tablet available to the adolescent girls whenever required.
Twenty four adolescent girls groups have been given bicycles for learning how to ride them. Once they have acquired these skills, bicycles will be loaned to girls desirous of higher education accessible in neighboring villages.
Case Study I:
Ujjwala is from Vadacha Tanda village. She came to the Institute at Pachod for leadership training. After undergoing training she organised an Adolescent Girls Group (Kishori Mandal) in her village. She undertook team building with the group of adolescent girls to implement a project in their village.
The Adolescent Girls Group visited each house and gave information about the importance of education. As a peer educator she motivated all the adolescent girls to complete their education till the 12th standard at least. She organised her group to perform a street play in different parts of their village on "Importance of Education" and "Delaying Age at Marriage". The inter-personal communication and street plays have had a measurable impact on changing these social norms.
In spite of resistance from the parents the girls continue to attend school regularly as they have understood the importance of education and its impact on their future. We are hopeful that the more girls will complete class 12 and pursue college studies.
Case Study II:
Komal is from Kadethan Tanda village. A training programme of three days duration, on the use of computers and tablets, was conducted at the Institute of Health Management, Pachod. Komal had heard about computers and tablets but had no knowledge or skills regarding their use. By attending the training she learnt skills for using tablets and accessing the internet.
After receiving the training Komal said "I learnt about Google Search, different websites, creating folders and also how and where to use these applications. I learnt to use the tablet for taking photographs and videos. This training has opened a whole world of information about which I had absolutely no knowledge. I have acquired a range of skills that have widened my horizon that I could not have dreamt of before this training.
As a peer leader I have confidence that I can impart this knowledge and the skills I have acquired to the five girls from my village that I have adopted. My group is very excited and happy to learn about the tablet. I have taught the girls how to check examination results for 10th and 12th standards on the internet. They have learnt how to access websites of colleges to get necessary information about various courses. Skills for accessing the internet will be very useful for the five girls in my group that I am expected to mentor".
Integrated Project for Adolescent Girls in Urban Slums of Pune City:
A similar integrated project for the empowerment of unmarried adolescent girls and protection of married adolescent girls and young women is being implemented in 10 slums of Pune city that have a 20,000 population.
The baseline study indicates that there is a high drop-out rate from schools after the age of 11 years. Very few girls can access higher education or vocational training.
Adolescent girls have poor mobility, both within and outside their slums. Their participation in community activities is uncommon. The girls have poor decision making skills. A substantially high proportion of slum women in the age group 20 to 25 years were married before the legal age of 18 years.
Dietary and nutrition knowledge and practices are poor. Knowledge about reproductive health is abysmally low. Utilisation of sexual and reproductive health (SRH) services is low. Young women are dependent mostly on the private sector for these services. A negligible proportion of young women utilise free health services provided by the Municipal Corporation. The proportion using contraceptives is low. A high proportion of young married women reported maternal and neonatal morbidity, low birth weight babies and reproductive morbidity including domestic violence.
Future Plans:
This Integrated project for adolescent girls and young women living in the slums of Pune city will be scaled up to cover 1,40,000 slum population through a network of six NGOs.
If you feel our work is worthy of support please become a regular donor. Once again I thank you all for supporting IHMP.
Please visit our Facebook page at –
https://www.facebook.com/AdolescentGirlProject
Twitter –https://twitter.com/IHMP_Pune
Like it, share it and help us reach out to others who are interested in issues concerning adolescent girls in India.
Dr. A. Dyalchand
Director
Institute of Health Management, Pachod (IHMP)
32/2/2, Kharadi Road, Chandannagar
Pune 411014, Maharashtra, India.
91 20 6410 0790 / 91 20 2026 4833