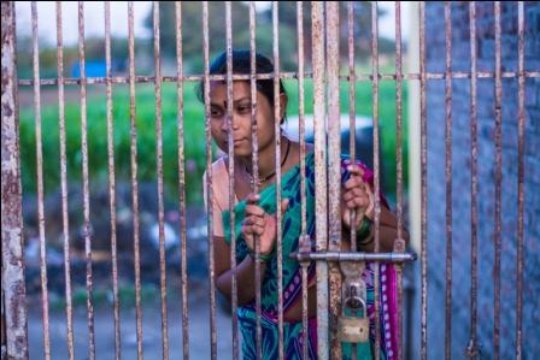 Dear friends and supporters,
Thank you for helping us in our goal to create a "favourable" world for adolescent girls, a world in which girls are not obstructed from reaching their full potential, either by their families or their communities, a world in which girls can stay in school, get access to health services, get married and have children when they choose and realise their economic potential and aspirations. This quarter we have provided reproductive health services to married and young married women and conducted life skills education training for unmarried adolescent girls in both rural and urban area.
In the urban sector: Our Community Health Workers conducted 3530 home visits and provided comprehensive reproductive health services to 1178 married adolescent girls and young married women. In this quarter 122 pregnant mothers received antenatal care services, 70 were referred and treated for maternal morbidity, 207 were referred for treatment of reproductive tract and sexually transmitted infections and 294 young women were using temporary contraceptives to space child birth.
Life skills education classes for UAGs were conducted in 12 CHW areas in the reporting quarter. A total of 249 UAGs were covered for LSE.
190 UAGs completed 48 Sessions of LSE.
A workshop for unmarried adolescent girls was conducted during the reporting period. A film on adolescent rights was shown during the workshop. As a part of the workshop, visits to two institutions i.e. Post office and Police station was organized to orient the girls about the functioning of these two institutions. A book on "Prevent Anaemia" was distributed to all the girls.
Case Study:
Ishita (name altered) is 14 years old and lives in Vaiduvadi slum. Ishita is one of the adolescent girls, who attends the'Life Skills Education' (LSE) classes conducted by IHMP. Her mother works as a house maid and her father is auto rickshaw driver.
In November 2015, Ishita's grandmother was severely ill and bedridden. As there was no one else to look after the grandmother, Ishita's parents coerced her to drop out of school and look after her grandmother. Ishita continued to miss school for over a month, and from that point onwards, her school education stalled till January 2016, when she was selected as a peer leader by her adolescent Girl's club. Along with all the other peer leaders from neighbouring communities, IHMP provided special training on leadership and rights of adolescent girls to Ishita.
After being inspired by this workshop, the Community Health Worker (CHW) of her slum and Ishita decided to have a discussion with her parents regarding her education. The CHW convinced Ishita's parents to allow her to study further. She discussed the importance of continuing her education and the adverse consequences of dropping out of school. Ishita's parents were convinced and decided to resume Ishita's education. Over the next few months, Ishita started attending her classes in school. Currently, Ishita is in the 9th grade and has successfully completed the course of Life Skills Education (LSE) conducted by IHMP. Ishita also received special training under the LSE program on leadership skills. Motivated by her own life-changing experience, she inspires many other girls to stand up for their rights.
In the Rural setting: In rural area, our community health workers rendered services to 544 married adolescent girls. In all 476 girls and their families were provided interpersonal communication and counseling. Antenatal services were provided to 117 pregnant girls. All the 117 deliveries were conducted in a hospital setting. From a low of 9 % the proportion of young girls using temporary contraceptives has increased to 27 percent. In this quarter 416 girls are attending life skills education. Parent's meeting was organized in the project and 297 parents attended the meetings this quarter.
For improving their communication skills and making girls more confident, debates and elocution contests were organized in the project villages. An elocution contest on the subject 'My Dreams' was organized in which 300 girls participated. Simultaneously a debate was organized on the topic 'Freedom for girls is a birth right" in which 185 girls participated. At their request, practical skills in the use of sewing machines were imparted to 120 girls.
Gender sensitization of Young men is an important component of our project. In this quarter, 144 group meetings were organized at the village level, with 24 youth groups. In all 2471 youth attended these meetings. The topics discussed this quarter were - male participation in family planning, various manifestations of male dominance and factors associated with it. Two peer leaders have been trained for each youth group. The peer leaders disseminate information to youth that are not members of the larger group. In this quarter, 48 peer leaders disseminated information to 408 youth in their villages.
However, our project has received a setback because of a severe drought in this region. We are making a special appeal for your support to address the consequences of scarcity of drinking water.
The international media has carried accounts of the heat wave that is causing unparalleled misery in India. What has gained less attention is the paucity of drinking water. The Marathwada region of the State of Maharashtra is suffering from the third successive year of drought, which has attained crisis proportions.
With this report we are attaching various news article dated from April 19,20, 21, 26, 30, 2016 from The Times of India, one of the largest national news papers.
IHMP is working in two out of the eight districts in this region where there is scarcity of drinking water
Women and adolescent girls are being exposed to the risk of injuries and sun stroke as they are the ones who have to walk for miles or descend into dangerously deep wells and scrape the bottom of the well to get a pot-full of drinking water for the family.
Thousands of villages are being supplied water by tankers that fill water from wells that are muddy and contaminated.
Cases of diarrhoea and dehydration have reached epidemic proportions. On 20 April 2016, The Times of India carried a lead article entitled (please find it attached): Diarrhoea, Exhaustion hits teens and elderly
Another article in the same Newspaper on 26 April 2016 (please find it attached) reported that the problem of contaminated water is widespread as a result of depleting water sources
How is IHMP planning to address this problem?
To provide water tanks to 100 villages
Provide 30,000 families with water filters and a 6 month stock of Chlorine tablets for water purification at the household level
Identify and treat diarrhoea cases
Refer cases of dehydration to the nearest hospital
Please help us save lives
Water tank at the community level costs £ 1200
Water filter at the household level costs £ 20
Chlorine tablets for use at household level cost £ 5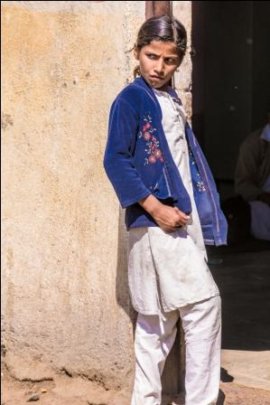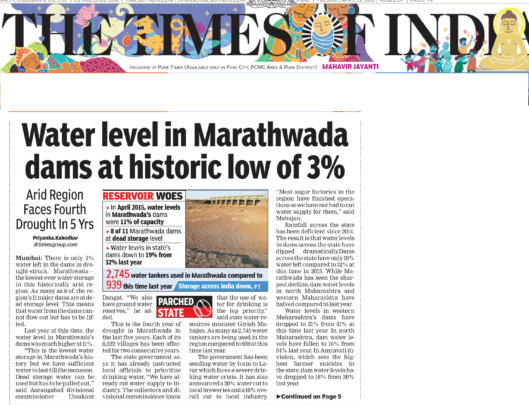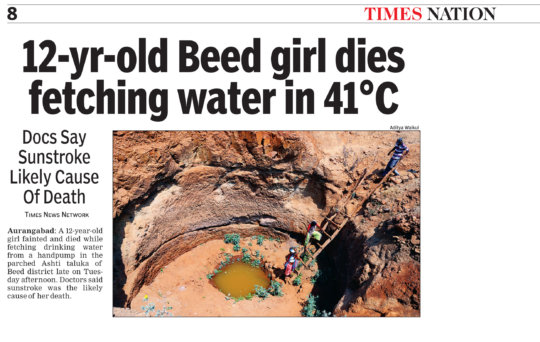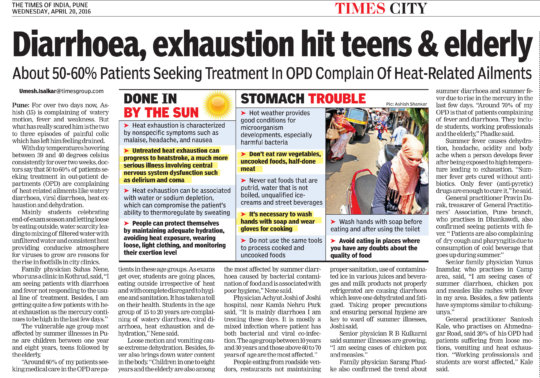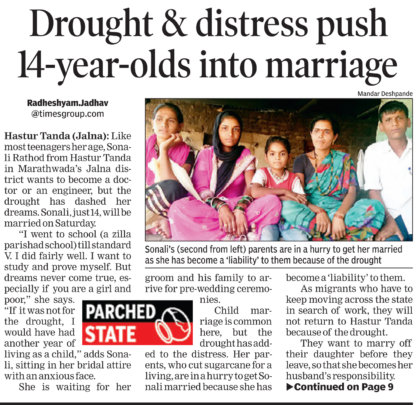 Links: