For Anjana, IHMP nurse and Sangita a Community Health Worker (CHW), what started as a regular visit in Gosavi slum was about to take an interesting turn. Sangita informed Anjana of a new family that had arrived in this slum, in which a married adolescent girl, Rinki had just given birth to a baby boy two weeks ago. Anjana proceeded to visit the woman with Sangita for conducting a post-natal examination.
On reaching Rinki's house, Anjana noted that it was a very cramped up space, most of which was occupied by a tiny bed, which was used by the mother and her newborn. The baby was very weak irritable.
After an introduction by the Community Health worker, the IHMP nurse started asking Rinki questions about her health and did her baby. Rinki told Anjana and Sangita that her baby did not drink her milk and has been crying frequently, so they were feeding him cow's milk. Since then the newborn was having diarrhea.
Anjana was quick to ask her if she had any trouble with her breasts, to which she finally replied that her right breast was extremely painful because of which she couldn't breastfeed her baby. On examining Rinki, Anjana found that her breast was swollen and painful, and she also had fever. Rinki told Anjana that she had attempted to get treatment at a nearby hospital but due to unavailability of beds, she was just given a few medicines and sent back home.
Anjana advised Rinki not to delay treatment any further and visit a nearby hospital right away. She heeded her advice and underwent surgical drainage of pus from her right breast after which she was admitted in the hospital for 3 days. One week later, Anjana visited Rinki for a follow up visit and was pleased to find both mother and baby were in good health. Rinki thanked her and Sangita, insisting that they had saved her baby's life and that the doctor had said that it would have turned life threatening if she had ignored the problem any longer.
Anjana and Sangita were delighted that their timely assistance helped a woman in need.
IHMP's nurses with the assistance of community health workers have saved many lives by detecting health problems early and taking simple steps in addressing them. IHMP would like to scale up these interventions in all the slums in this city.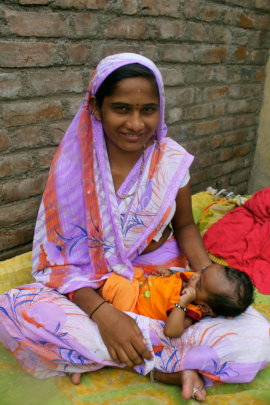 Links: