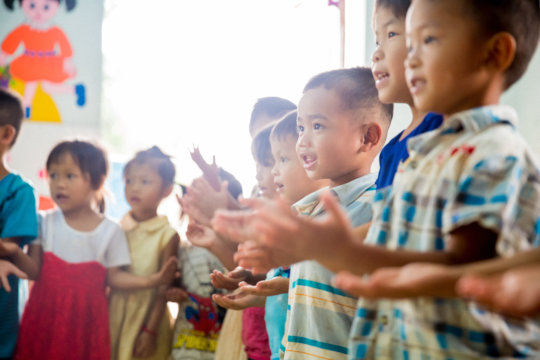 As the holiday season approaches, we take a moment to think of the young scholars pursuing bright futures for themselves and their families in PeaceTrees' kindergartens.
Time and time again, research has proven that education is one of the best ways to escape poverty, a pervasive issue that digs its roots into families for generations. According to The United Nations Educational, Scientific and Cultural Organization, "If all adults completed secondary education, 420 million could be lifted out of poverty, reducing the total number of poor people by more than half globally and by almost two-thirds in sub-Saharan Africa and South Asia." Programs such as PeaceTrees' kindergartens enable economic and emotional growth, as kindergarteners learn to navigate the school systems they will enter in first grade and prepare themselves for their futures.
In our kindergartens, over 465 bright minds are learning critical life skills and eating a daily nutritious meal provided by the compassion of the PeaceTrees community. Your donations allow us to continuously provide maintenance and support to our schools, ensuring sustainability so that future young minds can access these opportunities.
We are excited to share that in late October, we finished an expansion project for the Friends Forever Kindergarten, adding another room for children to learn. We are also proud to announce that we will be expanding our projects into Quang Bình Province over the next year, soon allowing for even more children to receive an education safe from the dangers of unexploded ordnances!
As you spend time with your loved ones this holiday season, please keep these wonderful kindergarteners in mind. Let's continue to work hand in hand to connect these young scholars with the nurturing, enriching environments and opportunities that they deserve. Thank you from the bottom of our hearts for being such an important part of the PeaceTrees family as we navigate this journey and grow together.
PS: You can hear the experiences of a PeaceTrees kindergarten teacher as she explains the importance of providing children with a space that cultivates emotional and educational growth, and see just how far your support goes: https://www.youtube.com/watch?v=2hCbA51mZEs&t=
Links: