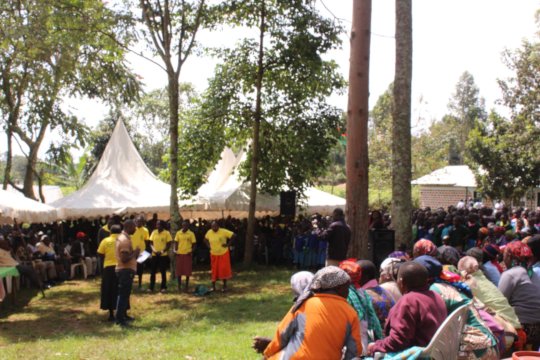 Dear Friends and Supporters,
The Day of the African Child is a June 16 annual event that honors students who were massacred in Soweto, South Africa, in 1976 for protesting against education injustice and inequality in the apartheid regime.
This day was designated as Day of the African Child in 1991 by the African Union and every year events are organized to promote children's rights. This year's theme was; "Leave No Child Behind for Africa's Development". HFAW was part of stakeholders observing the day on Tuesday 19th June 2018 at Bosamaro Chache location at chiefs' camp also commonly known as Gesero or Rianyaundi in Nyamira County, Kenya. We moved this day from 16th to 19th because the 16th June which is the actual African child's day happened to be on a weekend during which many participants carry out their religious activities.
One of the aims of the Day of the African Child is to highlight harmful practices such as Female Genital Mutilation/Cutting. HFAW strives to end this form of Gender Based Violence against the girl child because this is an extreme abuse of human right.
On this day, HFAW CHHRPs, HFAW staff, Church leaders, Nyamira County Child Protection Stakeholders and the pupils had the opportunity to speak up on the dangers of FGM/C.
"We mothers are survivors of FGM/C too. Today we are here to tell you that we didn't like the experience and urge you our fellow parents present to protect our girls against this harmful practice of FGM," Gladys, HFAW CHHRP during presentation of a skit.
The children wrote a memorandum and included the issues they face and presented the document to the county commissioner. This MOU was presented to the parents and guardians.
"As children today we present this MOU with a list of challenges we face plus resolutions we would want our mothers and fathers to work on to safeguard our lives," announced the pupils with assistance from the Nyamira County Children Assembly during the open forum.
The pupils also presented short plays and solo narratives on this day. One of the plays was based on the setting in Soweto;
Students: (Peaceful demonstrations on the streets of Soweto) we want equal rights in Education just like the white students. Haki Yetu(Our Rights), Haki Yetu.
Government Officers: Teachers don't you dare question the government or incite the pupils ever again.
The pupils enacted the play in a superb way as they showcased how the black student in Soweto were mistreated during their peaceful demonstrations. The parents and guardians were stunned about how well the pupils had grasped the whole concept on unequal rights.
Moreover, the religious leaders also stepped in and spoke their truth about FGM/C.
"In the Bible, Abraham was requested to only cut male members while for Sarah it's only her name that changed to Sarai. As Kisii's we should abandon FGM/C and embrace the good names which reflect different ages of a girl i.e. mwaiseke, na omukungu, tari egesagane.(girl and woman and not the demeaning concept of uncut lass…" said Pastor Evans during the open Forum.
"FGM/C has so far come out as a social norm among our trainees in Gusii land. When we do priority matrix and ask the community to identify key problems FGM/C has never appeared as a problem in this priority matrix. It is only after we sensitize to them when suddenly it becomes the mother of all problems. Community awareness creation through dialogue is therefore key to ending FGM/C," said Teresiah, HFAW Project Manager, towards the end of the forum.
FGM/C not only affects the girl child at childhood but also throughout their lifetime.
Thanks to the voices of the children, women and leaders, the parents, guardians and other officials who attended the forum left empowered and ready to safeguard the African Child.
Observing the #DAC2018 (Day of the African Child) would not have been possible without the capacity and support from you our Friends and Donors and Global Media Campaign to End FGM. HFAW was able to reach 400 pupils representing 6 schools, over 250 parents and teachers, Nyamira County Child Protection Stakeholder, over 800,000 radio listeners, 953 reach and 2779 impressions on Facebook and Twitter respectively. Blessings for being part of safeguarding the African child.
The Global Giving Bonus Day is coming up on 18th of July, 2018. Join us as we strive to End FGM/C and Early Teenage Pregnancy in Nyamira County, Kenya. Want to make the world a better and brighter place for these Girls to realize their full potential? Be part of our 18th July Bonus Day Fundraising Movement.
Thank you for your continued, faithful support towards our cause.
With Gratitude,
Winnierose N. Sululu.