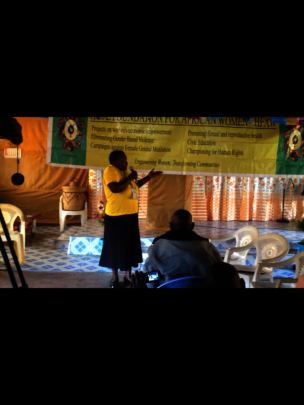 Dear Friends and Supporters,
We are delighted to share that our anti-FGM work was highlighted on our National TV channel K24. We are pleased that the channel staff contacted us and asked if they can share our work with the nation. We were excited to know that so many people listened to our radically shortened anti-FGM Message which urged people to work together to end FGM and protect the girl child. None of this could have happened without your support to our project. THANK YOU!
Please feel free to review the link to the video aired.
https://www.youtube.com/watch?v=4BqsF0plUm0&feature=share
First part shows Heart for Change director speaking about the shelter for girls escaping FGM and then HFAW. Apologies-not all of it is in English.
The session was led by our own Community health and rights promoters with Gladys, Joyce and Evans on the forefront in a local church, Jesus Reigns Church. Our target for this day was parents, church leaders and children. Our focus is especially on the young people because they are key to cutting the roots of FGM. After going through what FGM is, and short and long term effects Gladys allowed parents and children to make commitments to end FGM/C. The response was very positive.
The commitment was written in the form of a card approved by the church leaders which is exciting because it is a simple of church ownership.
The cards had the following information;
'I pledge to never support FGM in any Form.'
'I will do everything in my powers to eradicate FGM in my community.'
"If you want to end FGM in our community write your names in the cards and make a commitment to protect our girls against FGM," explained Gladys.
The boys and girls wrote their names on the cards and were advised to share the same information with their parents and guardians to show them their commitment towards ending FGM. The parents will also sign and protect all children in the community irrespective of who the parent is.
"I vow to protect my sisters and I will share with my parents what I heard today." Said one of the boys during the outreach.
Evans, a CHHRP and church elder explained why men and church leaders need to end FGM and explained how he took lead in protecting his own daughters from FGM/C.
"I have twin daughters and my wife and I have protected them against FGM. My wife is a survivor and she underwent so much pain due to FGM. We did not want our daughters to go through the same," declared Evans.
After his declaration one of the men in the audience walked up and called upon his wife and four daughters to follow him to the front.
"Today, my wife and I publicly declare that our four daughters will not undergo FGM. We will stand firm and help end FGM," Said the man.
The Pastor at the Jesus Reigns church, Pastor Lamech also added that he had heard Gladys talk about dangers of FGM a while back.
"I knew FGM was against the law but I did not know the dangers. When I finally knew, I joined the movement to end FGM with the help of HFAW. I want to urge everybody watching this on K24 TV to join us in the fight against FGM," Said Pastor Lamech.
"If I hear about FGM being done on one of the girls in my community, I will run and tell my pastor in the church or my teacher at my school," said one of the girls.
HFAW is grateful to you all our supporters and donors. You have believed in our cause and kept getting involved. We are increasingly having such a hard time raising funds for this work but we believe in you. Please make a donation and urge your friends, relatives and colleagues to help us keep spreading these anti-FGM messages. We are so proud of the little incremental steps. Saving even one child from FGM/C means so much to us and the child. We hope you will continue walking with us.
With Gratitude,
Winnierose N. Sululu