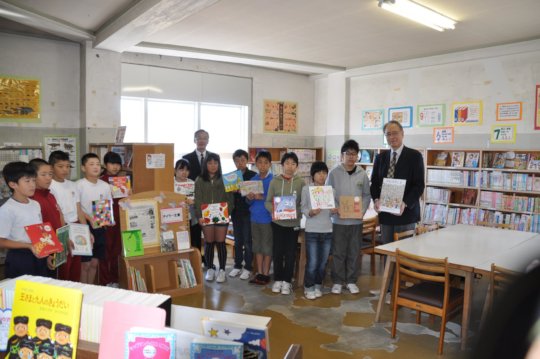 Taylor Bunko Outreach – Book Donations to all 33 Ishinomaki ES Over Three Years
TAMF, in conjunction with the Ishinomaki Board of Education (BOE), started a three year Taylor Bunko Outreach program of donating English books to 33 Ishinomaki elementary schools as " a gift from Taylor". This benefits 6,518 students. This year we donated to 13 schools and a ceremony was held at Ishinomaki elementary school on October 18 where TAMF managing director Mr. Takanarita, donated the book package to Mr. Kamei, the school principal and to students. Each school receives 40 Japanese-English picture books chosen by the BOE and a 30,000 yen book card for the school to choose their own books. The donation includes the book "A Gift From Taylor" written by Naomi Chiba, which is a Japanese-English book explaining the story of Taylor Bunko's to students.. Maruzen book importer provided bulk pricing. We will donate to 13 schools in next year and 7 in 2020.
Ishinomaki Hibi Kodomo Kid Journalists have Workshop with Mr. Shinichi Endo
Mr. Shinichi Endo had a workshop for Ishinomaki Hibi Kodomo kid journalists. Most elementary school students don't know the word "Gareki" or rubble, because they were infants eight years ago.
Shinichi-san brought a long board called Gareki and explained what it was. He called the workshop "to give another life to Gareki."
Kids created mobile phone straps and pendants with Shinichi-san's help. A kid journalist interviewed him after the workshop. It will be covered in the next Kodomo kid newspaper issue.
TAMF Sponsors International High School Forum
An international disaster recovery forum was held at Ishinomaki Nishi high school with support from TAMF. Thomas from Missouri shared his story of when a tornado hit his town in 2011. His high school and his town were beautifully rebuilt with the help of volunteers and a lot of people, which is called Joplin model.
Zihu-Jyun talked about the 2018 earthquake disaster in her country, Taiwan. Minkyong shared her challenge to reduce plastic garbage in South Korea.
Miyu, Shuntaro and Juri explained what happened seven and half years ago, how they recovered and how they have shared stories as volunteer storytellers.
Ishinomaki English Speech Competition Winner Receives Taylor Trophy
Sae of Minato JH in Ishinomaki won the Taylor Award this year and made a brilliant speech at the Prefecture-level competition where only regional winners can participate. So competitive! Although she didn't win this time, she touched the audience. Her story was about being bullied but facing it bravely and to be herself.
She is also a kid journalist and writes articles for the Ishinomaki Hibi Kodomo Kid newspaper. She has so many talents! Sae, said happily she wanted to work at a hotel near an airport in the future. She wants to improve her English.
US Embassy Tokyo Purchases 200 Ishinomakimono Cards
The US Embassy in Tokyo purchased 200 Ishinomakimono cards for the holiday season. We, along with Team Wathoi, thank the Embassy for their support!
TAMF Named a GlobalGiving Top-Ranked Organization
TAMF is so honored to have earned the "Top-Ranked Organization" status from GlobalGiving! A GlobalGiving representative visited some of our projects in Ishinomaki last year and GG constantly provide encouragement and help. We are most thankful for this support!
Thank you for your support which helps us continue programs like these to help Ishinomaki families, schools and students affected by the disaster to continue to recover, learn and expand their horizons! Please follow us on Facebook/Tamfjp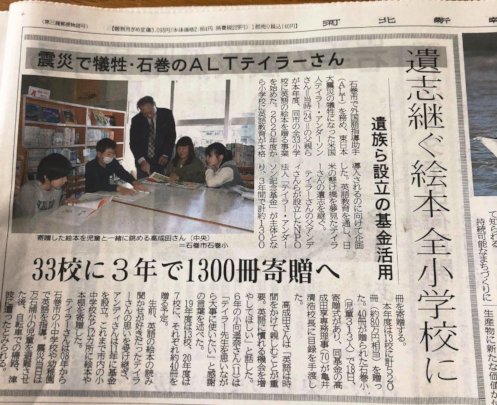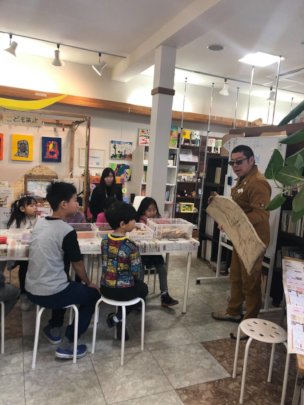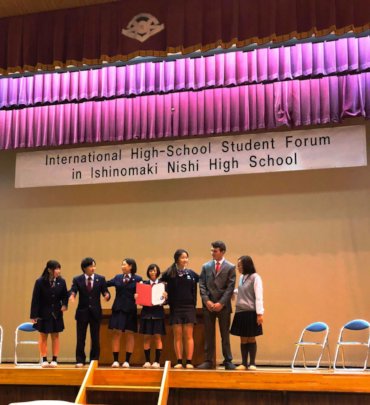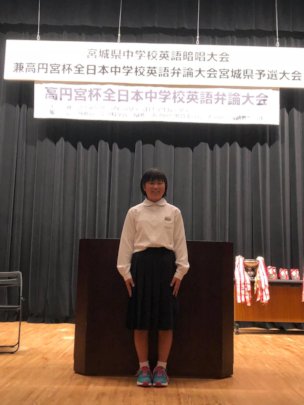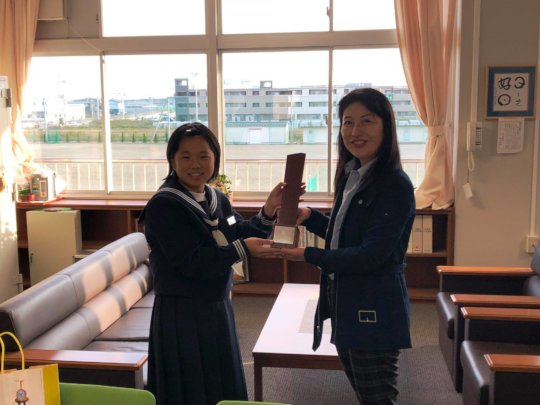 Links: