Have your donation DOUBLED by Global Giving starting on March 10th at 11 am EDT to be matched 100% while funds last! We are also pleased to announce that Global Giving has awarded the Taylor Anderson Memorial Fund with "Superstar" status for success over the past year.
We donated a book coupon worth more than 200 books to Sakura-Juku, a cram school in Ishinomaki, with Taylor Bunko bookshelves. Endo-san made the previous seven sets of Taylor Bunko bookshelves. The school will use the book coupon to buy English and Japanese books including books Taylor Sensei enjoyed as a child. JET ALTs regularly teach at this school and will now have many more books for their lessons!
We are happy to say that the needs of the community have shifted to the types of projects we described in our February project report. The "Big Up ishinomaki", "Taylor Book Club", "Yui no ie Nursery" and "Librarian Project" actitivies described in our February Project Report will now be included in our "Helping Students, Familes and Schools Recover" Project. We appreciate your support for "Smile Together Ishinomaki" and invite you to continue to support the Taylor Anderson Memorial Fund through our Help Students, Families and Schools Recover Project and/or our "Scholarships to Live Dreams and Move Forward" project.
Please donate to one of these project on March 10th at 11 am EDT. Donations will be matched 100% by Global Giving while funds last.
GlobalGiving will be hosting a matching campaign to support our rebuilding and recovery work. There will be $30,000 USD in matching funds, and donations will be matched up to $1,000 USD per project per donor and up to $15,000 USD per project.
Links: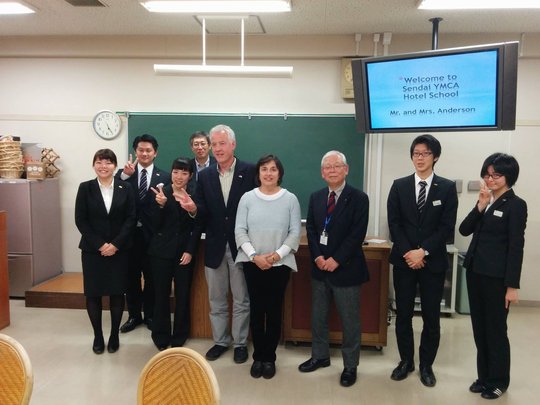 Sendai YMCA College President Kato reports that school classes ended last week and three of the scholarship students will graduate this year. With the help of your donations there will be three new Taylor Scholarship students for the upcoming school year so there will be five scholarship students in 2015. Taylor Scholarship students receive a tuition scholarship from The Sendai YMCA and a 400,000 yen living expenses scholarship from the Taylor Anderson Memorial Fund (TAMF).
Each scholarship student is offered a scholarship because their family was affected by the disaster and they want to overcome it. One of the current students lost her house. Her father ran his own inn and restaurant in Matsushima, but they were washed away because of tsunami. Another student is from Kesennuma and his father lost his job. The father works at a construction company, but his annual income is now not enough for a family to live. Those students would have to give up their dream to be a professional hotel service person without your help. Our first graduate, Yayoi Aiso successfully finished her study at YMCA college last year and now works at Yokohama Park Hotel.. Six students are currently being supported by Taylor Scholarships.
Taylor's parents and board members, Jean and Andy Anderson, and the TAMF Sendai representative, Mihoko Terada, had the wonderful experience of being hosted by the Taylor Scholarship students in December at the Sendai YMCA Hotel College. Each student shared a brief statement in English, answered questions and served tea, coffee and sweets. We are proud to support these aspiring students!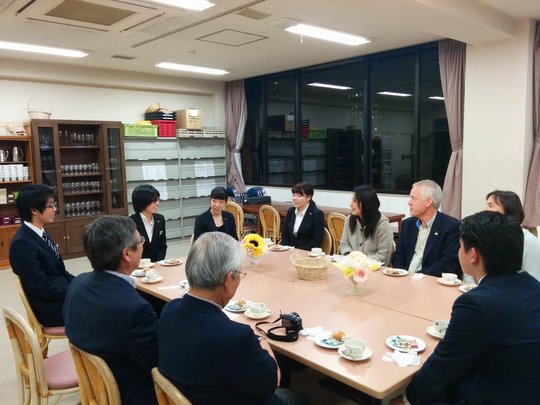 Links:
WARNING: Javascript is currently disabled or is not available in your browser. GlobalGiving makes extensive use of Javascript and will not function properly with Javascript disabled.
Please enable Javascript
and refresh this page.