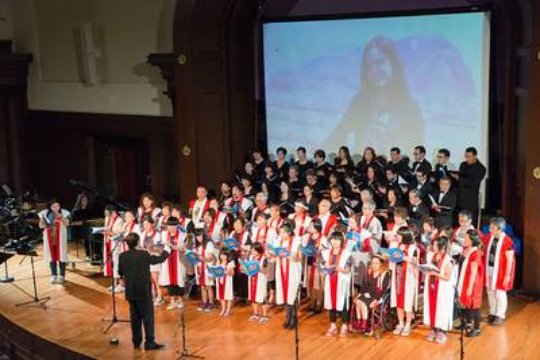 We had a very active fall with Taylor Reading Groups, Sports Onigokko Team Sponsorship, Cobaltore Soccer Club lessons at Ishinomaki Kindergartens, an Ishinomaki choir in NYC, Junior High School English Speech Contest Award, the Randolph Macon College - Ishinomaki Senshu University TOMODACHI Research Exchange Program wrap-up, BigUP Ishinomaki community center activities, Kodopany playground, Steve Gardner's Giving Tree Workshop and performances, Kokoro Smile project, Ishinomaki Nishi High School emergency preparedness workshop with elementary school children and English Cafe for teenagers. Jean and I were able to visit many of the activities in ishinomaki after our 11/11/15 Tokyo board meeting to review 2016 programs. We were fortunate to have Doug Erber, President of the Japan America Society of Southern CA, accompany us to Ishinomaki. Please visit our Facebook and web pages to see the many activity posts!
Ishinomaki Choir performs in NYC 911 Circle Wind Charity Concert -
This exchange initiative helped sponsor the "Never Give Up Taylor Choir" to travel to NYC to perform at the Japan Choral Harmony's eighth annual 911 Circle Wind Concert. The newly formed Choir from Ishinomaki/Higashi-Matsushima performed an original musical "100 Ways of Saying Thank You" at the Concert with great appreciation to American people for their support to recover from the 2011 devastation. The Choir consists of about 50 local residents, including several students who were taught English by Taylor. During the Concert, one of the students read a letter expressing her sincere appreciation to Taylor's hard work and great efforts for the improvement of their English conversation..
Ishinomaki Nishi (West) High School Disaster Preparedness Program
Nishi HS students visited temporary communcity centers to play with children and teach them about emergency preparedness with study cards. We visited with some of the high school students on Nov. 12. The student council president made an impressive speech about how they must lead to be prepared for the future. The school anti-disaster club members actively spoke of their own harsh experience with a Kataribe guide to others from non-disaster area. A girl who sung at the NY 911 concert and a girl who went to Richmond through YMCA homestay this summer made English speeches. We are so proud of these young men and women students who are strongly moving forward full of energy. The NHK story link below reports on this visit.
Ishinomaki Junior HIgh Student English Speech Contest -
39 Junior high school students from Ishinomaki/Higashi-Matsushima/Onagawa made wonderful speeches. Some talked about their disaster experience and one explained the value of challenges. Manaka-san won the title and received a wooden "Taylor Award" trophy made by the Taylor Bunko carpenter Endo-san. The top 5 students participate at the next stage, the Miyagi prefecture-level contest. TAMF Board Member and Sendai University Professor Takanarita and Board Representative Terada joined the district final and awarded the trophy. Endo-san later visited the winner at Kanan Higashi JH in Ishinomaki to congratulate her.
Soccer Classes for Kindergarteners with Cobaltore Soccer Club -
Taylor Anderson Cobaltore soccer classes were held with approximately 1,000 Ishinomaki kindergarten studens this summer and fall. We experienced one class first hand at Inai Kindergarten. The soccer instructors made it so fun for the children that they enjoyed learning soccer very much. The benefits of being outdoors running and learning made for many happy kids throughout Ishinomaki this year!
Steve Gardner's Rambling Tree workshop was held at Inai Kindergarten in Ishinomaki on November 12. The kids and teachers couldn't stop dancing with Steve's music. Steve and friends then read "The Giving Tree" book both in English and Japanese. Kids expressed with their bodies what they learned in the story. Kids enjoyed drawing any happy expression, which was turned into a badge. Please see the video link below to see this great workshop.
Have Your Donation Doubled during #GivingDecember with the Recurring Match Campaign!
GlobalGiving is running their eighth Recurring Match Campaign during #GivingDecember from December 1 through December 31, 2015, Sign up during that time period and your recurring donations will be matched by Global Giving. This is a great way to double the impact of your contriibution to help students, families and schools recover.
Please sign up for the Recurring Match #GivingDecember Campaign today (click on the "Donate Monthly" tab on the right side of the page to see more details about the campaign)!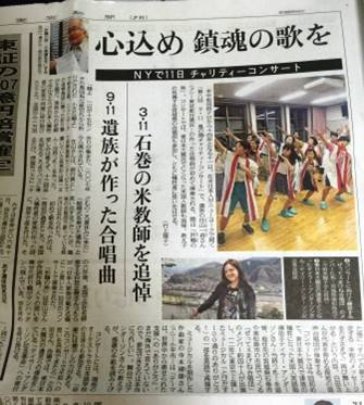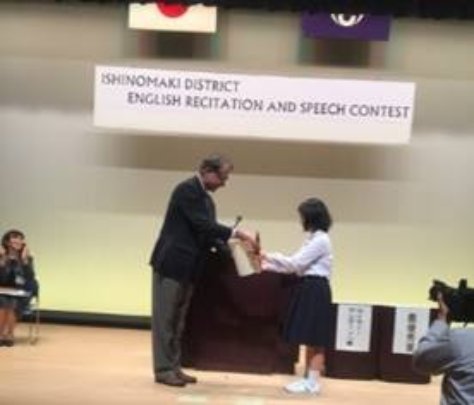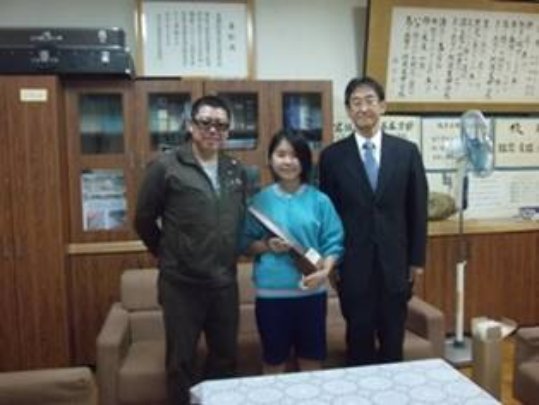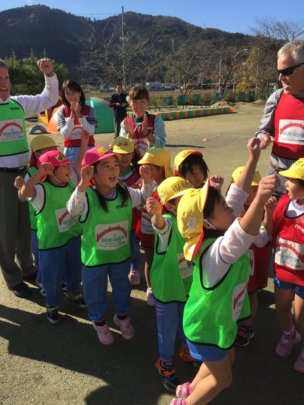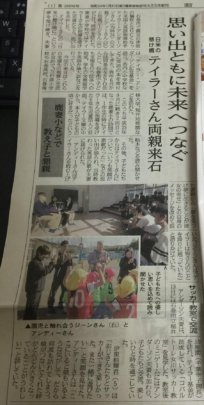 Links:
Attachments: