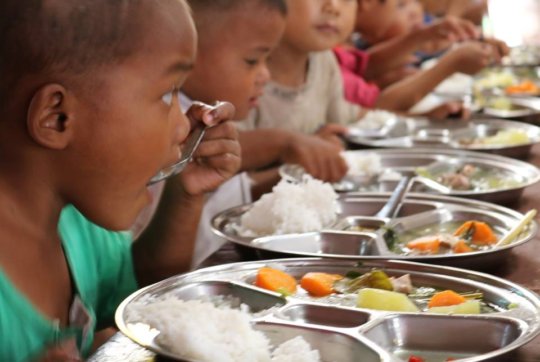 Hello from M'Lop Tapang.
This morning I was talking to one of the students at our Education Center, a bright young 12-year old girl named Bopha (name changed for confidentiality). She has been attending classes here for about 1 ½ years now. Like all of the children we work with she comes from a very poor family and before coming to school with us she used stayed home to take care of her younger siblings while her parents went to work. When I asked her why she liked coming to M'Lop Tapang she told me "I want to learn to read and write so I can help my parents." I learned that both Bopha's parents are illiterate and she is the first in her family to go to school.
I wanted to thank you again for your donations and support for the food program at M'Lop Tapang. Because of your help hundreds of boys and girls like Bopha who are attending education programs at M'Lop Tapang are provided with a free hot lunch. For many of them it is the most nutritious meal they will have each day.
Again, thank you so much for all your help and support.
All the best,
Sarin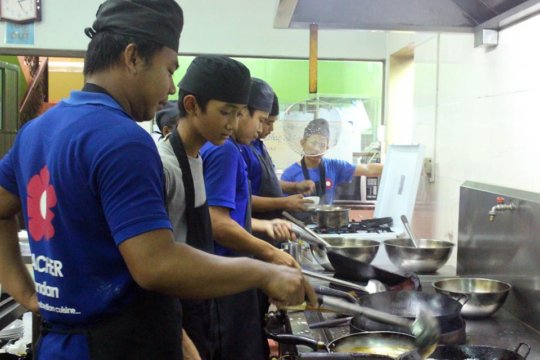 Hello from Cambodia!
I am delighted to write you again to say thank you so much for your support of the work we do here at M'Lop Tapang. With your help we continue to provide services to thousands of vulnerable children and youth in the local area.
The last time I wrote you I talked a little bit about how your generosity and donations are helping disadvantaged children get an education. For older children and youth (aged 15 years and older) we also offer vocational training programs.
Pech*(name changed for confidentiality) was barely in his teens when he dropped out of school. From a poor family, with little education and no formal skills his prospects of finding safe, decent employment were slim. Two years ago, at 15 years old he joined one of our vocational training programs to study cooking. As part of his training he recently completed an internship at a five-star hotel here in Sihanoukville. He impressed his supervisor and was offered a full-time job in their kitchen. For the first time in his life Pech now has safe, steady employment. He is now able to help his parents financially a little bit but has also gained a tremendous amount of self confidence and is much happier that he was before. His parent tells us that when he comes home from work he is excited to tell them all about his day and the new things he is learning. They are proud of the young man Pech has become and now see a brighter future for their son.
M'Lop Tapang's vocational training programs are designed to meet the job market needs of the local area and include training in sewing, bicycle and motorcycle repair, electrics and plumbing, and cooking and hospitality. If you would like to see a bit more, I have included links at the bottom of this page to a couple of short videos we made recently.
Again, from all of us here at M'Lop Tapang, thank you for your generosity in helping to improve the lives of the children and youth we work with.
Sincerely,
Eve Saosarin
Director, M'Lop Tapang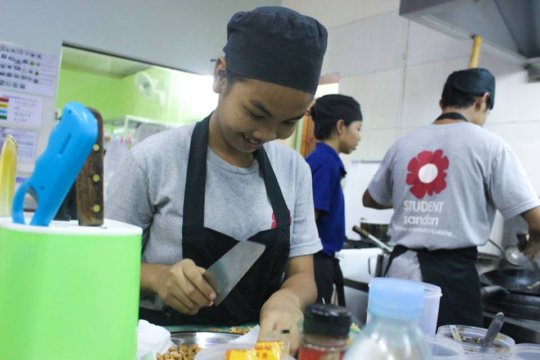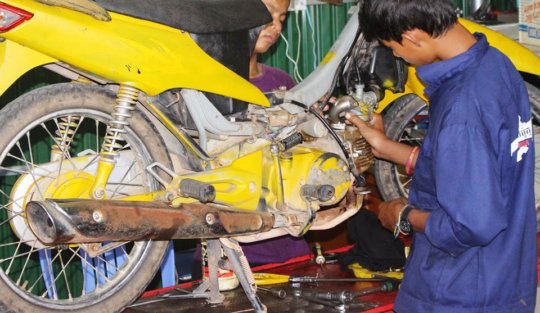 Links:
Hello from everyone at M'Lop Tapang.
We wanted to say thank you again for the donations you've given to support the work we do at M'Lop Tapang. Your gifts are truly making a difference for hundreds of vulnerable Cambodian children, youth, and families here in Sihanoukville.
I know you can't easily visit us here and see just how much your generosity is helping so I wanted to pass along a couple of short videos in the links at the bottom of this letter to give you a glimpse into some of what we do. The first is a look at what it takes to prepare lunch every day for children and youth in our education and training programs. The second video is of our Mobile Library program that reaches disadvantaged children in villages and neighborhoods around Sihanoukville.
Again, thank you very much for you support and if you do ever have any questions or comments please don't hesitate to contact me at info@mloptapang.org
All the best,
Eve Saosarin
Director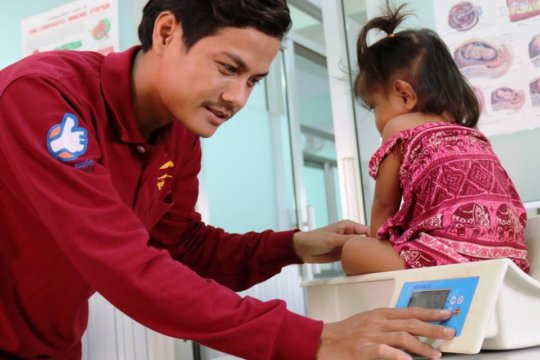 Links:
WARNING: Javascript is currently disabled or is not available in your browser. GlobalGiving makes extensive use of Javascript and will not function properly with Javascript disabled.
Please enable Javascript
and refresh this page.