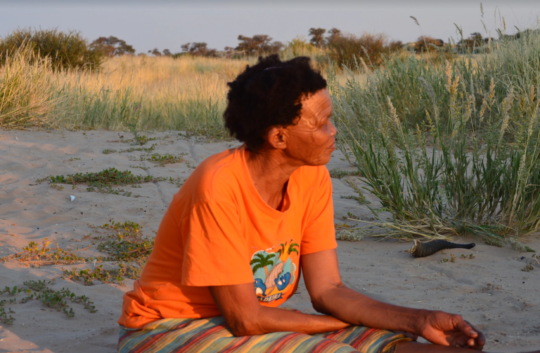 "We should all get together and take hands to experience peace on earth and to also respect the earth. And to also give the earth the respect she deserves. And to draw from the strength of the earth and to revive this very strong spirit so that everybody can see that it is their saving grace." Lys Kruiper, Bushman Elder
Dear Donors,
We are very grateful for the ongoing and generous support we receive from you, making our work with the Khomani San Bushmen possible. We have some news to share with you this month about our work in the region.
First, we were able to bring two Bushmen Elders to one of the oldest Bushmen Caves in South Africa. These Elders are among a very few remaining traditional healers in their community, and they are the bedrock for their community, taking in numerous children whose family members drink or are ill due to the effects of alcoholism or domestic violence. They also care for their own extended families, and often end up feeling very isolated and in despair over the state of their people--who have been forcibly removed from their ancestral lands to lands with no water, where liquor is often sold for cheaper than water. The purpose of the visit was to bring these Elders to the "Miracle" cave to have an opporunity to make offerings and prayers for their people and for the Mobile Addictions Treatment work ahead. This was their first visit to the Caves and they shared that being in this ancestral Cave brought them much-needed inspiration and hope for their people.
We were also able to facilitate a meeting between the Bushmen and the last remaining South African high Sanusi Elder who is half Bushman. This 95-year-old Elder has not been well enough to meet with many who visit him, but the visit between him and the Bushmen Elders lasted over an hour and seemed to rejuvenate and inspire hope.
After the prayers in the Cave and the meeting with the high Sanusi, new developments have begun to open for our work ahead. Several new potential individual and organizational donors have come forward, and the momentum for this work is building. We will be having meetings with a number of potential donors who are interested in this work over the course of the next few months.
And in June, a WISN team member will be traveling to the Kalahari to meet with the graduates of the Community Addictions Treatment program held last May in the Kalahari to learn from and work with the Bushmen on the next phase of our work together. We will report on this and any other new developments in our next report.
Thank you so much, donors, for your ongoing support, and thank you for sharing this project with friends, colleagues, and family who might be interested in supporting the Bushmen reclaim their health, power, and identity.
"These three holes in the sand that you see represent three directions. The one in the East reprehends the light; the one in the South represents water. The one in the north brings peace and happiness. This gathering that brought this knowledge forward was a gathering to bring peace to earth. We on earth do not know who we are, where we are from or what we want." Isak Kruiper, Bushman Elder