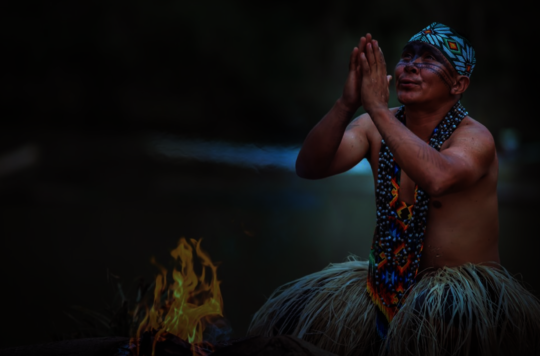 Dear Donor,
Thank you for all that you do to help us bring Western and Indigenous knowledge systems together for the conservation of these beloved big cats. These cats, as we've indicated in previous communications, are important not only in their own right, but because our very survival depends on theirs! We are immensely grateful to you, to the ancestors, and to the spirit of the big cats.
As you are aware, the Amazon is burning. Our focus this month, therefore, was on support of our Jaguar partners in the Amazon, the Yawanawa. This culturally intact tribe has been living in the Amazon for thousands of years and the culture is intrinsically connected to the Jaguar. There are more jaguars found in this region per capita than elsewhere in South America. Not only are the trees burning, but all of life is burning, including unfortunately, our beloved Jaguars.
Last month after being in ceremony and away from any sources of news, they came out from ceremony to look towards the moon. To their surprise, they could not see the moon because of the thick haze from the smoke from the fires. They shared with us that while there have been fires in the past, this was the worst they had ever experienced. The fires are burning closer to their communities and to the rivers and in wider swaths than ever before. And unfortunately, not much is being done to stop the fires. Tribal members have been putting fires out as much as they can using their own hands. We were contacted by our partners for emergency support for additional boats to patrol the waterfront, which we were able to do in part because of the support provided by you, dear donors, will go a long way in supporting our partners and ultimately the big cats in the region. One of our partners was also invited to the United Nations to speak about the situation in the Amazon, and they have been conducting meetings with international conservationists in Brazil. Hopefully, raising awareness will increase support to put out these fires and to restore balance and life.
Please continue to help us to help Indigenous Cultural Practitioners who understand the importance of preservation of sacred cultures and connections to share the cosmovision that inspire humanity to return to balance. Thank you!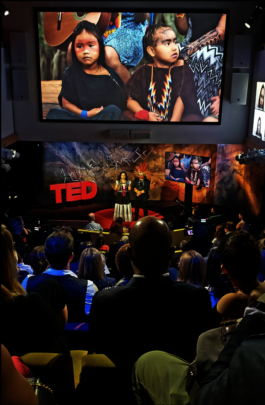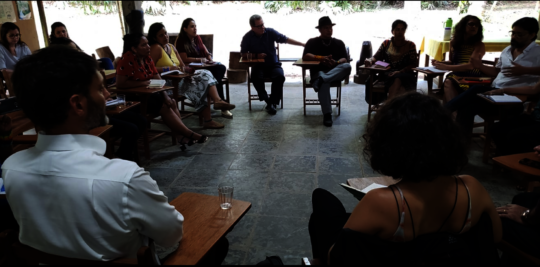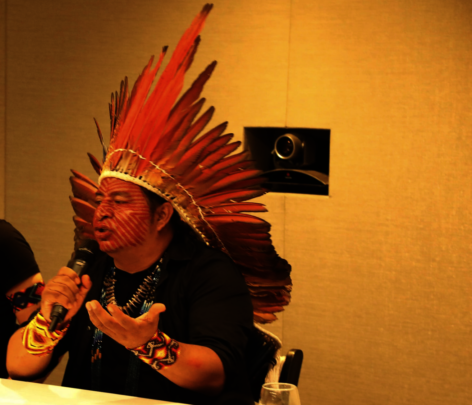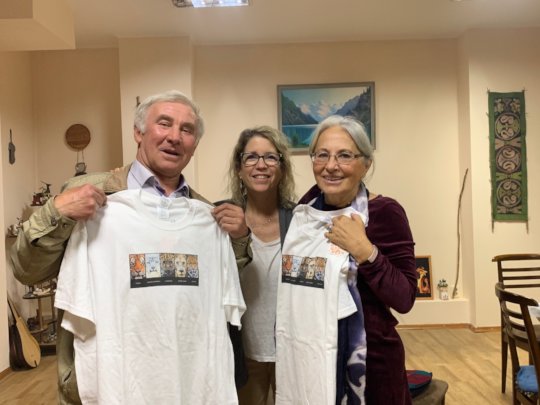 This quarter, with support from donors like you, we were able to invite Mixteca Indigneous Cultural Practitioner, artist and partner Ernesto to our big cat project development team gathering in Southern France.There we connected him with Paleolithic cave expert, Pascal. This cross cultural exchange focused on the historic spiritual significance of big cats in cultures throughout the world evidenced by newly discovered ancient snow leopard bones and cave painting depictions in the ancient cave sites of Southern France. Ernesto shared ancient knowledge about jaguars as a central sacred species to his people and the current threats jaguars face in Mexico. Pascal explained the history and theories surrounding big cat depictions in Paleolithic caves and their range and presence in ancient Europe. Ernesto plans on sharing details of this exchange and networking with his jaguar conservation partners in Oaxaca, Mexico as they continue to explore and implement cultural methodology in their jaguar conservation programs including educational outreach and jaguar tracking.
Additionally, we met with Alexander, a Krygyz conservationist based in Kyrgyzstan. This conservationist has been working in a region where Snow Leopards were technically extinct. He has been erecting Mazars (places of worship) in the region and has been working with community members to understand the spiritual and ecological significance of Snow Leopards. After 10 years of developing these strategies, miraculously, there are now 23 Snow Leopards reported to be living in the region. Any number more than 14 Snow Leopards is considered a viable population.
These types of meetings and gatherings are vital in order to share knowledge, find how we connect, create support systems and generate new ideas. In this way innovative big cat conservation methods using both cultural and scientific techniques can be created and implemented.
We are grateful for the support in our shared work and we hope to bring Ernesto and Alexander together via Skype or in person to share ideas for conservation of Jaguars and Snow Leopards.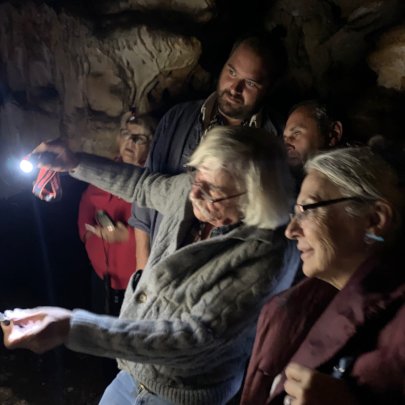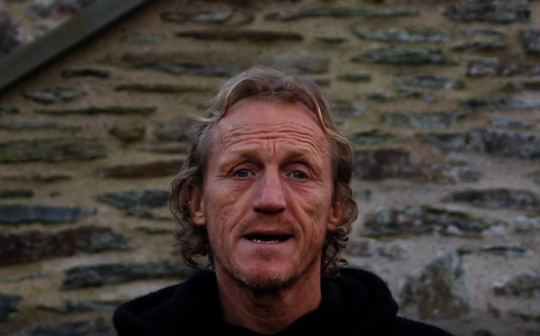 Dear Donors,
There was a flurry of activity in the Bushman Renaissance project this quarter, including receiving the support of Game of Thrones actor and activist Jerome Flynn. Jerome is passionate about the earth and about her healing. And is also committed to indigenous issues. He lent his voice and social media presence to the cause by filming an introduction to the video produced after the Khomani San / Ju'/hoansi Bushmen cultural exchange in October of 2018 (reported about in our last report).
Through his support and yours, we hope to be able to fund more cultural exchanges so that Bushmen can recover their ceremonies and empower their youth to take the old ways forward.
Last week, Bushmen healers in the Kalahari met to set up a foundation—so that they can bring their vision forward.
They have begun conversations with the Namibian Ju'/hoansi tribe about the possibility of a future exchange, bringing a group of Namibian youth and Elders to the Kalahari for a month. And we are hopeful that the first of these exchanges can take place as soon as this summer.
The Bushmen are our oldest ancestors. As they heal, as they are empowered, so too are we all.
Links:
WARNING: Javascript is currently disabled or is not available in your browser. GlobalGiving makes extensive use of Javascript and will not function properly with Javascript disabled.
Please enable Javascript
and refresh this page.