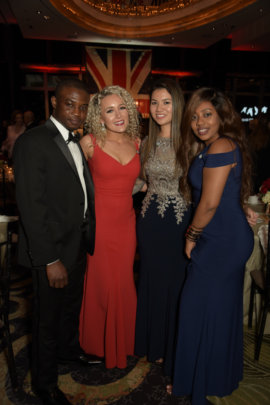 St. George's Society of New York hosted its annual gala, the English Ball, on 3 May at the Mandarin Oriental in New York City. This year the Society honored two remarkable women for their impact on the Anglo-American community on both sides of the Atlantic: Natalie T. Pray, noted philanthropist and the first and only female President in the Society's 247-year history, and Antonia Romeo, Her Majesty's Consul General in New York and Permanent Secretary of the Department for International Trade.
In addition to celebrating the outstanding achievements of the honorees, the Society held a "Fund-A-Scholar" auction conducted by C. Hugh Hildesley of Sotheby's. This year's auction raised over $85,000 for the Society's Scholarship Program, allowing us to continue providing support for well-deserving students.
Preceding the auction, 2016 scholar Sana spoke about her journey from Pakistan to Lehman College, and how her scholarship has allowed her to get a step closer to her goal of becoming a cardiac surgeon. You may remember her story from our August report.
She shared with attendees:
[The scholarship] gave me the opportunity to quit my job and dedicate my time towards internships, research groups, and mentoring programs—all of which actively support my education and career aspirations. Since that time, I am proud to share that I have co-authored three scientific papers and participated in a study abroad program to Australia, all while maintaining a 3.96 GPA. None of this would have been possible without the St. George's Society Scholarship Program.
Education is something I believe everyone should have access to. I hope to inspire future generations to pursue their dreams, no matter what barriers they may face.
In entering my senior year, I thank St. George's Society and their supporters for believing in me and providing me with the stepping-stone to becoming a cardiac surgeon.
I know I speak for all of [the scholars] when I express my most sincere gratitude and tell you that this program has changed our lives.
Through your contributions, St. George's Society remains Lehman College's largest scholarship benefactor, and in the fall will welcome the inaugural class of scholars from Hunter College, also in the CUNY system.
On behalf of the scholars and St. George's Society, thank you for your support.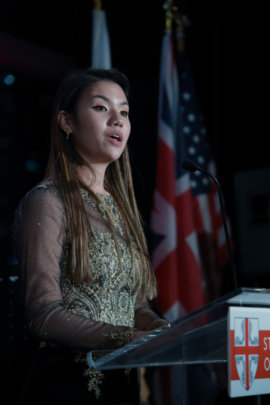 Links: