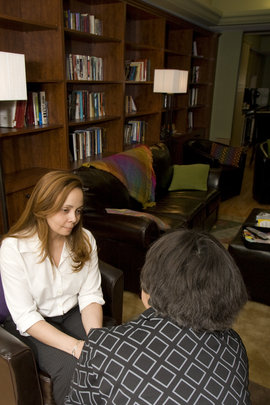 Abby is a young teenage girl who was sexually abused by her father. As a result of the abuse she experienced, Abby got pregnant. Her pregancy however was not noticed until she was passed the seventh month, when her mother frantically brought Abby to the Center for Safety & Change. Due to the advanced stage of the pregancy Abby carried the baby to term.
The terrible abuse and what ensued not only traumatized Abby but her mother and her siblings as well. Given the extensive experience with such trauma, the court systems and knowledge about other services Abby and her family needed, the Center's advocates went out of their way to ensure Abby's safety and that she and her siblings received the services they needed.
Due to the remote location of Abby's home, the advocates drove multiple times each week to provide counseling for her and her family. The Center's advocates also ensured that the family had groceries and sufficient clothing during this particularly cold winter. In an effort to provide Abby with as much support as possible, advovates accompanied her to court and medical appointments.
Because of the serverity of her experience, the Center's advocates will continue to work with Abby and her family for a long time, helping them transform their lives and recover after this trauma.
Abby's case was just one of the 153 survivors and their families to whom the advocates provided services such as counseling, therapy, medical exams, accompaniment, safety planning, hotline call responses and other services since November 2014.
As demonstrated by the incredibly healing experiences many of the Center's clients have as a result of working with the Center's advocates, the services listed above are critical for the future well-being of the survivors. Their recovery would not be possible without the support from donors like you. On behalf of the staff, the board and the women, men and children we at the Center for Safety & Change serve every day, we extend our greatest thanks for your generous support.