The Veteran pictured came to us for much needed assistance. The Veteran has cancer and was living in his car with his significant other, his main caregiver, they had been living in the car for over a year and were out of options. The Veteran had heard about the work we do and was referred to us to for help. After review of his situation were were able to get him housed, give him gas and food money (they had not eaten in over 3 days) and connect him with other much needed services. After reviewing his Veteran profile we were able to get him a benefit called Aides and Attendance, a veteran benfit that is only available for certain Veterans that have served during war time, this benefit gave him an additional $500 per month so he could now afford his new apartment and not worry about being out on the street, he did not even know he was eligible for. Another great success story and we would not have been able to make happen without your help! Thank you so much for your much needed donations, they do make a difference!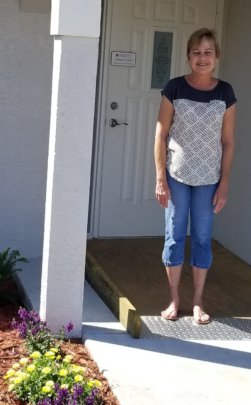 PTSD affects everyone, but Veterans that have been involved in a conflict and have seen the horrors of WAR have more than a difficult time returning to civilian life. The Veteran pictured was in Bosnia in 1994 when the bombings happened and witnessed the Ethnic Cleansing first hand. For years she tried to cope and went from job to job and place to place when she was released from the Military and the nightmares and the flashbacks continued and eventually destroyed her marriage.
She became homeless 2 years ago and was living in her car, because she is unable to work and her income is very limited as the VA only has her at 50% disability (PTSD is one of the hardest invisible disabilities to diagnose and treat) she did not make enough money to sustain an apartment, buy food and keep her car on the road. Because of the Veterans Assistance fund when we got the call for help we were able to place her in housing at a very discounted price which includes all utilities in a safe neighborhood, so she is able to breathe freely and hopefully start her recovery. Recovery requires having the ability to feel safe and not worry about the everyday issues that had her in a panic daily, such as a roof over her head, food and how to pay her car insurance, with finding a safe place to live, due to the Veterans Assistance Fund, we wish her peace and recovery. Thank you for your continued support, your donations do make a difference!
The disabled Veteran pictured had been homeless for over a year. Being that he is a Marine who fought in the Gulf War Conflict it seemed so unfair that he could not afford a safe place to call home. There are programs out there to help Veterans like this Marine, but he made 1 dollar too much to be able to qualify for any assistance, which is where the Veteran's Assistance fund comes in. Through your donations we were able to house this Veteran, get him the services he needed through the VA and bought him what he wanted for Christmas a crock pot and silverware so he could cook his own dinner and even provided him with his Christmas dinner.
It's the little things in life that we all take for granted, and something as simple as a deposit for first and last month's rent and the basic necessities that we take for granted that can change someone's life, in this case a Marine, someone who fought for our country so we can enjoy the freedoms that we know today. Thank you for helping us help those who have truly given their lives to protect ours! Best wishes in the New Year!
WARNING: Javascript is currently disabled or is not available in your browser. GlobalGiving makes extensive use of Javascript and will not function properly with Javascript disabled.
Please enable Javascript
and refresh this page.