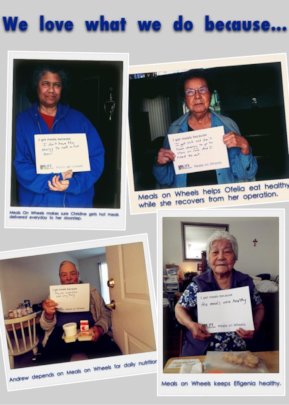 Wow, we are 88% to our goal of raising $7000 to bring meals to homebound seniors. That means over 4 years worth of daily meals have been delivered in our community. Do you know how good that is? It is GOOD!
Thank you for doing your part in keeping your elderly neighbors well-nourished in mind, body, and spirit. Healthy food, strength to have a good day, and connections with other people - these are the keys to health and happiness at any time in our lives and especially as we age. This would not be happening without your support. Our neighborhoods would be quite different, even if you never actually saw that difference.
All of your donations have bought a healthy lunch delivered by a volunteer who says "How are you today, my friend?" You are making it easier to age in this community.
On behalf of all of us at LIFE ElderCare, I am extremely grateful.
"I get meals because I can't stand long enough to cook."
"I get meals because the pot is heavy and I'm afraid I'll drop it."
"I get meals because I can't afford to buy fresh food."
These are just a few of the reasons people call us to get Meals on Wheels. And thanks to you, we can deliver good food – always delivered by a smiling volunteer - to older adults in your community.
Your donation to our project "Feed 1750 meals to seniors" not only brings a healthy meal to seniors throughout our neighborhoods. It also brings them the assurance that someone still cares about them, that they are not alone, and that LIFE is good.
Thank you, thank you, thank you… for your kindness and recognizing the value of caring for our seniors.
Go out and take a quick look around your neighborhood. Know that without you, it would be a different place. When elderly people have no one to help them, things can get rough. They don't eat right. They don't go to the doctor. Many basic things get missed.
But around here, things are different. Over 1,000 elderly people get a daily lunch brought to their home. Because you gave to LIFE ElderCare, you helped turn a senior's tough life into a good one.
We recently celebrated Helen's 100th birthday while delivering her Meal. While we can't say for sure, we're pretty certain that the nutritious food she gets from Meals on Wheels has helped her reach this milestone age.
(That's Mary Margaret, our beloved 91-year-old Meals on Wheels volunteer, sitting with Helen)
You have made a tremendous difference in the lives of seniors like Helen who depend on Meals on Wheels to keep them fed and healthy.
Thank you for your kindness in 2017, and I wish you a Happy 2018.
WARNING: Javascript is currently disabled or is not available in your browser. GlobalGiving makes extensive use of Javascript and will not function properly with Javascript disabled.
Please enable Javascript
and refresh this page.