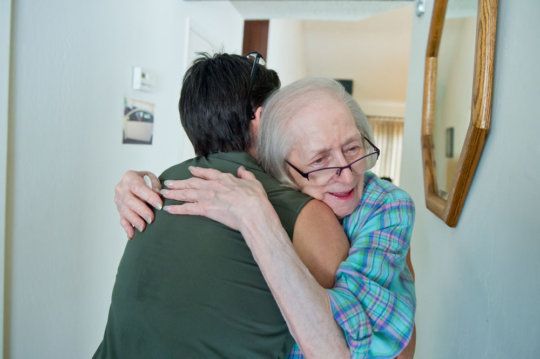 Thanksgiving may come just once a year in America, but every day is like Thanksgiving for us at LIFE ElderCare. We are constantly reminded of reasons to be thankful, especially when we receive donations from people like you – people who care about the health and well-being of our older generation. Thanks to you and all the Global Giving donors to our project, we have served 865 healthy and tasty meals to homebound seniors. That's a whole lot of veggies, rice, chicken, beef or whatever is on the menu for the day! (Trust me, it's all good!)
We are thankful that older folks like Vera can count on us.
Vera's husband died 7 years after they were married so she is used to taking charge! She learned how to keep books and worked hard to make sure her daughter got everything she needed to complete college. When her daughter moved, she missed her but got along fine, she told us, until 2012, when she fell. Her doctor encouraged her to move into a nursing facility but she said that was NOT going to happen. She loves her little house in Fremont. She wants to hold on to what she has in the face of health care bills and an inability to cook.
Because of LIFE ElderCare's Meals on Wheels, Vera no longer worries about buying or eating nutritious meals. This service is her lifeline, and without you, it wouldn't exist.
From the bottom of my heart, thank you, thank you, thank you!
Links: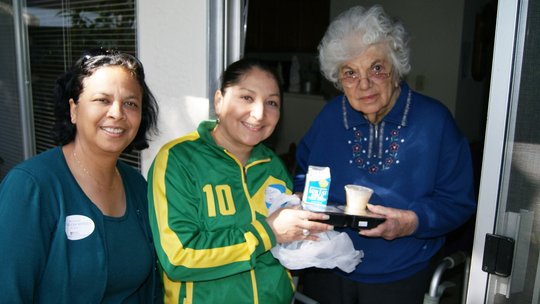 We've known it all along, and now there's proof -- seniors who receive a home delivered meal (such as Meals on Wheels) are less lonely, eat healtheir, and feel safer. (According to a study conducted by researchers at Brown University).
Be proud knowing that YOU are helping to deliver more than food. Your donation also brings a sense of security to homebound seniors, because everyday a friendly volunteer comes to their home and checks up on them. This may be the only person they see all day, and a few minutes of conversation and smiles goes a long way to staving off loneliness and depression.
Check out this wonderful video about us created by The California Health Report, and hear for yourself how happy Lou Ann is to get her daily hot meal. Without this nutritious meal, she would rely on canned soup and frozen vegetables -- that is, if she even had a way to get to the store. Instead, she gets to eat a variety of healthy and tasty foods (even though she's not a fan of curry!)
Thanks to YOU, we are 2/3 of the way to our goal of feeding 1250 meals.
That's a whole lot of happy -- and satisfied -- seniors! We can't wait to deliver even more meals and smiles!
Links: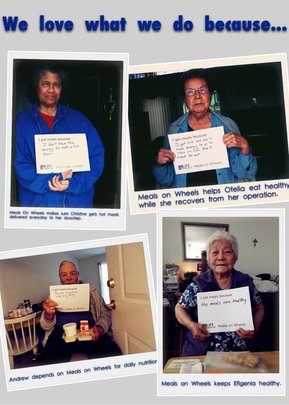 You know that great feeling you get when you've done a good deed? Some of us describe it as "warm and fuzzy." It may be from doing something as simple as letting a car merge in front of you (why are we all in such a hurry these days?) or helping someone get an item from the highest shelf at the grocery store.
We at LIFE ElderCare are lucky, because we get this wonderful feeling everyday. Why? One, because we love what we do – giving homebound seniors a warm and nutritious meal, a warm and friendly smile, and a warm and caring connection to another human being. We feel GREAT that we can be of such service to wonderful folks in our own community. Two, because people like you – people who donate to LIFE ElderCare – also care about the frail elderly. And the more people who care, the more seniors we can keep healthy with good food delivered to their door.
Someone like Ofelia, who was quite independent living on her own, until she had an operation. Since then, she doesn't have the energy to cook, much less go to the store. She tells us "if you didn't bring me my meals, I wouldn't eat well." And that means she would likely be back in the hospital.
We are so touched by the donations from the Global Giving community. Already all of you have purchased 810 meals, which means people like Christine, Ofelia, Andrew, and Efigenia (all pictured above) will continue to get meals – and a smile – brought to their doors everyday for 7 months.
Does that make you feel warm and fuzzy? It does to us!
With gratitude,
Patricia Osage
Executive Director -LIFE ElderCare
WARNING: Javascript is currently disabled or is not available in your browser. GlobalGiving makes extensive use of Javascript and will not function properly with Javascript disabled.
Please enable Javascript
and refresh this page.