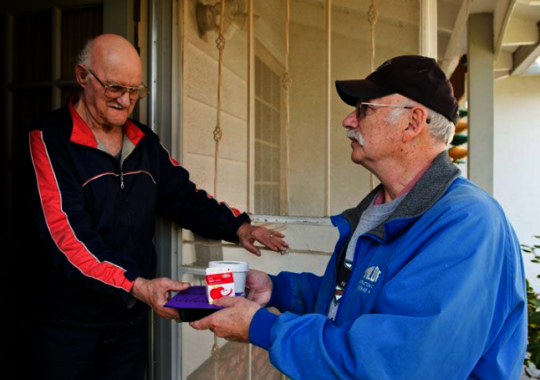 Dear Friends,
Thank you for your continued partnership as we work toward our vision for seniors in Alameda County.
What is this vision? It's a future where we can offer free services and support to EVERY older adult in need and where NO senior ever has to go hungry.
Meals on Wheels and other LIFE services keep seniors connected with community. They made a world of difference to Jay, age 79.
He took a cab home after surgery to a mostly empty fridge. Hungry and alone, he called LIFE ElderCare's number on the brochure he'd been given at the hospital. We took over a meal that very day and set him up with other services, too – assisted transportation to get to the doctor for his follow-ups, and a friendly visitor who loves to play cards as much as he does.
They made all the difference to 82-year-old Selma, too, who could no longer cook after she injured her shoulder in a bad fall. Soon after a worried neighbor reached out, LIFE provided Selma with daily meals, rides, grab bars, and in-home fall prevention exercise to reduce her risk of another fall.
With your help, we can help the thousands of older adults like Jay and Selma who need support.
Last year alone, we served 108,000 fresh meals, gave 6,909 rides, and provided more than 4,500 hours of friendly companionship.
There is so much more to be done.
Your kindness enables us to keep working towards making our vision a reality: assuring that no elder is left alone without food or friends.
With sincere gratitude and warmest wishes this holiday season from all of us at LIFE ElderCare!