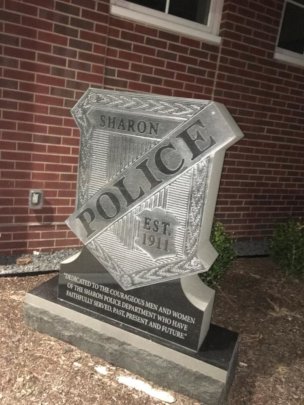 World Autism Awareness Month was in April and it was a very busy month for the ALEC project at The Arc of South Norfolk! The Autism and Law Enforcement Education Coalition, ALEC, reached a major milestone in May of 2018 by providing training to 40,000 First Responders. The First Responders trained include Police Officers, Firefighters and EMS personnel. First Reponders, as well as, family members of people with autism, and people with ASD themselves can benefit from information gleaned from this successful, fifteen-year project. In a few months, we will be publicizing results from our Training Program Evaluation Report conducted by the University of New Haven's Henry C. Lee College of Criminal Justice and Forensic Sciences Center or Analytics.
The Arc of South Norfolk's Vice President Dan Sullivan and ALEC Director Bill Cannata will reach out to publish results of the evaluation in journals like the Journal of Autism and Developmental Disorders (JADD), National Institute of Justice Journal (NIJ), POLICE Magazine, The Arc US NCCJD and The Arc MA Advocate. As we encourage community inclusion, community members and first responders need to have an awareness of and acceptance of people of all abilities. Specific training on autism is essential to effectively serving everyone in the community and our goal is to raise awareness of the benefits of this type of training and that more law enforcement entities will engage in quality training on working with people with autism.
People with autism are more likely to have 911 encounters than people in the general population.
ASD is a developmental disability characterized by problems with social communication; being inflexible with changes or routines; fixed interests; difficulty understanding and responding to social cues; and, over or undersensitivity to lights, sounds or touch. No two individuals are the same and people with ASD present with a wide range of strengths and challenges. ALEC's 18 instructors are all First Responders with direct knowledge of ASD through a family member. The ALEC team consists of 8 police instructors, 7 fire/EMS instructors, 2 EMS instructors and 1 hospital instructor. Training participants hear directly from a colleague with personal knowledge and an extraordinary personal investment in the program.
ALEC, helps to foster a deeper understanding of autism spectrum disorders (ASD) among public safety and law enforcement personnel. Parent trainings are designed to teach people with ASD safety skills and to discuss with parents and caregivers ways they can connect with the 911 systems in the State. ALEC training has taken place within statewide agences including the Munipcal Police Training Committee Academies, the Massachusetts Bay Transportation Authority and the Massachusetts State Policy Academy.
In April of 2018, local police departments that have received ALEC training invited families to tour fire and police stations to break down barriers of communication. In the Town of Sharon, local law enforcement welcomed families who have loved ones with autism into their brand new fire/police station. Parents and caregivers were able to fill out a form about their loved one with pertinent information like, if a call is made from their home-should the officers turn off sirens and lights to ensure that they are sensitive to a resident with sensory processing issues. Police officers and a fire captain introduced themselves to new families and made them feel comfortable talking to them about the specific needs of their loved ones. There was also an introduction to "Safety Net", a tracking system that has products designed for people who may wander. Officers explained how the system has been used in real life situations. They also connected families with eachother, so that they know there are others in their community who have loved ones with autism. The Sharon Police Department was inviting families in for an ice cream social this summer!
GlobalGiving gives the ALEC program the international stage to promote and encourage a deeper understanding of people all over the world with autism spectrum disorders. Please share this report and the work of ALEC with advocates, self-advocates, law enforcement and First Responders all over the world to encourage a deeper awareness of autism spectrum disorders! We continue to fundraise to support this unique program. We benefitted from the proceeds raised by a competitive runner who participated in the Boston Run to Remember which honors fallen first responders. She ran and raised funds to support ALEC and her Uncle who was a first responder. We encourage this kind of fundraising as it promotes autism awareness and acceptance within law enforcement. Within the next quarter, we will be focusing on small fundraisers to support The Arc of South Norfolk and we have a team riding in the September 22nd, Rodman Ride for Kids in Massachusetts.