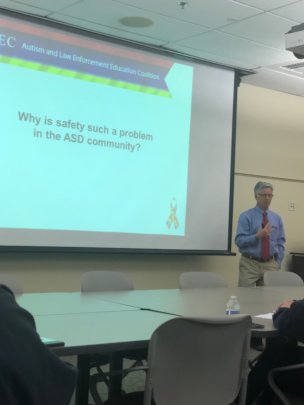 ALEC 2019: Providing Awareness and Education within Massachusetts' Communities
Since 2004, ALEC has been delivering trainings to First Responders in Massachusetts and throughout the country. ALEC has trained a total of 43,523 First Responders since its inception. ALEC has several training modules that are used with various target audiences including police, fire, EMS, medical staff, judiciary, and parents. Each module is tailored to the profession being trained with an emphasis on what ASD is, the best approaches for interventions during a crisis situation, and how to deescalate the severity of a situation involving a person with ASD relative to the laws and regulations surrounding the profession being trained. The personal and professional connection that our First Responders have gives the program instant credibility because it addresses the professional guidelines of the field being trained as well as the personal perspective of ASD. The ALEC Team ensures that the program stays current with best practices by reviewing the curriculum on an annual basis. Modifications are made in regards to statistics and research findings relative to ASD, as well as changes in the law.
Trainings include a PowerPoint presentation, videos and photos of individuals with ASD, visual and auditory examples of communication styles of people with ASD. The program uses real life examples of interactions between First Responders and people with ASD that were not handled appropriately. ALEC equips First Responders attending the training session with communication boards that include Mayer Johnson Picture Exchange Communication Symbols (PECS) to use in crisis situations. During the training, presenters review various methods of communication a person with ASD may use. Instructors give hands-on intervention strategies that are relevant to the audience being trained. For example, in the ALEC Police curriculum: Dispatch reports to the responding officer- "Male teen wandering outside appears under the influence of a substance. The teen is unable to speak and exhibits strange behavior." The ALEC instructor points out that it is important to take three key things from this call- the person is non-verbal, appears to be under the influence of a substance, and is wandering. Non-verbal: Since the teen can't speak, officers should look for other clues. Could there be a disability? Substance: It is very common for a person with ASD to be mistaken for someone who is exhibiting drug-induced behavior. Scripting may be confused with hallucinating, as may body language (stimming, flapping, rocking). Wandering: Many individuals with ASD wander; it might even be the call you get most often. Check for attractive hazards (water- pools, lakes, rivers, etc., construction sites and drainage areas). What can the First Responder do? Look for clues that the individual may have a disability; take the extra second to evaluate; attempt to establish communication, but exercise great patience; if possible, do not attempt to place "hands on"; allow stimming. These strategies always keep in mind the laws, regulations, legal obligations and safety of the First Responder. The ALEC team has developed an online course for the MPTC (Municipal Police Training Committee) and "roll call" training, where Police Training Officers can use the video and a questionnaire for a basic overview of ASD and Police intervention strategies during their daily "roll call". These tools have been useful for cities and towns that do not have funds to pay their officers to attend an ALEC training. These methods of delivery enable ALEC to train Police across the entire state who wouldn't otherwise have the resources to send officers to training. The online module receives two times the traffic of other online training courses MPTC offers.
The ALEC program has established a relationship with The Office of Emergency Medical Services supports. The EMS component of ALEC. Basic EMTs, intermediate EMTs and paramedics earn 3 OEMS hours (continuing education hours) for attending an ALEC training.
The Parent component of ALEC is offered to caregivers and trains on effective communication with First Responders and the importance of disclosure and education for the individual with ASD. ALEC has a community education initiative called Community Days (CD's). This CD component reaches the needs of the ASD Community through private open houses at local fire and police stations. These CD's, held fire and police stations, are opportunities for individuals with ASD and their families to become accustomed to emergency personnel and equipment in a safe and informal environment. This is a private event for residents of the town or city who are diagnosed with ASD or related developmental disabilities. These events are less chaotic than the typical Open Houses fire departments host for the general community. They offer a more intimate setting for people with ASD and their families to meet local First Responders. ALEC representatives educate families about the importance of working with people with ASD regarding fire safety and give tools/techniques to use with them. ALEC has worked with the 7 state-funded Autism Support Centers and trained them on hosting CD's in the towns and cities they serve. ALEC has given each of the 7 centers a "CD Tool Kit" to host their own CD's. These kits include social stories for individuals with ASD, Mayer Johnson PECS, Biographical Information forms for families and caregivers to fill out for the individual with ASD, 911 disability indicator forms, and information on SafetyNet bracelets. ALEC has spearheaded an initiative with Boston Police, Fire and EMS to bring CD's to the public schools supporting people with ASD. Through this initiative, Boston Fire, Police and EMS visit the schools to introduce the students to First Responders. First Responders and students get the opportunity to meet one another. The premise behind this program is to expose both people diagnosed with ASD and the First Responders to each other before a crisis situation. The events have been incredibly successful and are supported by The Doug Flutie, Jr. Foundation for Autism.
Funding from the Department of Developmental Services (DDS) has allowed us to train a total of 24,486 First Responders throughout Massachusetts. ALEC also continues to provide community awareness days locally under support from the Changing Lives Fund (Northeast Arc in Massachusetts). ALEC has hosted 347 trainings for Fire Departments, training 13,114 firefighters in 213 cities/towns within Massachusetts. ALEC has trained the major cities of Boston, Springfield, and Worcester Fire Departments. This number includes trainings at specialized locations including The Massachusetts Air National Guard FD, Massachusetts Fire Academy, Firefighters attending the Massachusetts Fire and Life Safety Conference, The Massachusetts Military Reservation, Massport and Westover Air Force Base.
ALEC has hosted 221 trainings for Police Officers, training 9,607 Police Officers from the majority of cities and towns within Massachusetts. ALEC held larger Police Officer trainings for regional and specialized groups in the following locations: Berkshire County Regional Training, Bristol County Regional Training, Cape Cod Regional Training, Essex County Regional Training, MBTA Police Officers and Recruits, MPTC Police Officers and Recruits, Mass State Police Officers and Recruits, Metro Star Team (Regional SWAT Team), NEMLEC North East Mass Law Enforcement Council (Regional SWAT Team), Norfolk County Regional Police Training, Norfolk County Sheriffs Office, South Suburban Police Institute (Regional Reserve Police Officers), Western MASS Regional Training, Worcester County Regional Training.
ALEC has trained 1,131 EMS providers from the following towns and EMS agencies/educational programs with 49 trainings: Adams, Boston, Chicopee, County Ambulance, Eascare, Emergency Nurses Association, Fallon Ambulance, Greater Boston EMS Association, Highland Ambulance, Hilltown, Hyannis, Lowell, Lynn, Malden, MASS National Guard, Metro West Framingham, Mattapoisett, Metro West Natick, Mount Wachusett, Natick, Nashoba Regional, Pittsfield, South County Ambulance, South Deerfield EMS, South Shore EMS, Springfield, UMASS Medical Life Flight, Ware, Webster EMS, Wood Ambulance, Worcester, Anna Maria College, Holyoke Community College, Lowell University, Quinsigamond Community College, Westfield State University, Berkshire, Lifeline Ambulance, South Shore Hospital EMS.
The ALEC Program currently has 16 trainers who implement the program throughout the entirety of the Commonwealth of Massachusetts.
Links: