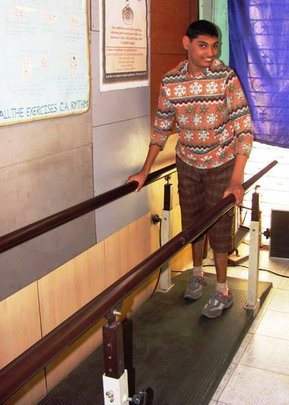 Warm Greetings from Balajothi!
We are delighted to inform you that on March 29, 2014, three days before the expiry of the deadline, Balajothi successfully reached both targets in terms of Donors as well as Donations.
We could not have achieved this feat without your priceless support. We are overwhelmed with your concern for our disabled children and on behalf of every child and caregiver at Balajothi we thank you, your family members and friends and all others who supported us with donations and in spreading awareness of the campaign, from the bottom of our hearts.
It is our fond desire that you visit Balajothi at your convenience and see in person the kind of development achieved by our special children with the help of your contributions.
Cerebral palsy (CP) is a non-progressive disorder that causes physical disability in development mainly in the areas of body movement. It is caused by damage to the motor control centers of the developing brain and can occur during pregnancy, during childbirth, or after birth.
Children affected by CP have problems in perception, communication, cognition and epilepsy in most cases. It also leads to musculoskeletal problems resulting in difficulties in movement and balancing.
CP occurs in about 2.1 per 1000 live births. The rate is higher in males than in females. Advances in care of pregnant mothers and their babies has not resulted in a noticeable decrease in CP.
Children affected with CP need physical activity on a regular and co-ordinated basis to improve their muscle strength and general health. This is accomplished through regular physiotherapy and other activities which result in incrasing flexibility of muscles of various organs. Failure results in tightening of ligaments and spasticity leading to permanent immobility.
Balajothi Centre for the Disabled provides this much needed therapy and training through well organized and co-ordinated programs on a daily basis.
Here one such child Vishnu he is now 16 years old.
Disability: Mental retardation with Microcephaly and Cerebral Palsy
Condition when joining: All lifeskill functions impaired, unable to stand or speak, self injurious behavior
Current status:
- Able to walk with support
- Exercises regularly which includes walking and cycling
- Can speak one or two words
- Can identify known persons
- Can eat and drink when fed
- Responds well to behavior modification
- Self injurious behavior reduced
- Able to indicate nature's calls