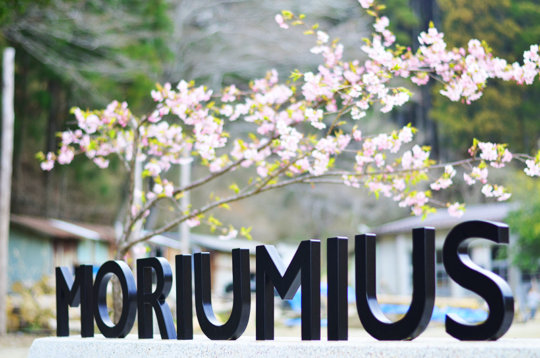 Dear supporters,
Thank you always for your support! Your support has been providing educational opportunity for children.
Winter is finally over and spring is here. In the ocean seaweed have grown to be cropped, and in the mountains there are many mountain vegetables. We are getting ready to plant vegetables in our farm, as well as to start planting fungus of shitake mushrooms into logs chopped from the forest. Schools are in spring break, children started to gather to MORIUMIUS.
March 11 was the fifth memorial of the earthquake and tsunami took away many lives and memories of northern Japan. The town of Ogatsu, where we are located, have lost 80% of its town and the population is now 1,000 where 4,300 lived before the disaster. Recovery process is still slow, high ground is ready and the locals are starting to build houses back to their community. It is said by the locals that about 500 people would come back to their own community after houses were built.
Calligraphy artist, Maaya Wakasugi visited from France to organize calligraphy workshop. Local children have gathered to participate to this special occasion. Ogatsu is one of the prime locations for producing ink stone used in calligraphy. Maaya created very creative opportunity, children were allowed to use colored ink to create huge tree full of flowers. This year, we are opening our door to artists to stay and provide creative opportunity for children in the natural surroundings!
For the last two weeks, many children are staying/ participating one week program to enjoy the nature as well as to interact with local people. Through experiences of sustainable living, they seem to be more close to the nature, sustainability, and become independent.
Spring festival is ready to be organized in April. We are going to host MORIUMIUS market, inviting local producers for the locals and visitors to shop this month. MORIUMIUS is getting noisy, creating learning opportunity for children to revitalize community once damaged by tsunami.