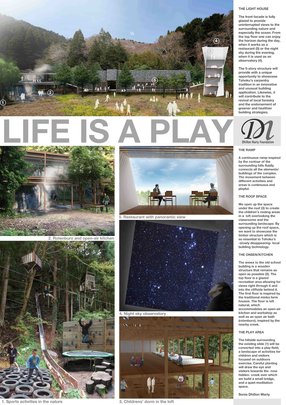 Dear friends,
On the three year memorial of disaster in Japan, I want to reach out to the world to share my project of revitalizing community through education, and the situation of reconstruction from tsunami. Please consider your support donating to the project or share the information to your friends and families.
Three years have past It was three years ago, today when mega earthquake and tsunami hit Northern Japan. Broad range of coastal line, same distance with Baltimore to Boston, was destructed by tsunami. Disaster relief is past, but rebuilding community is still far. Although infrastructure have recovered, over 100,000 people are still in temporary homes. Only 5% of permanent homes have been build, many residents are losing motivation to live or to go back to their hometown. My life has changed since then. I have moved and involved in a small fishery town of Ogatsu. I left my previous work last April, a experiential theme park called KidZania that I have started and dedicated my life for the last ten years. Now trying to establish a sustainable learning center for children, operated by the locals to go back to work.
Where?
Town of Ogatsu Breathtaking nature known for farming scallop, oyster, and salmon. Home of ink stone used in calligraphy, used also for roofing slate material. Traditional dance, Kagura, goes back to 600 years and is registered as National Intangible Cultural Heritage. Rich nature and culture still exist, but the damage of tsunami is an contrast.
What?
Restore and renovate 90 year old wooden school into sustainable learning center. Abundant for twelve years, school stands on a hill looking down the bay. Renovating into accommodation, restaurant, studio for experiential learning, operated by locals. In the rich nature, hands on experiences like Fishery, Agriculture, Forestry, Cooking, Arts/Craft will let children interact with locals who are coexisting with nature to understand how to be sustainable. Center will be operated by locals, providing job opportunities that attracts family visitors as well as school groups, corporation, and artists. Partnering with Dhillon Marty Foundation, Stanford University, and several other universities, organized a design charrette last year to create renovation plan.
Why I do this?
Growing up in US and traveled around world, I have discovered Japan's rich and beautiful nature. Nature where people coexist, "Satoyama" culture we call it. Japan was an agricultural country history going back for thousands of years. We always knew and had wisdom of how to live sustainably. I feel our generation need to provide sustainable learning platform for children. As population will keep growing, and natural resource decreases, children in future will have to face much more difficult time. Understanding sustainability as well as to create sustainable society is important learning for children. Also, one of the social issue Japan is facing is over aged depopulated society. Many part of rural Japan is depopulated. Like Ogatsu, beautiful and rich nature I am trying to create a model that rural community opens up to receive children to educate in the nature. This is not only rebuilding from disaster, but to create an opportunity for children around globe to gather, experience, interact with each other. I ask for your support in establishing a learning place for children and locals to go back to work. You can simply go to GlobalGiving to donate.
Warm regards,
Gentaro Yui