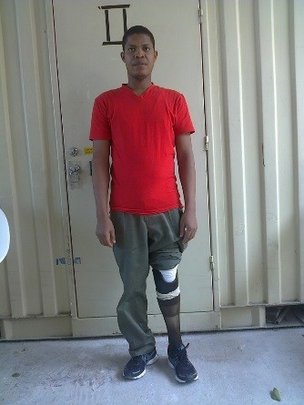 One day before New Year's Day of 2013, Benoir E rode a bus to visit his mother who lived outside of Port-au-Prince when a severe collision occurred resulting in the bus turning over. All of the passengers were taken for emergency medical treatment in Leogane, where Doctors Without Borders were assisting local medical practitioners. His left foot was severely crushed so that the only solution possible was to amputate part of his leg. He was hospitalized for three days and sent home to recover. For several months, every five days additional medical procedures were applied to treat his wounds. In March of 2013, he started physical therapy and was referred to the Johaniter supported facility in Leogane, which is associated with the WRF/Prosthetika Adventist Hospital project.
After two physical therapy sessions, Benoir was referred for further service to Adventist Hospital, which was closer to his home in Port-au-Prince. In May, having completed physical therapy, he was referred to the WRF/Prosthetika prosthetics/orthotics project and a prosthetic limb was produced and fit to the patient. He expressed his gratitude to the project for enabling him to be able to become more independent.
Edouard M was born with a congenital defect which affected both legs. When he was 9 years old, He underwent surgery at Adventist Hospital to correct the deformations. This required wearing casts on both legs for a three month period. When the casts were removed, he was referred to the WRF/Prosthetika program and an Ankle-foot orthotic device was fabricated for both limbs. Three months after this treatment, it was necessary to perform more surgery. This change required different configuration for the devices. After one year with these orthoses, Edouard returned to the project to be refitted once more to take into consideration his growth. Edouard says that he likes using these braces, because it helps him to walk much better and he can keep up with other children.
Toussaint V is a 48 year old man who worked together with his wife. When he was arranging his tools, one day in January 2012 he realized that he had blood on his sock. He then asked his wife to check his foot and they saw that his big toe was bleeding. The wife tried cleaning the toe with salt water and cotton and continued home treatment. After two weeks, they saw that there was no improvement and decided to go to a hospital in the Martissant region of Port-au-Prince, where Doctors Without Borders, provided services. They performed a series of tests and diagnosed him with advanced diabetes. He was then referred to another hospital in Sathe where other Doctors Without Borders physicians were stationed.
Within four months the infection became larger and the medication provided did not seem to help. The doctors told Toussaint that they would have to amputate his left leg. After the surgery was completed, he required a month and a half to recuperate, and in August 2012 he was discharged and referred to the WRF/Prosthetika prosthetics program at Adventist Hospital. The first prosthesis that was produced by the project was felt to be uncomfortable and Toussaint rejected it, using crutches instead to help him walk.
In February of this year, he was asked back by the project so that his case could be revisited now that the project had an experienced senior level prosthetist that could revisit the case along with one of the projects more advanced technicians. A test socket was fabricated for his use and he was asked to try it out for a few days and then return to the program to evaluate its usefulness. However, Toussaint was so happy with this new device, that he did not return until over a month later! The project then made a permanent prosthesis and he seems happy to use it and no longer has to rely on crutches. Staff told him that because of his condition, he needs to check his limb daily to make sure that there are no problems.
Conclusions
1. The project has now provided over 1000 devices to over 950 Haitians with disabilities
2. Patients served by the project show that the program is at least equally accessible for female as males and that there are no limits on age. We have served infants as young as 6 months and senior citizens in their 80s.
3. The need for the service is quite clear as the numbers of patients being served this year is exceeding the average per monthly service rate of previous years. This increase is due to at least three factors
- The level of need in Haiti, the poorest country in the Western Hemisphere, remains high due to a poor health care system, and a dangerous environment. Adventist Hospital is one of the few places where patients can receive quality care.
- As the Haitian technicians acquire more skills and experience, their productivity improves.
- As we now have an experienced fully certified Prosthetist/Orthotist to direct the program they are able to take more difficult cases and he is able to provide assistance in improving the skills of the technicians. Moreover, a system is now in place that allows a much smoother service situation.
4. Patients requiring assistance from the program display a wide variety of conditions that have caused their disabilities. Patients suffer from congenital malformations, acquired and congenital illnesses, accidents and a large proportion of patients still show who were injured due to the horrific earthquake of 2010, which was the incident that motivated ProsthetiKa and WRF to initiate this project.
Because of the heavy use of the service, supplies are being consumed at a large level which has left us at times with shortages of vital materials. The difficulty of shipping to Haiti compounds the problem. If we can somehow master this situation, then productivity may raise even higher.
6. The most commonly needed device has been Ankle-foot orthosis. This is largely needed for the younger children who suffer from congenital malfunctions in their feet and ankles. The need for Pedorthic intervention for the children is also high. Since the certified prosthetist has come to the program the proportion of prosthetic devices that have been provided has grown.
7. The new information system that has been instituted this year by Regina de Barreto has greatly improved the flow of information to WRF so that we can more accurately gauge the progress of the project. She has also provided us with pictures and case sketches of selected patients, so that we can appreciate on personal terms the value experienced by those who utilize this program.