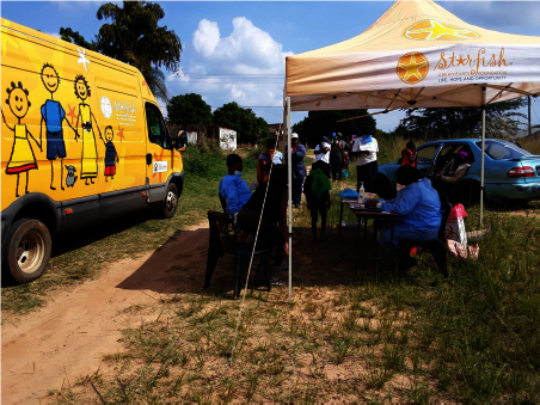 During the lock down, as many clients were restricted to go to the clinics, only a minimum number of patients were allowed to enter the clinics due to Covid-19 virus because they were preventing the spread.
The starfish wellness wagon managed to touch many lives of people around Masoyi community. There was a great challenge of screening the Covid-19 virus and need for medicines to those who were sick and even immunisation of children ever since crèches have closed.
NTERVENTION
• As the Starfish wellness wagon staff under Masoyi Home Based Care, we have screened Covid-19 virus.
• We were teaching them social distancing during our working sessions.
• We were using the loud hailer to call and tell them to wear their face mask and wash hands with water and soap and even when they reach us, we were sanitising them with hibitane in alcohol 70%, 1,5 meter social distancing.
• Parents also came with their children, bringing along Road to health card for administration of Vitamin A and worm stop pill for children.
• Children with septic ring worms, coughing, rash on skin and upper respiratory were also treated with medicine under supervision of their parents.
• HIV&AIDS was also tested, and awareness was also done about the wearing of condom during sexual intercourse and those who were already taking treatment were taught to take their medication properly as advised.
• The sick ones were also examined and assisted with treatment and health education.
• Follow up was done to those kids who were treated before
• Health education was also part and parcel of our daily activities, hand washing, wearing of musk and sanitizing hands.
• We are still working under Covid-19, no staff member is infected.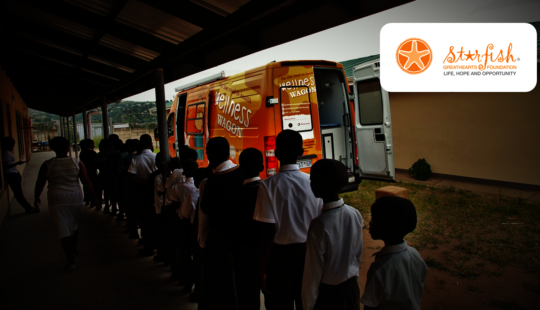 Wellness Wagon
The Wellness Wagon was conducting health services at Zakheleni Primary School and during the health services the wellness wagon team managed to examine a number of school children , during the service delivery at Zakheleni Primary ,a female teacher came to the team to report that there is a young girl aged 9 years in her class that is presenting with an offensive smell and she also had urine incontinence, the team discovered that the child is an orphan and she is staying with two of her uncles, and then the team agree to examined the child as per teacher request, they examined the child and discovered that on her private parts there was a sign of force penetration and symptoms of a STI.
INTERVENTION
The Wellness Wagon nurse wrote a detail referral letter to eMasoyi Community Development Social Worker about her findings after she examined the 9 years old child, the Social Worker from Khayalethu 2 centre manage to submit the letter to the Department of Social Services at Swalala Trust, and then the social workers from the Department of Social Services together with the Masoyi police managed to travel to Zakheleni Primary and speak with the class teacher about the plan to take the child for further counselling at the Masoyi Police station by a well skilled trauma counsellor from Greater Rape Intervention Programme (GRIP), and the counsellor is skilled on sexual abuse cases and her role is to deal with sexual assault cases, and after the counselling and all interventions they also confirmed that the child was raped and then she was referred Themba hospital for further assessment and treatment, upon her arrival at Themba Hospital she was admitted and put on treatment.
The case of rape is still under Police investigation, and the social workers has promised that the child will be taken from the family and the she will be placed at orphanage home after being discharged from the hospital, and according to our nurse the child will need psychological assessment from psychologist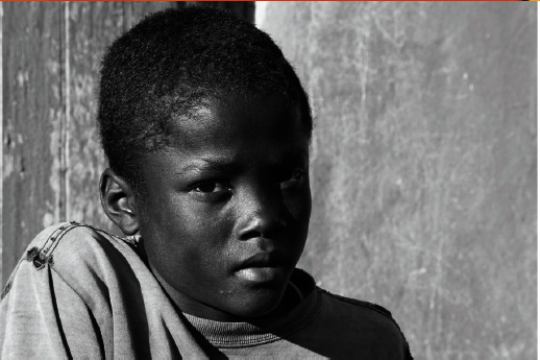 Paseka's Story
Paseka often wondered why her family had been cursed. Her great-grandmother said it was because of... so many things. First, when she was still a little girl, her grandmother died. She never knew her father, but she remembers her mother cursing him on her death-bed. Paseka was only four years old when her mom died, leaving her and her two younger brothers to live with GogoMkhulu, their great-grandmother.
Things were really tough and often Paseka wished she could just die too. That was until Mama Thandi knocked on their door. GogoMkhulu is deaf, so Paseka opened the door to the beaming face. It turned out that Mama Thandi was from the organisation called Thy Kingdom Care Centre. She greeted GogoMkhulu with respect and explained that the organisation helps take care of children who find themselves in difficult situations.
Soon her brothers and Paseka were attending the Early Childhood Development Centre, getting two meals a day and were even helped with clothing. They brought the family food parcels every month and helped Gogo-Mkhulu receive a Child Support Grant (R1 300.00 a month for the three children.)
Paseka is now already in Primary School and is doing well. Mama Thandi is like a mother to her. She made sure Paseka and her brothers got vaccinated, got enrolled in school, got health care services, and most importantly, made sure they know they are loved.
WARNING: Javascript is currently disabled or is not available in your browser. GlobalGiving makes extensive use of Javascript and will not function properly with Javascript disabled.
Please enable Javascript
and refresh this page.