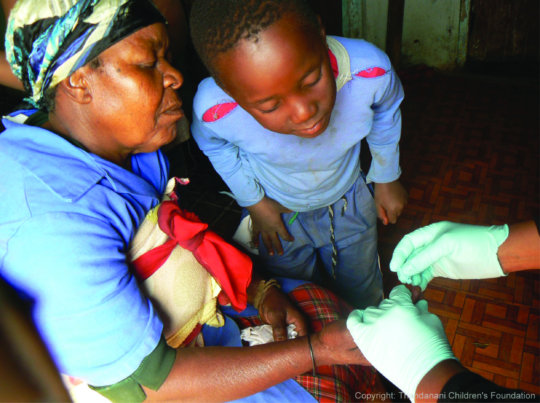 "For the first time we will be able to go to school in our uniforms and look just like the other children who still have parents" – Lerato, aged 10
Our Wellness Wagon brings healthcare to children in rural, impoverished communities
Starfish recently introduced our Wellness Wagon, a mobile clinic that delivers healthcare to children in rural communities, without access to healthcare. The Wellness Wagon tests for HIV, TB and malaria and monitors the children's general health and development. The Wellness Wagon visits impoverished areas, where the number of child-headed households is intolerably high, HIV is prevalent and your support is desperately needed. This month a staggering 67% of the 1,327 children treated were referred for further services, including malnutrition and treatment of ringworm.
"14 year old Grace was born HIV positive. She started to become weaker and thinner, but she lived with her aged granny with dementia, and there was no one to take her to the clinic. Starfish's Wellness Wagon visited her rural village and tested her for HIV, we were alarmed that her CD4 count was only 10. It was amazing that she was still alive.
The Wellness Wagon referred her for treatment for TB and ensured that she knew how and when to take her anti-retroviral medication. Her CD4 count is now 54 and she is in the hospital, where we have visited her. She is grade 7 this year and we hope that she will return to school next year and resume her life." - Starfish care worker.
Ethembeni (Kwa-Zulu Natal)
Ethembeni has partnered with a local daycare centre, to ensure that preschool children are stimulated and ready for school, as Ethembeni do not have space for all the children at their facility. This initiative by Ethembeni is part of their program to empower community members. They have restructured and strengthened their Children's Program to maximize the impact of their childcare.
Loaves and Fishes Network (Eastern Cape)
The Positive Parenting Skills Workshops held in the villages were well attended. The support groups have been well received. Pateka Mtintsilana, LAFN General Manager, was selected as a finalist in the Business Women's Association 2015 Awards, in recognition of her development work. Ten social worker interns have been appointed and a full-time social worker has been employed.
Bulungula (Eastern Cape)
Children in the preschools are being weighed regularly and given deworming medication and Vitamin A every six months. The Wellness Wagon visits monthly to immunize children not yet in preschool. Playgroups are held regularly and parents are taught the importance of playing with their children, in order to teach them shapes and colors etc. Fresh vegetables from the food garden are used to feed the preschool children.
Isipho (Eastern Cape)
Situated in one of the poorest regions of South Africa, Isipho is home to 66 children who have been orphaned by AIDS. Funding from Starfish enables Isipho to give these children a chance to complete their education, keeping them well fed and caring for those with nowhere to live.
Isipho provides not only a shelter for a group of orphaned children, but is also a pre-school, a library and a community center for AIDS awareness and training. Thanks to these programs, Isipho is no longer experiencing school drop out and teenage pregnancy. 94% of the children that Isipho supports passed their school exams. Funding from Starfish has helped Isipho train childcare workers in early childhood development, so that they are better able to respond to the children's needs.
Cleaning materials and toiletries were provided to the children to help them maintain a high standard of hygiene.Nutritious meals were provided during the school holiday programs. The children alsoget meals at the crèche and the aftercare program.Older children receive vocational skills development. A support group for children is providing life skills training and counseling. Almost 50 children benefitted from medical supply services.
Tsogang (Gauteng)
The number of children being assisted with homework and participating in afterschool activities has increased. 150 children received health screening and 15 have been referred to the local clinic. An additional 75 children received TB screening. Outreach to 150 adolescents on HIV/AIDS prevention. Caregivers received training on health screening and counseling children with emotional needs.
"Starfish, you make me feel better, you make me cry lesser, you make me dream bigger." Nathi, aged 11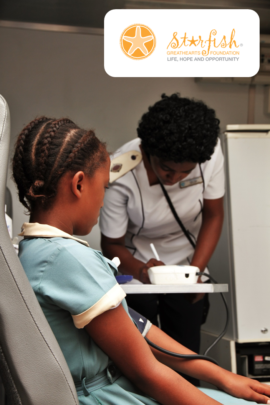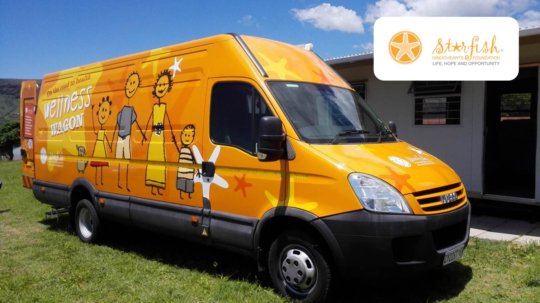 Links: