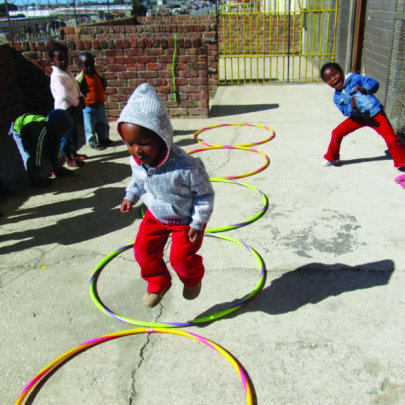 "I asked the local municipality for some land to start a childcare centre, and they gave me a dump site." Thandi Khanyile reflects on the inauspicious start to what is today Thy Kingdom, a thriving centre in Sebokeng that assists 450 orphaned and vulnerable children from the local community. "I was totally committed to setting up the centre, so I just went ahead anyway."
That was in 2012. Today, Thy Kingdom is one of the many thriving projects supported by Starfish Greathearts Foundation. When Thandi started building Thy Kingdom, funding was a real challenge. "We had no money" she recalls, "we received a few cash donations and some food and clothing from churches in the area. We couldn't afford to pay anyone, so we were all working as volunteers, it was tough but Starfish has changed all that. Now we can at least offer a stipend to some of our care-workers and can give proper support to the children."
Sebokeng, like many parts of South Africa are crippled by poverty, unemployment and crime. In these conditions, children are at risk of starvation, physical and sexual abuse, fatal illness, and have limited access to education. Many of them have been orphaned by HIV/AIDS and live in child-headed households or with ageing grandparents. "I could not sit by and watch this happen. I had to do something," explains Thandi. "So we turned a dump site into a hope site."
The former dump site, although still limited in size and lacking proper infrastructure, now has a small playground, flushing toilets for the children, and even a kitchen. But perhaps the most treasured space in Thy Kingdom is the children's library. Housed in a camping caravan, the collection is humbly stocked with less than 50 books, but it is impeccably neat and well ordered. The obvious care the little boys and girls show each book and toy underscores how special and rare a children's library is in their community, in fact for many adults too this is the first library they have ever seen.
Thanks to our donors, Thy Kingdom is now able to provide a range of services for young children going all the way up to high school. "Given the pressures on teenagers today, they are just as much in need of care and guidance as the younger ones are. Their needs are just different," explains Thandi.
The children receive cooked meals every day after school and are given school uniforms and school supplies, but the help they receive goes far beyond their physical needs. "Feeding their bodies is one thing, but feeding their minds and souls is another more important factor," says Thandi. Every child is offered additional assistance with homework and assigned a dedicated care-worker, who helps them with emotional issues, peer pressure, abuse situations and mentor them with general life orientation.
At the end of my site visit, and a long work week, the care-workers gather in the meeting room for a simple meal of chicken and samp. Some of the staff are on a small stipend, others are simply community-centered volunteers, but they share the same enthusiasm for their work. When asked what their one wish would be for Thy Kingdom, hands shoot into the air. "Space to take in more kids; books for the library; school textbooks and stationery; soccer balls and sports supplies; winter clothing for the kids; computers, no matter how old; more old containers or parkhomes to be turned into offices and teaching rooms"...the list goes on and on.
As the care-workers share their dreams for what Thy Kingdom will one day become, feelings of hope and optimism flood the air. "We don't have a lot but we will optimise what we have" Thandi says, and I imagine the same fiery determination in her eyes when she first surveyed the dump site in 2012. Her team nods encouragingly around her as she adds, "We need much, much more, not for ourselves but for the children we already serve and for the children who need us but have to be turned away."
The donations Starfish receives allow our partnering organizations like Thy Kingdom to keep their doors open and grow to serve more children every year. Its 2016 and the dump site has gone; a place of loving care and hope has replaced it. With your generosity, Starfish is able to help the faraway dreams of Thy Kingdom's care workers a reality, so Thandi and her team can make a real difference for the children of Sebokeng.