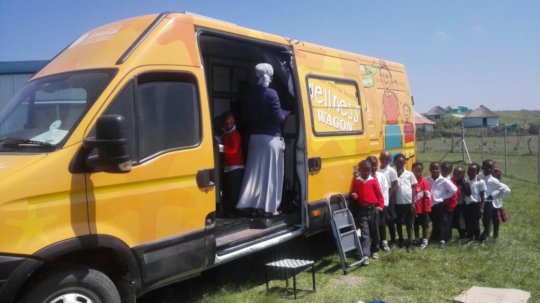 Starfish Greathearts Foundation supports children orphaned or vulnerable in South Africa by working in partnership with Community-Based Organisations (CBOs). Starfish has two key programmes
A) Starfish Wellness Programme – to safeguard the health and well-being of children. Services provided included:
Access to a mobile clinic for primary health care services (Starfish Wellness Wagon)
Daily meals
Home visits
After school care programmes
Early Childhood Development care
Adherence support for HIV positive guardians
B) Capacity Building Programme – To capacitate CBOs to effectively manage their organisations to provide quality service delivery to children orphaned or vulnerable
Training and mentorship in the following focal areas:
ECD Training
Child Safeguarding
A) Starfish Wellness Programme
A total of 7355 children were supported during the reporting period. 3155 children accessed the primary health care services through the Starfish Wellness Wagons in KZN and EC. Care workers conducted 1639 home visits to assist with domestic chores, assess safety in the home environment and provide psychosocial support to the family. 1526 children participated in after-school care activities (homework assistance, reading clubs, sporting activities etc.) at the Drop-in Centre. Early Childhood Development care was provided to 1084 children. Daily meals were provided to 3318 children.
To date, Starfish has worked in partnership with 37 health facilities based in Gert Sibande and Sedibeng to provide adherence support to 50 706 patients
B) Capacity Building
ECD Training
The Starfish team provided training on the PRACTICA ECD Programme to 10 staff at Sethani Community Centre and 5 staff at Thy Kingdom Care Centre. The objectives of the training were to:
Familiarise participants on how brain architecture develops in children
Realise the crucial role that responsive caregiving plays in the holistic development of children
Introduce the 6 development groups (50 school readiness skills) to be achieved
Train ECD practitioners on the implementation of the Practica Programme
Child Safeguarding
The Starfish Programme Manager conducted a child safeguarding workshop with eight participants in KZN. The purpose of the workshop was to outline the guiding principles in developing a Child Safe Guarding policy.
The workshop comprised of four key elements:
1. Assessing the risks at the organisations and mitigation strategies
Focuses on children that access care services and the potential risks they may face to be able to devise safeguarding measures that would mitigate the risks.
2. Developing/strengthening a child safeguarding policy
3. This training element helps participants determine the scope, structure, and contents of the policy. The participants were taken through a SWOT analysis.
4. Implementing the policy
Develop and put procedures in place to implement the policy
5. Roles and responsibilities
Activity to identify roles and responsibilities for child safeguarding
Starfish is grateful for the opportunity of partnership and appreciate that together we can help make a difference to the lives of children left orphaned or vulnerable in South Africa.