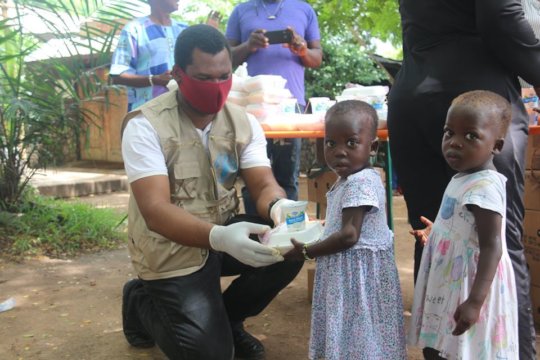 As the COVID-19 pandemic continues to rage on throughout many countries around the world, The Global FoodBanking Network is committed to making targeted, impact-driven investments and utilizing the knowledge and resources of our Network to support food banks in these regions.
GFN deploys a multipronged approach to improve mission delivery and advance the organizational efficacy of food banks as a solution to hunger.
From an operational level, GFN offers expertise, resources, and connections that dramatically increase effectiveness, assure safety, and catalyze scale. This engagement package, supported by you, includes:
• Access to a peer network of food bank leaders in over 40 countries to test new approaches and share best practices;
• Customized training and expert technical assistance;
• Capacity-building grants to improve efficiency, scale, nutrition, and resilience;
• Partnerships with global players to provide food, funds, and local volunteers to support sustainability and growth; and
• Certification to assure safety, traceability, and legal and ethical compliance.
In 2020, GFN delivered 21,000 hours of technical assistance, an increase of more than 13,200 hours from 2019, and deployed $15.7 million in grants. In an effort to target resources where they were
needed most, GFN expanded its reach in lower middle income countries (LMICs) by 221 percent. The Network encompasses a geographically and culturally diverse set of food banks, each operating
at different levels of development and facing unique resource constraints. GFN takes each of these factors into account and focuses its work in four pillars:
• SCALE where food bank capacity is strong
• ACCELERATE growth where more hunger relief is needed
• REBUILD after crises and natural disasters, with a focus on vulnerable populations
• MOBILIZE through research and knowledge-building about food banking as a path to zero hunger
On average, food banks in the Network are serving nearly 200,000 more people regularly than prior to COVID-19. Operational and grant support make it possible for established food banks to meet increased demand and effectively expand their reach to new populations. GFN employs its SCALE strategy in Brazil, South Africa, Colombia, Mexico, and India with the following results, supported by you!:
Mesa Brasil SESC: Distributed 50.6 million kilos (+27% over 2019); served 3.4 million people (+149% over 2019)
FoodForward South Africa: Distributed 6.8 million kilos (+56% over 2019); Served 458,000 people (+69% over 2019)
Asociación de Bancos de Alimentos de Colombia: Distributed 63.5 million kilos (+88% over 2019); Served 3.1 million people (+391% over 2019)
Bancos de Alimentos México: Distributed 176.9 million kilos (+45% over 2019); Served 2 million people (+44% over 2019)
Zomato Feeding India, No Food Waste, India Food Banking Network: Distributed 11.2 million kilos (+270% over 2019); Served 5 million people (+104% over 2019)
Through a series of regional incubator programs, GFN builds the capacity of visionary leaders who have boldly stepped forward to start new food banks in high-need areas through investments in basic
infrastructure, knowledge, and skill building. GFN operates two regional incubator programs serving a
total of 12 locally led food banks. Results from 2020:
AFRICA INCUBATOR
Food Banking Organizations Food for All Africa (Ghana), Lagos Food Bank Initiative (Nigeria), Food Banking Kenya, It Rains Food Bank of Ethiopia, Food Bank Madagascar, Food Bank Botswana Trust
Distributed 1.2 million kilograms, a 1,221 percent increase over 2019
Served 906,026 people, a 285 percent increase over 2019
SOUTHEAST ASIA INCUBATOR
Food Banking Organizations Rise Against Hunger Philippines, SOS Thailand, SOS Bali, Foodcycle Indonesia, Kechara Soup Kitchen (Malaysia), Food Bank Vietnam
Distributed 9.4 million kilos, a 513 percent increase over 2019
Served 7.1 million people, a 937 percent increase over 2019
Ensuring the uninterrupted delivery of hunger relief services during and after crises and natural disasters is a critical function of food banks as pillars of support in their community. GFN's disaster strategy aims is to assist food banks in the coordinated and effective deployment of emergency assistance in response to disasters while helping food banks prepare for potentially rapidly changing community needs and disruptions related to disaster impacts.

Since March 2020, food banks supported by GFN have been focused on responding to urgent needs caused by this crisis while at the same time implementing programs focused on serving vulnerable populations who may be missed by other recovery efforts. Among these vulnerable populations are children, daily wagers, refugees, Indigenous people, and rural populations.
Children have been disproportionately affected by this global health and economic crisis. Through targeted grant funding, specialized guidance, and technical support, GFN is helping food banks meet the needs of children who are missing meals due to school closures.

In 2020, food banks supported by GFN scaled their services to reach 17.6 million children under the age of 17, a 183 percent increase from 2019. Despite over 346 million children losing access to school-based meals, GFN's Child Hunger programming, and partnership with the Global Child Nutrition Foundation, made it possible for food banks to pivot their operations to ensure children are still receiving the food they need to grow and thrive during the global pandemic.
Almost to US$1 million was invested in child hunger programs in 2020
17.6 million children received support through a GFN-supported food bank
25 food banks in the Network operate or support a school-based breakfast or lunch program
Finally, to advance the UN Sustainable Development Goals and serve as a resource to national policymakers, GFN leverages it global scope and access to the world's foremost hunger relief experts to produce new research and knowledge-building tools. GFN also engages in global forums, such as the UN Food Systems Summit, to elevate the role of food banks and the voices of food bankers as essential actors in a sustainable, well-functioning, equitable global food system, and to ensure that food banking is considered among the game changing solutions to hunger relief, food insecurity, and food loss and waste.
The Global Food Donation Policy Atlas4 is one example of the highly valuable resources produced by GFN. Created in collaboration with the Harvard Law School Food Law and Policy Clinic (FLPC), the Atlas provides a first-of-its-kind look at the current state of food donation laws and policies in participating countries along with country-specific policy recommendations for strengthening food recovery efforts. The project includes a quick-view tool which visually compares the food donation policy landscape across countries, and a library of country-by-country executive summaries, legal guides, and policy recommendations.
SDG Zero Hunger (SDG 2) is foundational and catalyzes improvements across all SDGs, including
Good Health and Well-Being (SDG 3), Quality Education (SDG 4), Gender Equality (SDG 5), and
Peace, Justice and Strong Institutions (SDG 16). Food banks are a "green" hunger intervention, as they support sustainability and protect the environment by mitigating greenhouse gas emissions while providing food assistance and building civil society. In this way, food banking can play a vital role in creating a more environmentally sustainable, just, and equitable society.
Prior to COVID-19, food banking as a strategy for addressing hunger was steadily expanding across across lower middle income countries (LMICs) around the globe thanks to the work of GFN.
As community-led institutions that rely upon local resources and capacity to address hunger and build resiliency, the growth of food banks in the last 15 years signifies more than an increase in food aid. Food banks serve as a bridge between government, private, and nonprofit sectors and offer solutions that reflect and build upon the unique dynamics of local cultures, infrastructure constraints, and economic and geographic factors. GFN's impact in 44 countries represents over 59,000 organizations working to distribute food sourced from their local food bank to members of their community.
Every new food bank that is added to the Network adds a piece to the hunger puzzle, bringing us one step closer to achieving the UN Sustainable Development Goals.
THANK YOU for your support!