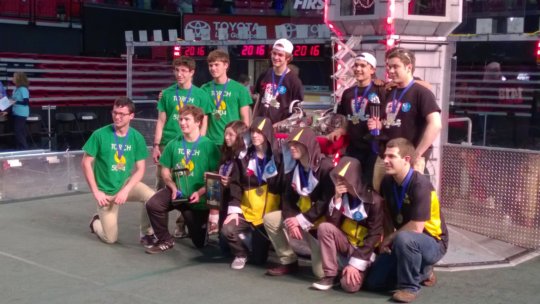 The activities for this reporting period can be divided into several distinct areas of DC Metro FIRST activities. The DC FIRST staff and local teams have attended many STEM events at the local DC Metro and National levels. These outreach events are designed to recruit students, teams, coaches /mentors and sponsors.
FIRST was a featured program at and will continue with local STEM outreach programs. These include the Office of Naval Research (ONR) Conferences, DC United, Navy Leagues Sea-Air-Space Conference, and ShareFaire/STEMosphere. We have a robot driving activity where the students can earn a robot "driver's license" which draws kids to the exhibit/booth to learn more about STEM, FIRST and robotics. Parents learn more about how their kids, schools and other organization can get involved.

In June we participated in the first of this year's the DC Metropolitan Police Department's 12 summer "Beat the Streets" community based events and the DC United's STEM night. We have exhibited at these events for 5 years. They are a great opportunity to take and FIRST and STEM to the local neighborhoods.
These events offer opportunities for FIRST alums, sponsors and the general public to volunteer and help as we try to maximize the number of students and teams supported. If you or friends/co-workers are interested, please contact us about volunteering and/or becoming a coach or mentor. All FIRST events across all four programs are free to the public. These events are great way for you and your families learn about FIRST.
The 2015 - 2016 FIRST Robotic seasons for four programs have concluded with the World Championships in St Louis. The April World Championships were well represented by teams from DC, MD and VA.
It was a very successful FIRST Robotics Competition (FRC) season as we migrated from the Regional Paradigm to the District Model. There were 28 FRC by teams from DC, MD and VA in St Louis. Some of the money raised thru Global Giving during the past year was used to send an underserved team to the District and World Championships. In part because of the additional events and plays provided by the District Model, the teams were highly competitive on and off the field in St Louis.
FIRST Tech Challenge (FTC) and FIRST Lego League (FLL) teams were well represented in St Louis, also. The First Tech Challenge and FIRST Lego League tournaments were held thru out DC, MD and VA. Teams have been recognized for their efforts as a team and the quality of their projects and robots.
As part of the FIRST Outreach, additional parts and kits were purchased this year to provide more and updated FTC and FLL robots. These were used to demonstrate the actual robot(s) students would be using as part of the FTC and FLL. We have been working with DC Public Schools (DCPS) and the OSSE to introduce FLL and FLL Jr into schools and after school programs. On June the 4th, we held an off-season FLL event at Walker Jones Educational Campus in DC.
We provide training sessions are used to help new or struggling teams to get the info they need to be successful teams. This training is critical to developing the hard and soft skills of coaches/mentors as well as students.
Thanks for your previous donations.
Links: