At this time between seasons we would like to acknowledge and thank our donors, sponsors, and volunteers for their longtime and generous support of FIRST Chesapeake.
This year, 310+ FIRST Chesapeake teams competed in 20+ workshops and competitions. These events gave local teams the opportunity to celebrate their accomplishments in their own backyards, while promoting the long-lasting benefits associated with participation in FIRST programs. These efforts are paying off. For the first time since transitioning to the District Model, FIRST Robotics Competition (FRC) teams are posting positive gains, and participation in the FIRST Tech Challenge (FTC) program is anticipated to reach an all-time high this Fall.
Please find below a summary report of the 2018-2019 competition season.
FIRST Robotics Competition (FRC) in DC, Maryland, and Virginia
The underdog story of the season was from a team in Richmond, Virginia. Thomas Jefferson High School team 2998, Vikingbots, proved what a difference a strong mentor, dedicated team members, and community support can make. Ten years ago, this team's high school was featured in Five Miles Away: A World Apart, which highlighted the failure of many urban schools to teach their students critical thinking and basic life skills. This year, with the support of parents, veteran team 522 Mech-Tech Dragons, one dedicated mentor, and the Richmond community, Vikingbots made it all the way to the FIRST World Championship! Support was so strong within the Richmond community that the team raised over $18,000 in less than 10 days after their victory at the FIRST Chesapeake District Championship. Extensive media coverage brought attention to FIRST Chesapeake and helped garner additional support for teams in other under-resourced areas of the Commonwealth, as well.
Additional program data includes:
10,000+: Total attendance over 2 ½ days for FIRST Chesapeake District Championship
42,000+: Attendees at 7 local FRC events in DC, Maryland, and Virginia
3,175+: high school age team members • 39%: minority team members
1120: team mentors
90,000+: Live stream sponsored by Northrop Grumman views of FIRST Chesapeake District and Championship events over 6 weeks
23: FIRST Chesapeake teams competing at the FIRST Championship in Detroit
Programs in Virginia FTC continues to offer high quality STEM-based activities and competitions in Virginia. This Spring, Amazon initiated a multiyear outreach program to grow teams and promote employee engagement near the Amazon HQ2 Arlington offices. FIRST Chesapeake continues to partner with NextUp RVA to bring FTC into Title 1 middle schools in Richmond and for the first time, two Richmond Public School FTC scrimmages were held at Richmond Community High School. It is anticipated that by January 2020, FTC will be in six of the seven Richmond public middle schools.
For the past two years, FIRST Chesapeake has opened its competition borders to FTC partners from outside of Virginia. This interstate collaboration allows FIRST Chesapeake teams to test their skills against a more diverse group of competitors and it is paying off. FIRST Chesapeake teams are showing consistent growth, both competitively and technically at the FIRST World Championship. FIRST Chesapeake also continues to work closely with its Maryland/DC FTC partner, USRA STEMaction to promote shared resources and promote the progression of FIRST programs.
Additional FTC program data includes:
15,000+: Event attendance at the FTC Qualifiers and Championship
10,000+: Unique live feed views of select qualifiers and Championship
2,500: Number of printed Qualifier and Championship programs recognizing your company
350+: middle and high school team members and mentors attending the second annual tandem FTC Workshops Sponsored by ECPI University in Manassas and Richmond
183 registered FTC teams in Virginia
52: number of FTC teams competing at the FTC State Championship Sponsored by ECPI University
9: FTC Qualifiers and State Championship Sponsored by ECPI University
10: FIRST Chesapeake FTC teams competing at the FIRST Championship in Detroit
Emphasis upon community and corporate engagement continues to translate into growth in the general and key volunteer database. In 2018-2019, corporations such as Newport News Shipbuilding, Hamilton Beach, Dominion Energy, and PWC took advantage of employee engagement opportunities at local events.
Increased local involvement from volunteer committees and sponsors has also allowed FIRST Chesapeake to reduce event costs across the board. This season, FIRST Chesapeake recorded the second lowest cost per event for all FIRST District partners, while still being in the top 5 Districts with the highest concentration of FIRST programs.
During the FIRST Chesapeake District Championship, volunteers were asked to complete a simple "I volunteer because" card. Check out what our volunteers have to say at www.firstchesapeake.org/volunteer. Their answers are truly inspiring.
Additional volunteer data includes:
32,000+ donated volunteer hours
1,700+: event volunteers in database
200+: filled judges' positions at FRC competitions
50%-65%: local volunteers at each event
20%: team mentors who identify as FIRST Alumni
Outreach and Partnerships
In January 2019, Rolls-Royce sponsored the first Reaching for the Stars Women in STEM Breakfast to benefit FIRST Chesapeake. This inspirational event was attended by 100 of the most influential women in technology in the DC Metro area. The Reaching for the Stars Award was presented to Doris Blanchard, one of the first human computers at NASA Langley. Three scholarships, sponsored by LMI, were presented to outstanding young women on FIRST Chesapeake teams. One scholarship recipient summed up her experience by saying, "FIRST is like that favorite food that your mom makes with vegetables in it. You love it and it's good for you!"
FIRST Chesapeake also continues to work with its local FIRST program partners to promote the K-12 progression of FIRST programs in DC, Maryland and Virginia. FIRST LEGO League Junior Expos were held at many of the FRC District events, and FIRST programs were promoted at both the Maryland Association of Board Educators and the Virginia Association of School Board Executives conferences in the Fall of 2019.
The Future
FIRST Chesapeake is thrilled to partner with Newport News Shipbuilding to offer the largest FRC FIRST Chesapeake District Championship ever at the Hampton Coliseum in 2020. The FIRST Chesapeake District Championship Sponsored by Newport News Shipbuilding will bring 80 of the best and brightest high school robotics teams to Hampton Roads for 2 ½ days of intense competition.
Looking ahead, FIRST Chesapeake announces the following additions to the 2019-2020 season:
More employee engagement opportunities for sponsors
More on-line workshops for teams
Five Town Hall meetings for teams and volunteers in the Fall of 2019
2nd Annual Women in STEM Breakfast
New workshop and competition space – more on this later!
Thank you again - donors, volunteers, mentors, teachers - for partnering with FIRST Chesapeake. Together we are building tomorrow's technology leaders.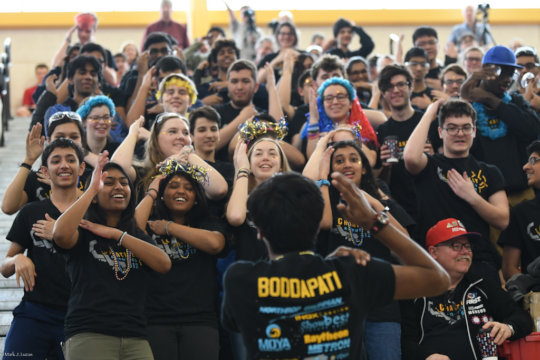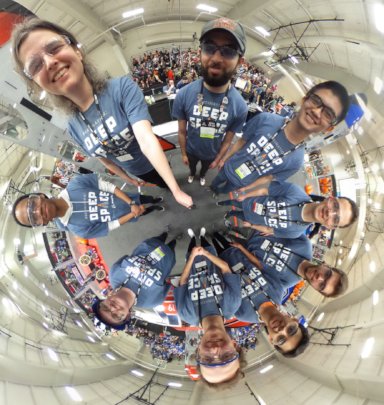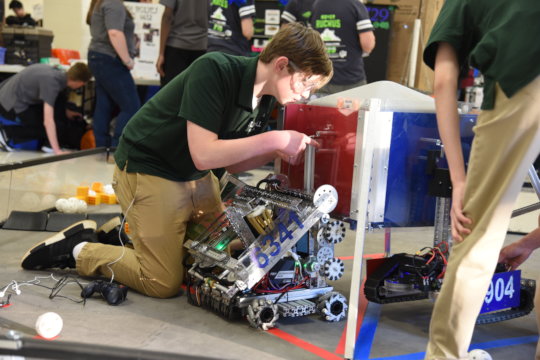 Links: